The Sistine Chapel - Michelangelo's Masterpiece and More

Wednesday, February 22, 2017 from 6:00 PM to 8:00 PM (CST)
Event Details
Registration for non members begins on February 8
The Sistine Chapel 
Michelangelo's Masterpiece and More
 A talk by Professor Judith Testa
February 22nd at 6pm
Italian Cultural Institute
500 N Michigan Avenue, Suite 1450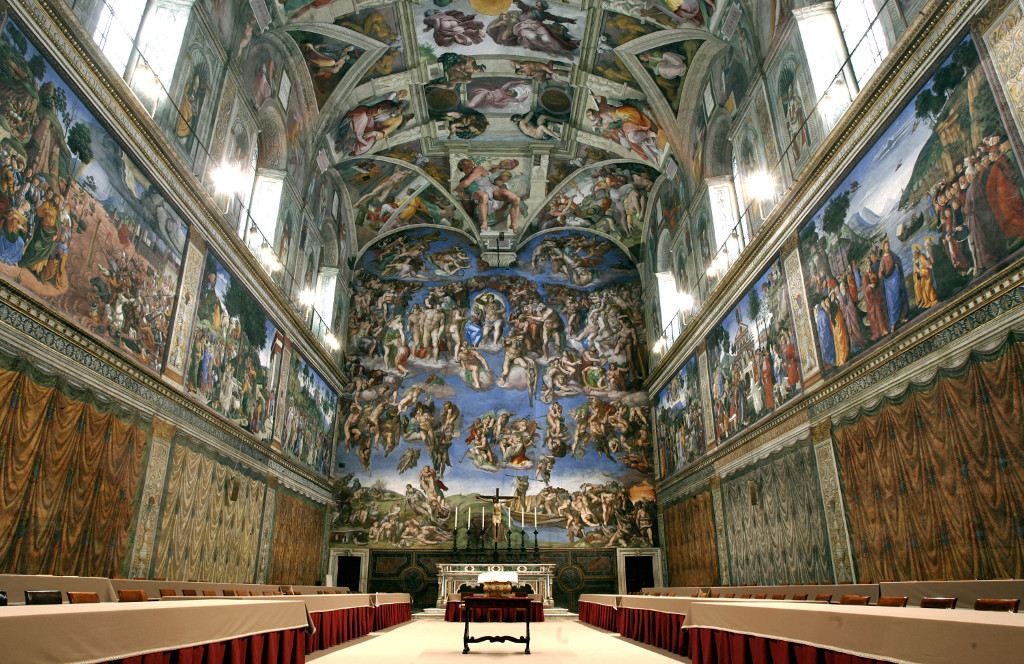 The Sistine Chapel -  the most visited religious site in Rome - is more than merely a setting for Michelangelo's famous frescoes. Most visitors come to see Michelangelo's paintings, but they tend to ignore the chapel itself. Furthermore, visitors often fail to understand the meaning of the paintings: those on the ceiling, as well as the ones on the back wall and the side walls. What messages are these paintings intended to convey? Are they separate, isolated units, with no meaningful relationship to one another? Or do they form a coherent whole and a single, understandable message? 
Professor Testa will present the Sistine Chapel in a way that visitors and armchair travelers can understand both its individual decorative programs and its overall significance. It's not necessary to recognize every one of the hundreds of figures on the walls and ceiling, but a general idea of what the imagery consists of, and what it means, can contribute greatly to everyone's enjoyment of this jewel of the Italian Renaissance.
Judith Testa was born in New York, and came to Chicago to attend graduate school at the University of Chicago, where she received MA and PhD degrees in Renaissance Art History. She is an emerita professor who taught history of art at Northern Illinois University in DeKalb. Since retiring, she spends at least two months of each year in Rome, the place she calls "the city of my soul".  She writes book reviews, travel and history articles for Fra Noi, the monthly magazine of the greater Chicago area Italian American community. In addition to many scholarly publications, she is the author of three books for the general reader: 'Rome Is Love Spelled Backward (Roma Amor)' - essays about Rome's major monuments and personalities; 'Sal Maglie. Baseball's Demon Barber' - the biography of a 1950's New York baseball star; and 'An Art Lover's Guide to Florence'.
Free and open to the public.
When & Where

Italian Cultural Institute
500 N Michigan Ave
Suite 1450
Chicago, IL


Wednesday, February 22, 2017 from 6:00 PM to 8:00 PM (CST)
Add to my calendar
Organizer
Italian Cultural Institute of Chicago
Italian Cultural Institute of Chicago
500 N Michigan Ave., Suite 1450
Chicago, IL 60611
Currently active in all the major cities of the five continents, the ninety Italian Cultural Institutes serve as an ideal meeting place for intellectuals, artists, and cultural operatives, as well as for ordinary citizens, both Italian and foreign, who wish to establish or maintain a relationship with our country. By acting not only as a showcase and source of current information on Italy, but also as a driving force behind initiatives and projects of cultural cooperation, the Italian Cultural Institute has become a focal point for both the Italian communities abroad and the growing demand for Italian culture throughout the world.

By extending the role of Embassies and Consulates, the Italian Cultural Institutes offer the most effective tools for promoting a worldwide image of Italy as a center of production, preservation, and dissemination of culture from the Classical Age until today. Along with organizing cultural events in a vast array of areas, including art, music, cinema, theatre, dance, fashion, design, and photography, the Italian Cultural Institutes:


Offer the opportunity to learn Italian language and culture through the organization of courses, the management of libraries and the preparation of educational and editorial materials;
Provide the networks and the premises to facilitate the integration of Italian operators in the process of cultural exchange and production at an international level;
Provide information and logistic support to public and private cultural operators, both Italian and foreign;
Continuously support initiatives aimed at promoting an intercultural dialogue based on the principles of democracy and international solidarity.
The Sistine Chapel - Michelangelo's Masterpiece and More