The Sisters In Step Experience

Friday, April 27, 2018 from 8:30 AM to 3:00 PM (EDT)
Event Details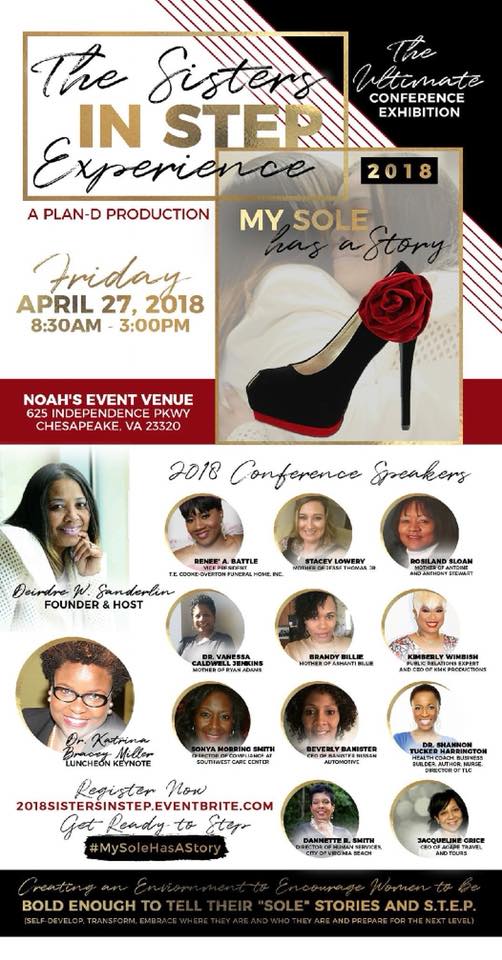 It has been documented that women who are surrounded by other positive women have a greater chance to thrive professionally. Women are not one dimensional; there are many features of a woman. Her strength in her trauma, her motivation to become better, her persistence to educate herself, her unyielding commitment to enhancing sisterhood, and her ability to provide leadership not only to others but to herself and her family. These are the topics that will be explored on April 27, 2018, at the "The Sisters In S.T.E.P (Self-Develop, Transform, Embrace & Prepare). Experience". 


Conference Theme: My "Sole" Has a Story
The Sisters In S.T.E.P. Experience creates an environment that encourages women to be bold enough to tell their "SOLE" stories. Every woman has a journey and we believe her shoes tell the story.
Expect to S.T.E.P. at the 8th Annual Sisters in S.T.E.P. Experience - Friday, April 27, 2018. This experience is for leaders, influencers, seekers, entrepreneurs, survivors, the sisterhood and those ready to S.T.E.P.
There are two tracks available, VIP and GENERAL.

---

VIP EXPERIENCE (VIP participants receive all the workshops)
8:30 AM-9:00 AM: REGISTRATION & BREAKFAST
9:00 AM - 11:00 AM: VIP LEADERSHIP EXPERIENCE: Everyone can be a leader or can they? The ladies of the leadership panel share tips on building authority and mastering the art of motivation. Their sole stories encourage and inspire others to S.T.E.P. up. Panel discussion answers the following questions:  What does it take to be a good leader? What's the difference between a leader and a boss? What is the value of good leadership? What are the characteristics of an effective leader? How does popularity affect leadership?
PANELISTS: Beverly Banister, CEO of Banister Nissan Automotive, Dannette R. Smith, Director of Human Services Department and Sonya Morring-Smith, Director of Compliance and Ethics at Southwest Care Santa Fe, New Mexico
BUSINESS EXPERIENCE: Succeeding in business takes more than just a great idea. Business panelists give the real deal with sole stories on what it really takes to S.T.E.P.  into business and entrepreneurship. Panel discussion explores the following topics: How to start and run a business? When should you delegate? Can you do it all? How to address challenges and struggles?
PANELISTS: Kim Wimbish, Owner of KMK Productions, Jacqueline Grice, Owner Agape Travel and Tours, and Dr. Shannon Harrington, Owner of T.R.Y. Again Health and Fitness, LLC. 
TEA WITH DE: Host Deirdre Williams-Sanderlin brings her popular Facebook show to life for the first time for a live in-person session. Tea with De has reached an audience of thousands on Facebook. It's honest talk where guests "spill the tea" on themselves and their experiences which have lead them S.T.E.P. up and S.T.E.P.  out in their own lives.
When you don't need another inspirational quote, you need Tea with De.

---

GENERAL ADMISSION EXPERIENCE
11:00 AM:11:15 AM:  OFFICIAL WELCOME
11:15 AM-NOON: STRONG, DETERMINED AND FEARLESS EXPERIENCE: "Murder," it's an ugly word and there is just no way to sugar coat it. There are two things we know for sure when we hear the word "murder," 1) Someone has lost their life at the hands of another and 2) Someone has lost a loved one.

In this workshop, panelists share their heart-wrenching sole stories of being mothers of murdered children. For many, this is an unimaginable pain, panelists have lived through it and still stand to strengthen and support others. Learn how they took their worst moment and used it to S.T.E.P.  forward to change lives and to change laws for a better future.

PANELISTS: Brandy Billie, Vanessa Caldwell Jenkins, Stacey Lowery, Rosalind Sloan, Renee A. Battle and Shawn Ware-Avant

NOON - 12:30: LUNCH

12:30 PM - 1:00 PM: KEYNOTE SPEAKER:  Dr. Katrina Bracey Miller, Action to Authenticity
Change is a natural process for growth and development. Identifying past and present situations that hinder spiritual and personal growth requires prayer and self-examination. Action to Authenticity prepares you for the journey to becoming a more authentic you.

Katrina B. Miller was born in Norfolk, Virginia. She is an encourager of women and dedicated to helping them reach their personal and professional goals. She is a doctoral student at Capella University studying Industrial-Organizational Psychology.
1:00 PM - 1:30 PM: SHOE SHOW
1:30 PM - CLOSE: SISTER BUILDING ACTIVITY & WRAP UP

---

[S.T.E.P. into the Details]
* Participants are encouraged to come early as all workshops will begin on time.
* VIP begins at 8:30 a.m. Participants receive breakfast.
* Doors to general admission open at 10:00 a.m.
* Lunch served at noon.
* Upon admittance, participants are entered into the shoe show. 
* Vendors on-site
A portion of the proceeds will be donated to a local charitable organization within the Hampton Roads Community.

Please share this information with a woman that needs a transformation and a sister to show her how to S.T.E.P.!
I can't wait to meet you!
Sisterly,
DWS
*By purchasing a ticket or participating in The Sisters In Step Experience held on April 27, 2018, at Noah's Event Venue, you agree to not hold any employee, owner, or volunteer of Plan D Global Events liable for any incidents or accidents* before or after the event *all sales are final and nonrefundable*workshops, venue, times can change without notice *pictures will be taken and used for promotional and educational purposes.
When & Where

Noah's Event Venue
625 Independence Pkwy
Chesapeake, VA 23320


Friday, April 27, 2018 from 8:30 AM to 3:00 PM (EDT)
Add to my calendar