Sales Have Ended
Ticket sales have ended
Catch Embrace Your CAKE & the Sister SIPHER tour on its next Stop in 2017. Visit www.embraceyourcake.com
Sales Have Ended
Ticket sales have ended
Catch Embrace Your CAKE & the Sister SIPHER tour on its next Stop in 2017. Visit www.embraceyourcake.com
Description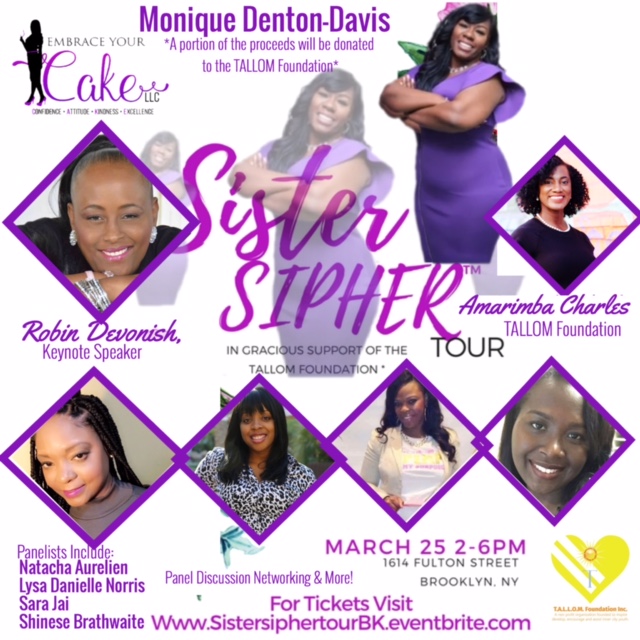 The Embrace Your Cake Sister SIPHER Tour launches its first stop on Saturday, March 25th, 2017 from 2pm - 6pm at 1614 Fulton St. in Brooklyn, NY. Embrace Your CAKE will be hosting a Fundraiser Event for the TALLOM Foundation, which is founded by Executive Director, Ambarimba Charles devotes its energy to advocating for the youth and families of politically underrepresented members of the district of Brownsville/East New York.
A panel discussion present by Monique Denton-Davis, Founder and CEO of Embrace Your CAKE, LLC will immediately follow with power-house women Founders and CEO's including:
Keynote Speaker address by Robin Devonish, @robindevonish, The Spirited Speaker and Self-Publishing Maven along with:
Natacha Aurelien, Founder of ANS Association
Shinese Brathwaite, Founder BK Girls Night Out
Sara Jai, Founder of Pretty In My Purpose & Sisters of Sankofa Organization
Lysa Danielle Norris, CEO of the PHLARE Organization
The Sister SIPHER is dedicated to helping women Embrace their C.A.K.E. while Confiding, Connecting And Collaborating through Soulful, Intellectual Problem solving, Helping Each other Rise. The Sister SIPHER will tackle how women working together can impact and improve the lives of our our families, communities and overall economic stability. We believe that by working together we can influence change.
Guests Panelists will share their stories and give sounds self-learned practices
Raffles, Free Program
Fun & exciting Networking opportunities
Exclusive Vendors
Light Refreshments & More!
* A Portion of the Proceeds will be donated in Gracious Honor and Support of the TALLOM Foundation* https://www.tallomfoundation.org for the Brooklyn Tour Stop

The Embrace Your CAKE, LLC. Sister SIPHER will be making its 2nd Stop in Jacksonville, Florida on April 22nd! For More information visit, www.sistersiphertourfl.eventbrite.com
For Sponsorship Opportunities, Please Contact Primevisionpr@gmail.com
Visit www.embraceyourcake.com for more info on events, partnerships & contact