The Single Woman's Suite Monthly Sister Talk Event

Saturday, November 25, 2017 at 6:00 PM

-

Sunday, November 26, 2017 at 8:00 PM (CST)
Event Details
**Please check and e-mail your event organizer in your particular city for the dates, times, and location of your event. Times, dates, and locations vary by city. **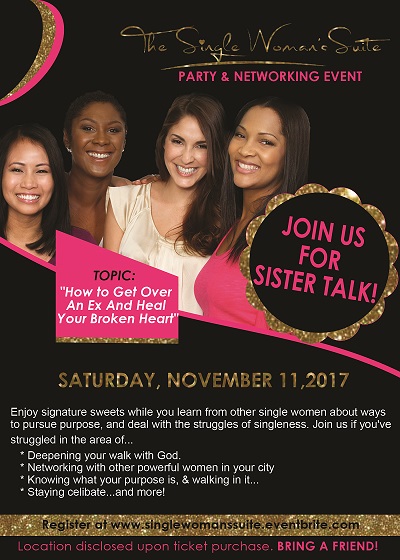 Welcome
Join The Single Woman's Suite, an organization of over 2,000 women who are single and THRIVING, at this fun, relaxed and informative, EXCLUSIVE event that is guaranteed to give you a new way to think about singleness & getting over your ex like never before. With the information you'll learn, the opportunities for you, & your NEW outlook on singleness are virtually limitless!
 This event is all about helping you succeed in singleness! 
Here are the top ways you will benefit from attending this life changing event:
REBUILD YOUR CONFIDENCE: How can I change my feeling that I'll never do better than my ex, or God will never send me anyone as good as him?

SECRET TO HAPPINESS: How do I become more happy and fulfilled in singleness?

FROM HEARTBREAK to WHOLENESS: How can I take steps each day to be whole in Christ?
FAQs
What is The Single Woman's Suite?
The Single Woman's Suite is an international organization of 2000+ women which offers a safe place for women to embrace singleness, pursue purpose, and fall deeper in love with Jesus. Join us at our in-person Sister Talk  Events throughout the nation if you've struggled with:
- Strengthening your walk with Christ.
- Knowing your purpose, and walking in it. 
- Networking with other powerful, women in singleness. 
- Navigating the ups and downs of being in a godly relationship...
- Staying Celibate...and more. 
- This month's topic is "Are You Making Marriage an Idol?"
JOIN US!
Who is this event for?
This event is for you if you are single, whether you are a single mother, single without a prospect in site, currently in a relationship, widowed, divorced, or engaged. 
Is bringing a friend required?
No, but it's strongly encouraged. Register yourself, and register a friend too. Think how much fun it'll be to experience this event with your friend. The more the merrier!
How should I dress?
Dress comfortable. Be you. Casual attire is fine. The focus is moreso on God & secondly with connecting with one another as sisters, & allowing God to move as we meet, and less about what we have on. 
What if I feel awkward?
Don't be! The ladies leading the groups are super sweet, and kind. When you meet them, I'm sure you'll feel as if you're meeting one of your long lost sisters! 
What are some of the benefits of connecting with my sisters?
You will stay focused on this journey of singleness.

You will be held accountable as you pursue your purpose.

You will gain clarity about who you are and what you're called to do. 

You will have the awesome support of a group of women who love you, God, and understand what you're going through. 

You will have a group of amazing women in your city, who are growing in God and can relate to the ups and downs of singleness. 

You will be able to network with other purpose-driven, single women. 

You will be a part of a growing sisterhood who's honoring God in singleness, yet can relate to your struggles.

You will build friendships for life. 
You all don't charge for events, but I want to GIVE...how can I help out?
You can help out by donating! The Single Woman's Suite is a growing, organization of over 2,000 women. Your donation goes towards running the organization, administrative fees, throwing future events, and ensuring we'll be able to keep it running, and growing..as we pursue the vision of helping single women internationally. Simply grab a ticket and donate online. Cash donations are not allowed.  
Do I have to bring my printed ticket to the event?
Yes. We ask you bring your printed tickets at the door. Please only register if you can attend. Many ladies would love to attend, so only register if you plan on coming.This helps us to be better prepared to serve the correct number of ladies.
What if I want to register a group?
Groups are welcome to register. The more women who are touched, and changed through the monthly discussions, the better. Have a group? Select your desired number of tickets and come!
How can I contact the organizer with any questions?
E-mail singlewomanssuite@gmail.com
Register & Reserve your seat TODAY!
My Single Woman's Suite Leaders & I look forward to meeting you at this important, confidence-boosting, event. Get ready to make this season of singleness AMAZING! With the information you'll learn, the opportunities for you, & your NEW outlook on singleness are virtually limitless!
Only 25 seats per session. Reserve your seat today. 
- Djuana Harvey, Blogger,  Founder of "The Single Woman's Suite"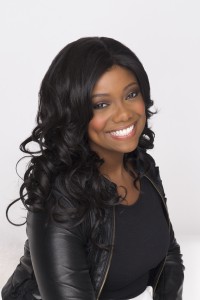 When & Where

TBD




Saturday, November 25, 2017 at 6:00 PM

-

Sunday, November 26, 2017 at 8:00 PM (CST)
Add to my calendar