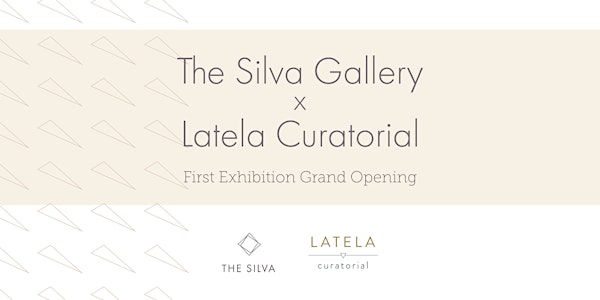 The Silva Gallery x Latela Curatorial First Exhibition Grand Opening
Come join The Silva and Latela Curatorial for the Grand Opening of Moments of Grace, the first exhibition at The Silva Gallery!
When and where
Location
The Silva 1630 Columbia Road Northwest Washington, DC 20009
About this event
The Silva and Latela Curatorial are excited to welcome guests to the first exhibition grand opening event at The Silva Gallery on September 23rd, 2021. While exploring the exhibit, guests will enjoy light bites and alcoholic/non-alcoholic beverages!
This is the first exhibition in a new partnership between The Silva, a new luxury apartment building in Adam's Morgan and Latela Curatorial, an art consultancy firm. Latela Curatorial sourced local artwork for the building's permanent collection and will curate rotating exhibitions featuring local artists in this gallery space.
About the Exhibit:
Moments of Grace, by Anne Marchand, invites us on a journey, an exploration in self-discovery and healing, for ourselves, and for our communities. First inspired by photographs of galaxies and nebulae seen through the Hubble telescope, Marchand's paintings suggest a connection between deep space and inner space of the human body. Her work recalls images seen from low orbit space, looking through portals, seeing patterns and rhythms of earth's natural forces. Through art, she addresses our role as citizens on a planetary paradise and how the human race moves forward in time, visualizing from a big picture perspective while operating on a local earthly level.
All artwork displayed is available for purchase. All inquiries for art purchases should be directed to Latela Curatorial: studio@lateladc.com.
About Latela Curatorial:
Latela Curatorial is a full service art advisory studio based in Washington DC that specializes in the weaving together of conceptual art projects and curatorial services for art collections. Through intuitive arts leadership, LC's core mission is to continuously question how "support" is defined in the artworld and advocate on behalf of the artist and arts workers. LC's attitude is to nurture with a matriarchal approach: creating generative (rather than solely transactional) opportunities for artists, collectors and communities alike.
Latela Curatorial's holistic approach includes organic placemaking, large-scale art procurement, exhibition curation, collections management and community workshops. LC is particularly passionate about raising the bar for support of the arts ecosystem in the nation's capital. LC excels in working with art collectors as well as designers/architects/developers in an ever-gentrifying area and underrepresented art market to augment the area's artistic currents and talents. In addition to client work and rotating exhibitions, LC helms two special projects: GLB Memorial Fund for the Arts and the annual Women in the Arts Initiative.
About The Silva:
Developed by EastBanc and Mitsui Fudosan America, Inc. and managed by Bozzuto, The Silva features 172 thoughtfully designed apartments ranging from studios to two bedrooms, including 10 penthouse suites, making it the ideal home for residents looking to immerse themselves in the eclectic lifestyle of Adams Morgan while experiencing the best of high-end living. At The Silva, residents will find a rooftop terrace with sweeping views of the Capitol and the Washington Monument from the building's infinity pool, a private courtyard with lush greenery, and within each unit, state-of-the-art appliances and acoustical design.
Prospective residents can learn more about the building and pre-leasing options by visiting www.thesilvadc.com.
This is a fully vaccinated event. RSVP required to enter.
Parking is not available on site. Please use ride share or public transportation.