The Signature CEO Conference 2018

Monday, October 29, 2018 at 8:00 AM

-

Tuesday, October 30, 2018 at 5:00 PM (EDT)
Event Details
OCTOBER 29-30, 2018 • DOUBLETREE HOTEL TYSONS • MCLEAN, VA • WWW.THESIGNATURECEO.COM

The Signature CEO Conference offers a unique experience for Creative Entrepreneurs to accelerate and learn "the business of events".   The concept of this (2)-day experience was inspired and created by a Creative Entrepreneur who wanted to create a harmonious environment for like-minded Creatives in the wedding and event planning industry. It has become the destination where Creatives come to be exceptional leaders, expand their professional network, and master the quest of entrepreneurship!
Sixteen (16) curated MasterMind Sessions - (19) World-Class Influencers & Tastemakers will provide invaluable information on cutting-edge business intelligence to enhance individual development, work performance, introduce new business concepts and strategies, and support the overall development of successful entrepreneurial and leadership skills designed especially for you!
The Signature C.E.O Conference will encompass the following areas of Business Intelligence:
Branding & Marketing
Business Financial Planning
Business Technology
Legal & Contracts
Business Best Practices
Productivity & Business Management
Business Innovations
Small Business Entrepreneurship
Register Today! The Signature CEO Conference is the destination for Creative Entrepreneurs to master "the business of events"; network to make valuable long-term connections to help sustain your business through support, connections, referrals, ideas and resources; master the quest of entrepreneurship!
WHO IS THIS CONFERENCE FOR:
This conference is for all Creative Entrepreneurs.  If you are an event planner, photographer, cake baker, florist, designer, etc. looking to maximize profits, become a better team leader, or ensure stability for your business – looking to elevate your business and eager to adapt new business intelligence that will allow you to soar in this industry.
Planners • Photographers • Deejays • Floral Designers • Bridal Salon Owners • Videographers Stylists • Pastry Chefs  Caterers • Stationery Designers • Officiants • Musicians • Rental Suppliers • Venue • & More
CONFERENCE OBJECTIVES:
Upon completion of this 2-day event, participants will be able to:
Experience growth by applying reliable business tools
Have a fresh look into business practices
Have a creative approach to business that will aid in overcoming business challenges
Have the ability to see beyond the day-to-day operations and focus on what's truly critical
Ultimately improve your business decisions and drive tangible results
Demonstrate effective leadership within the wedding and event planning community
Strengthen your business presence
Develop effective team building skills
Effectively close deals
Feel more confident in your leadership decisions
Accelerate the growth of your business!
Answer the question, "Why Should this Customer Do Business With Me"?
Walk away EMPOWERED & INSPIRED!
VISIT OUR WEBSITE FOR ADDITIONAL DETAILS AND TO VIEW HIGHLIGHTS FROM PREVIOUS CONFERENCES!!!     
WWW.THESIGNATURECEO.COM

INVESTMENT PROCEDURES:
Your investment for this two day experience is $1599.00.  If you elect not to pay your Registration in-full, Attendees have the option to make a $250 deposit to reserve a seat at the conference.  You can do this by clicking on the selection that says "Deposit - The Signature CEO 2018". Remaining balance will be paid monthly in equal amounts leading up to 30 days prior to conference date.  Payment Plans are only available for anyone who registers prior to July 6, 2018.  Any persons registering after July 6, 2018 will not be eligible for a payment plan - payment must be in-full.  There will be limited seating for the conference. View our full REFUND POLICY on our website, click here.

Payment Plan Options:  If you elect a payment plan, select the deposit payment when registering or email us at info@thesignatureceo.com.

REGISTRATION DEADLINE:    Registration ends on October 6, 2018.
EARLY BIRD REGISTRATION:
Early Bird Registration Discount is $300 OFF full cost of Registration.  Early Bird Registration ends on January 18, 2018.  Use DISCOUNT CODE: earlybirdceo18.  Only Use Discount Code if you are paying in FULL.  If you are going to make monthly payments, the discount will be subtracted and be reflected in your monthly payment plan.  
SPEAKERS:  19 Dynamic Speakers! (stay tuned as we update our speaker roster)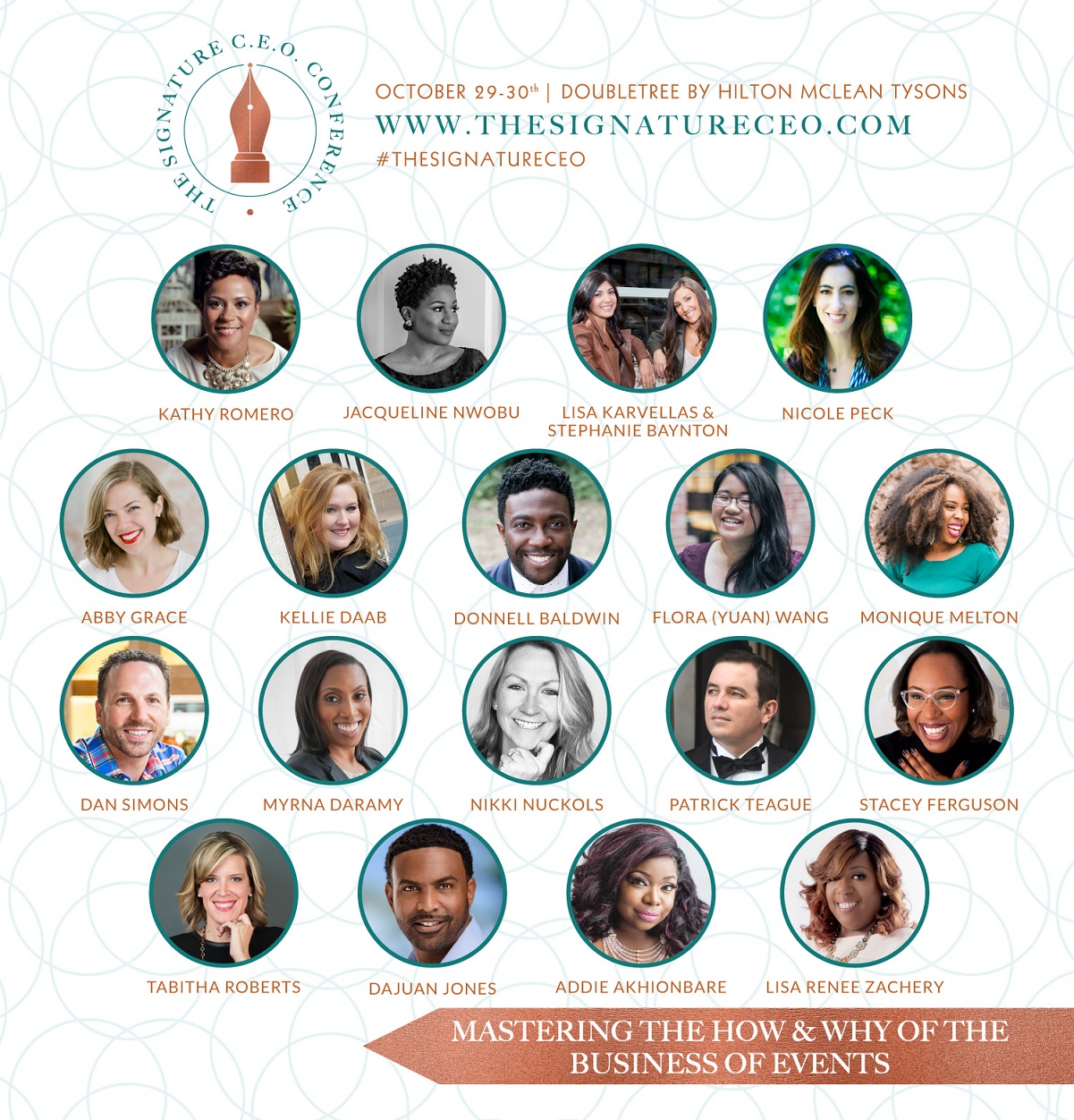 CONFERENCE SCHEDULE: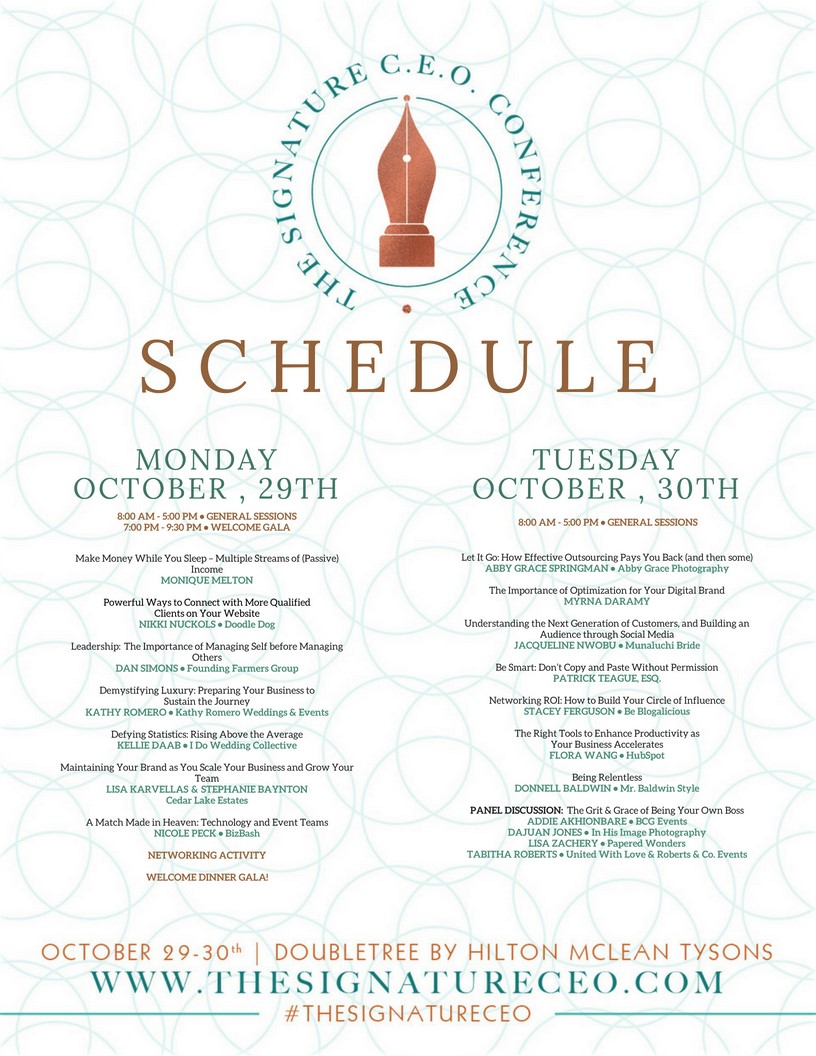 When & Where

Doubletree Hotel Tysons
1960 Chain Bridge Rd
Mclean, VA 22102


Monday, October 29, 2018 at 8:00 AM

-

Tuesday, October 30, 2018 at 5:00 PM (EDT)
Add to my calendar