The Signature CEO Conference 2016...(Business Intelligence for Wedding & Ev...
Description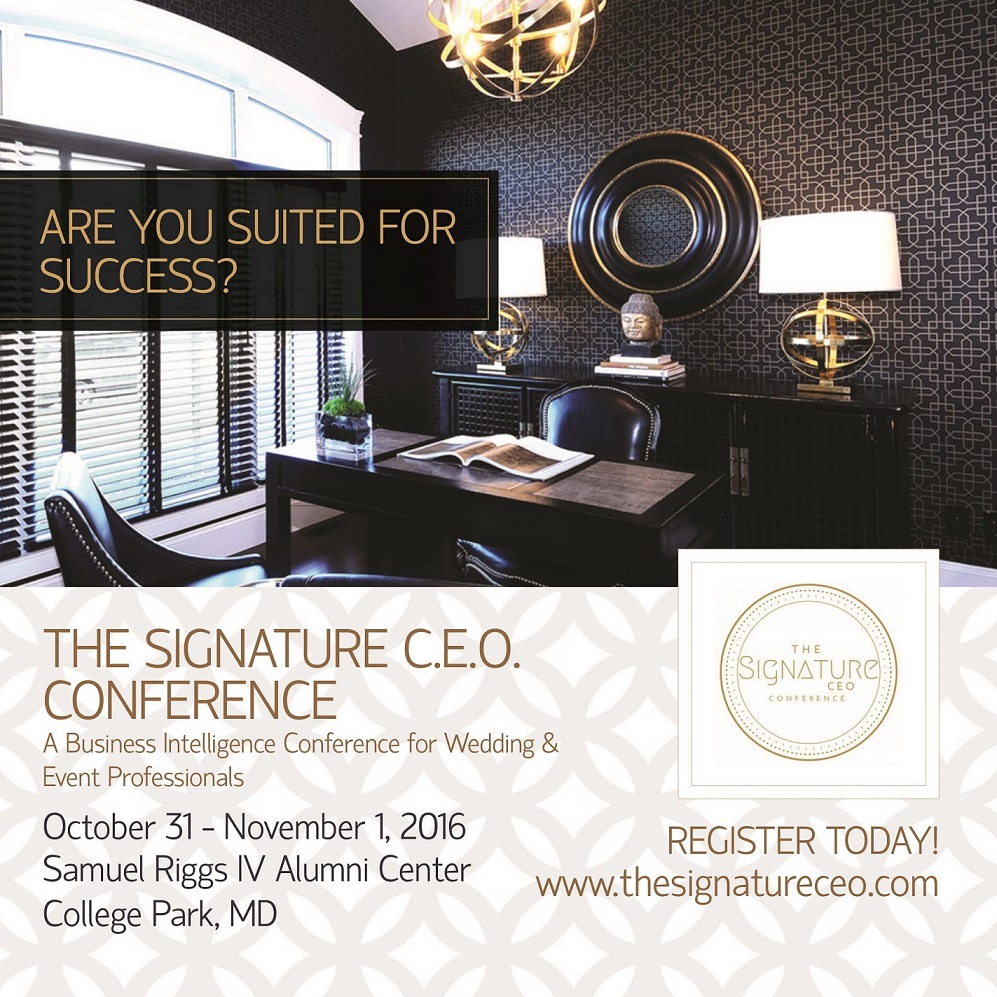 The Signature C.E.O. (Chief EVENT Officer) Conference is a developmental conference geared towards providing continued education focusing on business intelligence and defining the road map to success as business owners and leaders for professionals within the wedding and event planning industry. This 2-day event is an opportunity for attendees to experience a hands-on instructional conference developed to challenge and empower them! The most remarkable characteristic of the conference is that it is constructed to truly care about the skill-set of entrepreneurs/small business owners within the wedding and event planning industry. The conference focuses on best business practices, leadership skills, creative talent, business networking, business and personal branding, opportunity awareness, community over competition, and much more. This very spirit is the driving force behind The Signature C.E.O Conference, and this spirit is what has prompted the Founder, Tara Melvin, to organize the conference. Through a combination of educational sessions and meaningful networking opportunities, the conference keeps attendees informed about the new thought-leading and best business practices that define success. Creating successful Chief Event Officers…Business Intelligence for the Savvy Wedding and Event Professional!
The Signature C.E.O Conference will encompass the following areas of Business Intelligence:
Branding & Marketing
Business Financial Planning
Business Technology
Legal & Contracts
Business Best Practices
Productivity & Business Management
Business Innovations
Small Business Entrepreneurship
Each area of Business Intelligence will include a hands-on interactive case study or team exercise . Each instructor will provide user-friendly learning module materials that will aid participants in documenting their questions, answers, and follow-up correspondence.
WHO IS THIS CONFERENCE FOR:
This conference is for all wedding and event professionals. If you are an event planner, photographer, cake baker, florist, etc. looking to maximize profits, become a better team leader, or ensure stability for your business – looking elevate your business and eager to learn new business intelligence that will allow you to soar in this industry.
Planners • Photographers • Deejays • Floral Designers • Bridal Salon Owners • Videographers Stylists • Pastry Chefs Caterers • Stationery Designers • Officiants • Musicians • Rental Suppliers • Venue • & More
OUR SPEAKERS:
Our world-class speakers will provide informative sessions on cutting edge business intelligence to enhance individual development, work performance, introduce new business concepts and strategies, and support the overall development of successful entrepreneurial and leadership skills for our attendees. The professionalism of our Speakers will reflect a diverse background of high-level Senior Executives, to successful business owners, to CEO's. The majority of our Speakers will have a non-event industry related background whom have been purposely chosen to provide a unique and dynamic outlook on the role of leadership and success, and to infuse you with the business intelligence that has transformed their professional careers!
LEARNING OBJECTIVES:
Upon completion of this 2-day event, participants will be able to:
Experience growth by applying reliable business tools
Understand and demonstrate effective leadership within the wedding and event planning industry
Strengthen their business presence
Develop effective team building skills
Effectively close deals
Take their business to the next level!
Demonstrate an understanding of the various tools and skills need to achieve optimum organizational performance
Answer the question, "Why Should this Customer Do Business With Me"?
Walk away EMPOWERED!
---
REGISTRATION DEADLINE: OCTOBER 3, 2016
VISIT OUR WEBSITE FOR ADDITIONAL DETAILS: WWW.THESIGNATURECEO.COM
INVESTMENT: ONE DAY PASS - $525.00 | TWO DAY PASS - $995.00
---
SPONSORSHIP:
To be come a Sponsor, email us at tara@perfectplanningbytara.com. We have the following levels of sponsorship available; Platinum, Gold, Silver, Bronze, Trinket, & Community Partner. Sponsorship levels are either in-kind or financial with a minimum of $500.
---
EXHIBITOR BOOTHS:
If you would like to exhibit your business product or services at the conference, email us at tara@perfectplanningbytara.com. Only (8) exhibitor booths available.
---
SPECIAL INCENTIVE:
For each registered attendee, your name will be entered for a chance to win a VIP Private Lunch with one of our dynamic speakers. Register today for your chance to enter "The Board Room".








OUR SPEAKERS:

HEADLINE SPEAKERS:

GINGER JOHNSON & LIZ PICKETT | GINGER+LIZ NAIL COLOUR COLLECTION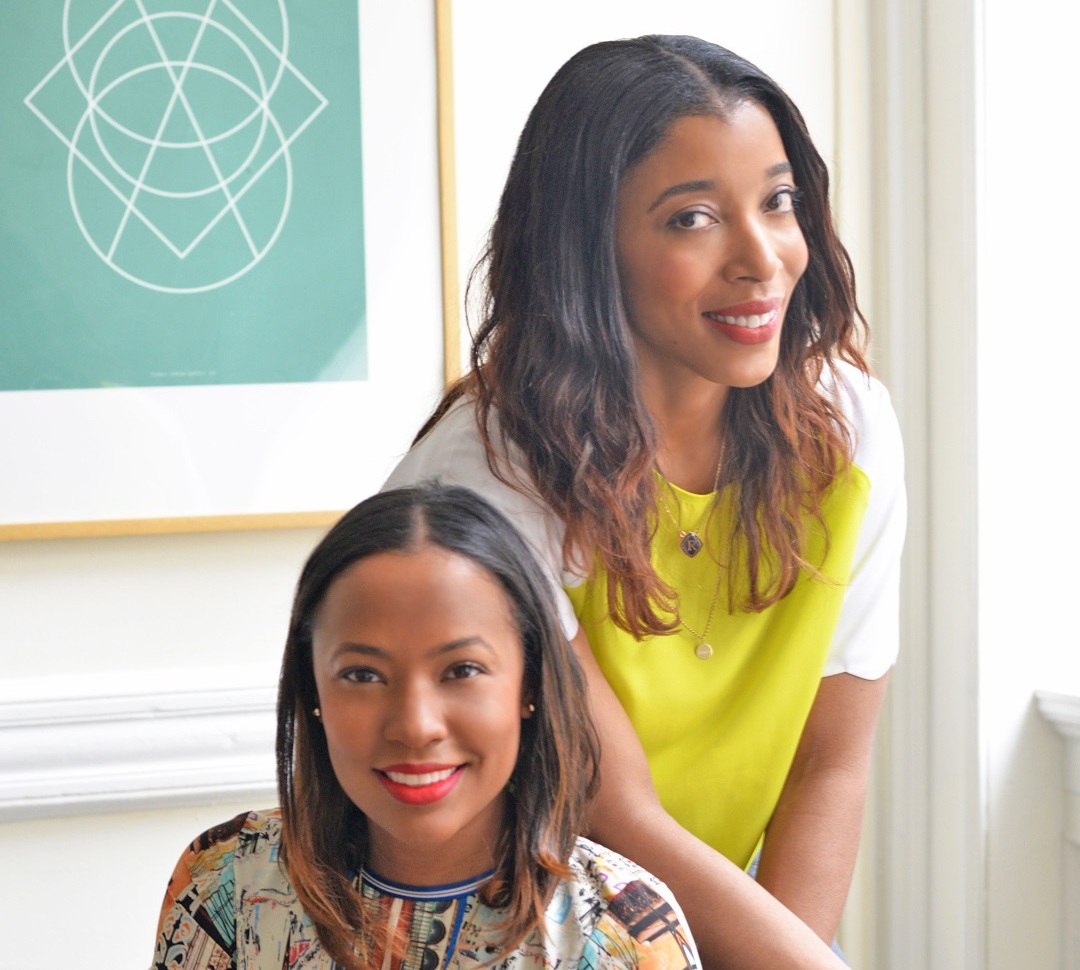 Jocelyn Delk Adams - KEYNOTE SPEAKER

Grandbaby Cakes

Founder & Author, "Grandbaby Cakes"

Funlayo Alabi - KEYNOTE SPEAKER

Shea Radiance

Founder

Marilyn Crouther - KEYNOTE SPEAKER

Hewlett Packard USPS

Senior Vice President

Myleik Teele

CurlBox and MyTaughtYou

Founder

Dominique Broadway




Award Winning Financial Planner

Tiffany Chalk

Tiffany Chalk Events

Founder

Myrna P. Daramy

Mezzohead & NewlyBride

Founder

Dr. Antwain Goode

Tate Consulting

Founder & Author, "Bet the Farm"

Sandy Hammer

AllSeated

Co-Founder & CMO

Chef Dana Eugene Herbert

Desserts by Dana

Owner & Celebrity Pastry Chef

Maya Warburton Holihan

Pure English Couture Bridal, Privée Bride of Ghent, Silk Bridal Consignment Boutique

Owner

Kimberly Neal, P.A.

Pessin Katz Law

Attorney

Meryl Snow

Catersource & Feastivities Events

Senior Consultant-Catersource | Founder, Feastivities Events

Brian Wendroff, CPA

Wendroff & Associates

Founder
Jocelyn Delk Adams - KEYNOTE SPEAKER

Grandbaby Cakes

Founder & Author, "Grandbaby Cakes"

Funlayo Alabi - KEYNOTE SPEAKER

Shea Radiance

Founder

Marilyn Crouther - KEYNOTE SPEAKER

Hewlett Packard USPS

Senior Vice President

Myleik Teele

CurlBox and MyTaughtYou

Founder

Dominique Broadway




Award Winning Financial Planner

Tiffany Chalk

Tiffany Chalk Events

Founder

Myrna P. Daramy

Mezzohead & NewlyBride

Founder

Dr. Antwain Goode

Tate Consulting

Founder & Author, "Bet the Farm"

Sandy Hammer

AllSeated

Co-Founder & CMO

Chef Dana Eugene Herbert

Desserts by Dana

Owner & Celebrity Pastry Chef

Maya Warburton Holihan

Pure English Couture Bridal, Privée Bride of Ghent, Silk Bridal Consignment Boutique

Owner

Kimberly Neal, P.A.

Pessin Katz Law

Attorney

Meryl Snow

Catersource & Feastivities Events

Senior Consultant-Catersource | Founder, Feastivities Events

Brian Wendroff, CPA

Wendroff & Associates

Founder
Ginger Johnson & Liz Picket - HEADLINE SPEAKERS

Ginger Liz Nail Colour Collection

Founders & CEO's

Dominique Broadway




Award Winning Financial Planner

Tiffany Chalk

Tiffany Chalk Events

Founder

Myrna P. Daramy

Mezzohead & NewlyBride

Founder

Dr. Antwain Goode

Tate Consulting

Founder & Author, "Bet the Farm"

Sandy Hammer

AllSeated

Co-Founder & CMO

Chef Dana Eugene Herbert

Desserts by Dana

Owner & Celebrity Pastry Chef

Maya Warburton Holihan

Pure English Couture Bridal, Privée Bride of Ghent, Silk Bridal Consignment Boutique

Owner

Kimberly Neal, P.A.

Pessin Katz Law

Attorney

Meryl Snow

Catersource & Feastivities Events

Senior Consultant-Catersource | Founder, Feastivities Events

Funlayo Alabi - KEYNOTE SPEAKER

Shea Radiance

Founder

Jocelyn Delk Adams - KEYNOTE SPEAKER

Grandbaby Cakes

Founder & Author, "Grandbaby Cakes"

Marilyn Crouther - KEYNOTE SPEAKER

Hewlett Packard USPS

Senior Vice President

Myleik Teele

CurlBox and MyTaughtYou

Founder

Brian Wendroff, CPA

Wendroff & Associates

Founder
Save
Save
Save
Save
Save
Save
Save
Save
Save
Save
Save
Save
Save