Featuring Gary Renard, Cindy Lora-Renard, Jackie Lora Jones, Mark Jones, and Doris Lora!
About this Event
Please join us for this exciting all day workshop with a family who practices A Course in Miracles! We will explore the true meaning of Christmas, and what it means to truly embody the Christ. Gary and Cindy, Jackie and Mark, and Doris will give examples from their own lives as to how they practice forgiveness individually and as a family. You will also learn daily techniques to keep yourself on a right-minded track, how to stay in a miracle frame of mind, and apply forgiveness to upsetting situations, all of which will help you undo the ego and further yourself on the path of awakening.
There will be music, meditations, Q&A, and humor! We hope you will join us for this powerful Christmas themed and celebratory workshop where you get to hear from a whole family who practices A Course in Miracles!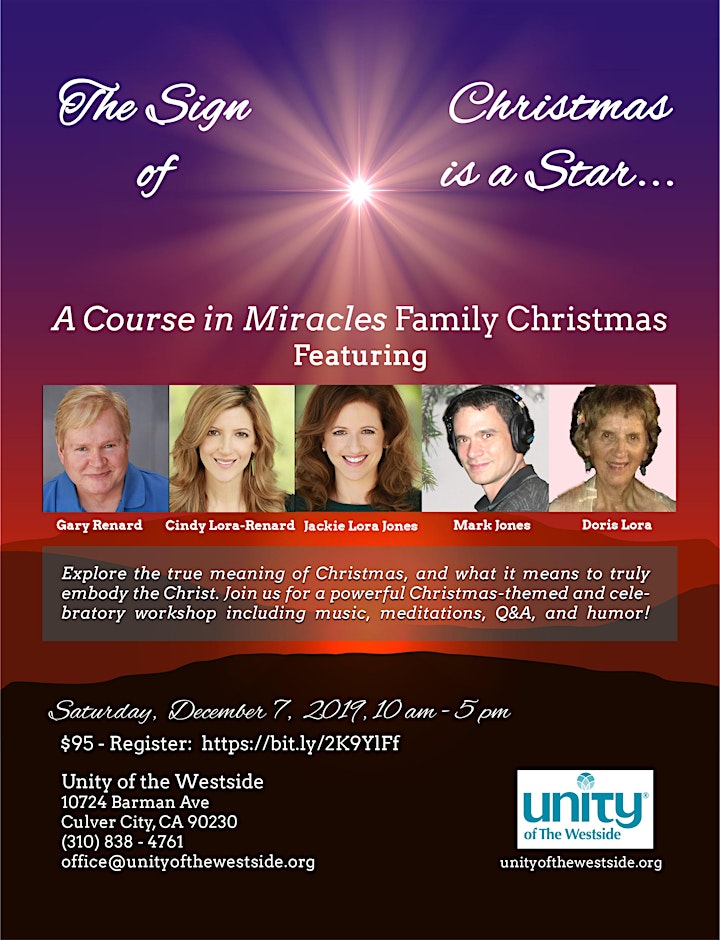 The Sign of Christmas is a Star: A Course in Miracles Family Christmas!
Gary Renard: http://www.garyrenard.com/
Cindy Lora Renard: http://cindylora.com/
Jackie Lora Jones: https://jackie.news/
Parking: Free all day neighborhood street parking! Free parking on Braddock Dr, Combs Ave, and on Barman Ave, (be sure to park on the side of the street across from Unity of the Westside Church).
You can also pay at the door by cash or check or here on Eventbrite until the start time using a credit card.
BOOK SIGNING from 5pm-6pm. Books for sale will be available by cash or check.