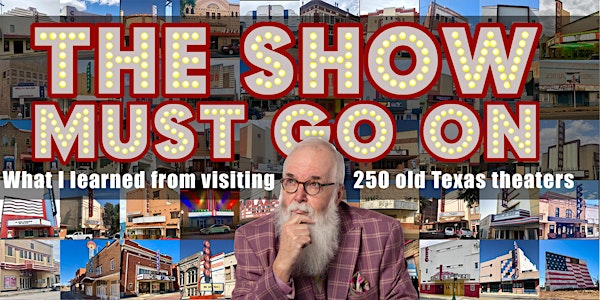 The Show Must Go On
During COVID, Mike Robertson traversed the state of Texas, photographing old movie theaters. But he found more — a disappearing heritage.
When and where
Location
AFS Cinema 6259 Middle Fiskville Road Austin, TX 78752
About this event
It started with a single photo of an old movie theater, taken from a car window. More than 250 theaters later, Mike Robertson had traveled to every part of the Lone Star State, documenting as many old picture shows as possible. Like him, you'll marvel at the endless variety among these palaces, their widely-varying condition, the triumphant ones who still prevail and the sad remnants of past glories.
Mike Robertson is a professional speaker, writer, musician and storyteller. He's also known for doing amazing creative presentation slides. With humor and warmth, he'll take you on a nostalgic journey and renew that unque feeling of a Saturday night at the movies.
Don't miss this one-night-only performance of The Show Must Go On!