Description
There is a reason why grocery stores force you to make the longest trek possible to get to the #1 thing people need there — milk. There's a reason why McDonald's places the cheapest items in the lower right corner of the menu, at the point furthest from where your eye is trained to begin its search. Let's face it — we are irrational beings. Companies have learned to take advantage of that irrationality and employ dark patterns that lead us to make decisions that aren't in our best interests. However as interaction designers, it's our duty to design environments and experiences that ethically help people become their best self. For us, irrationality is a material to design with, not a weakness to exploit. And that's where behavior design comes in. We'll discuss what behavior is, what behavior design is, the role of data and storytelling in shaping behavior change, and how to convert wicked goals into simple habits backed by tight feedback loops.
---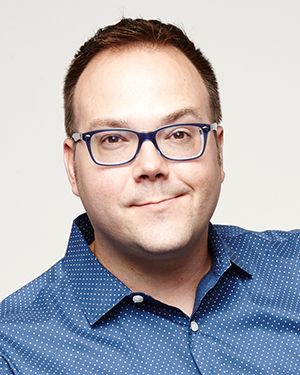 About Eric
Eric Spaulding is head of product and design at numo, a fintech incubator in Pittsburgh. Previously, Eric led the Product Design practice at Capital One's Innovation Lab in San Francisco. While there, he scaled Capital One's money coaching platform from an in-person service for hundreds to a digital product to serve tens of thousands. He designed behavior-driven products that helped the average American worker save meaningfully to protect against life shocks, while using the same nudge mentality to help sub prime customers more aggressively pay down debt. Prior to that, he worked at IDEO in Palo Alto, where he helped companies discover the soul of their business, and then express it in memorable ways. A fiction writer turned jazz musician turned interaction designer, he sports a rabid passion for a good story well told, and loses large chunks of time tinkering with new ways to help people become their best self. He's spoken at South By Southwest in Austin TX around immersive storytelling for brand building, and the application of behavior design to build ethical and sustainable products. His 9-month old son Fletcher is indeed named after the movie starring Chevy Chase.
---
Never miss an event by joining the IxDA Pittsburgh mailing list.
Huge thanks to Code & Supply for being our venue sponsor this month.
This event is sponsored by Midwest UX. Be sure to register for MidwestUX 2018.