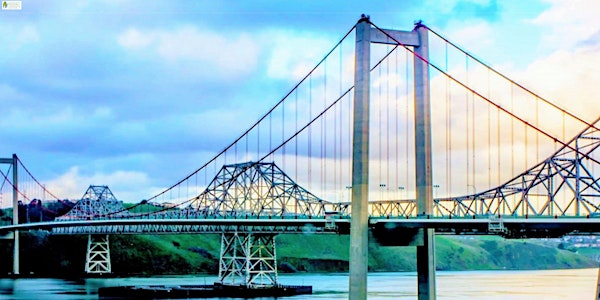 The Shoreline Festival 2023
First-of-its-kind festiva!! A celebration of the elements of a watershed: earth, air, water, and fire!!
When and where
Location
Near CREEC Greenhouse: 1909 Dowrelio Dr, Crockett, CA 94525, United States 1909 Dowrelio Drive Crockett, CA 94525
About this event
This is a first-of-its-kind festival in Crockett, California, on May 20th, 2023, from 11 am to 6 pm! The Shoreline Festival will celebrate air, fire, water, and earth—the elements that are the essential forces that shape our natural environment. Amazing performers, dance troops, and live bands will delight you with their talents on two stages. Scheduled wine and beer tastings will take place throughout the day in a beautiful tasting tent, as well as a variety of booths providing an array of tasty beverages. Take flight in a hot air balloon with Sky Drifters, providing epic views of the Carquinez Strait, Carquinez Bridge, and a special aerial view of the festival.
https://www.ccrcd.org/shoreline-festival
Musical performances fill the air—dancing is not required, but it is recommended!
On the main stage:
The Purple Ones - Insatiable Tribute to Prince
Busta-Groove!
The Billy Martini Show on the first line and 70's Musical Tribute
Blame the Whiskey
Children's entertainment stage:
Martin and the Green Guitar
Crockett, CA Library Story Time
Children's games and hands-on activities will delight young ones throughout the day
The festival will not only be beautiful from the ground but also from above - carefully designed to be a unique visual art piece from high above the festival.
There will be artisans and small businesses selling their art and wares and lots of wonderful sustainable goods. Community groups will be leading pop-up workshops on a wide range of exciting topics including hands-on free activities. Food vendors and food trucks will offer a variety of cuisines, including vegan and gluten-free options. This is a celebration of the month of May being declared Watershed Awareness Month in Contra Costa County by the Board of Supervisors. Come join us in celebrating this important month. This is a low-to-no-waste Festival and will highlight the future of the shoreline in Contra Costa County. There will be a focus on sustainable living, clean water practices, and environmental education. This is a fun and exciting opportunity for people of all ages to enjoy the potential of this wonderful niche of the county once again!
Let the celebration begin!
● Gorgeous views of the Carquinez Strait
● Crockett Striped Bass Club will host a fun, kid's activity for the little ones
● Bioswale and water garden demonstrations throughout the festival
● Historical Waterfront Exhibition by the Crockett Museum
● Native plant sale and children's activities at the Carquinez Regional Environmental Education Center (CREEC)
● Experience a sustainable, low-to-no-waste Festival.
● Come visit the Worm Farm to see real-time composting of Festival trash.
Join the CCRCD on May 20th, 2023, from 11:00 am to 6:00 pm for this jam-packed day of sensational experiences for people of all ages! Proceeds from this Festival will support the CCRCD's programs and the creation of a new community space