Description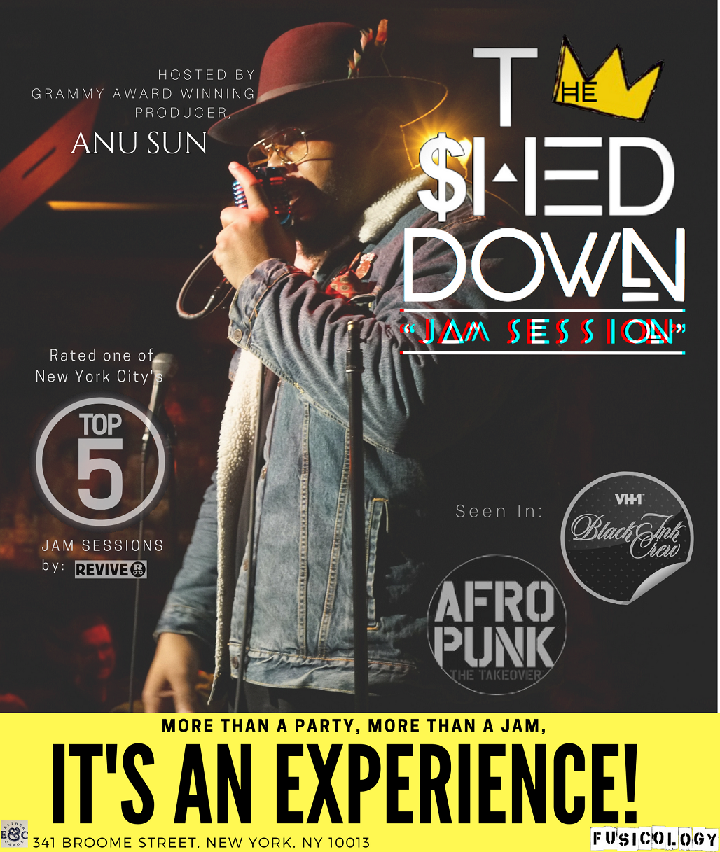 Forch of Nature Music Group properly presents:
The SHEDdown hosted by Anu Sun!!
Join us at the Esther & Carol Studio as we "SHEDdown" #SoHo!! If you you've attended any editions of "The Shed" jam session in the past then you know that this is going to be a spectacular event filled A-List musicians and special guests.

The Shed jam session is the brainchild of Grammy Award winning producer/engineer, Anu Sun. To date, Anu's credits include work on the Grammy Award winning"Miles Ahead" motion picture soundtrack by Miles Davis and Robert Glasper; as well as, work with Johnny Cash, Bilal, Ro James and Ledisi.

The SHEDdown is a sister event of "The SHED" jam session, a monthly Harlem session that serves as a launchpad for emerging talent. Make sure you're attendance this special night as Anu and his legion of musical Jedi's "ShedDown" New York's Lower Eastside!

Ranked one of #NewYorkCity's Top 5 Jam Sessions by Revive Music

Featured in #AFROPUNK's #TheTakeOver #Harlem & #BOTB

Seen on #VH1's #BlackInkCrew

#TheShed is the brainchild of Grammy Award Winning engineer/producer Anu~Sun. The Shed provides a taste of the New Renaissance happening in #Harlem and serves as a launchpad for emerging talent. Join us for an evening #food #drinks and #LiveMusic performed by a cast of today's most talented musicians. The Shed, you never know who might come through!

Past Performances at #TheShed Include:

Robert Glasper

Bilal Oliver

Yazarah (of Lenny Kravitz band)

James Poysner (of The Roots)

Mark Kelley (of The Roots)

George "Spanky"McCurdy

Raymond Angry (of The Roots)

Carmen Rodgers (of Foriegn Exchange)

R.C. Williams and The Gritz (Erykah Badu's band)

Daru Jones

Big Yuki

Marcus Strickland

Jaleel Shaw

Maurice "Mo Betta" Brown

Igmar Thomas

Jerimiah Abiah

Justin Brown

Ben Williams

Nate Jones

Justin Tyson

Lex Sadler

Marcus Gilmore

"MuthaFcuk The Wagon, Come Join The Band!!"