Description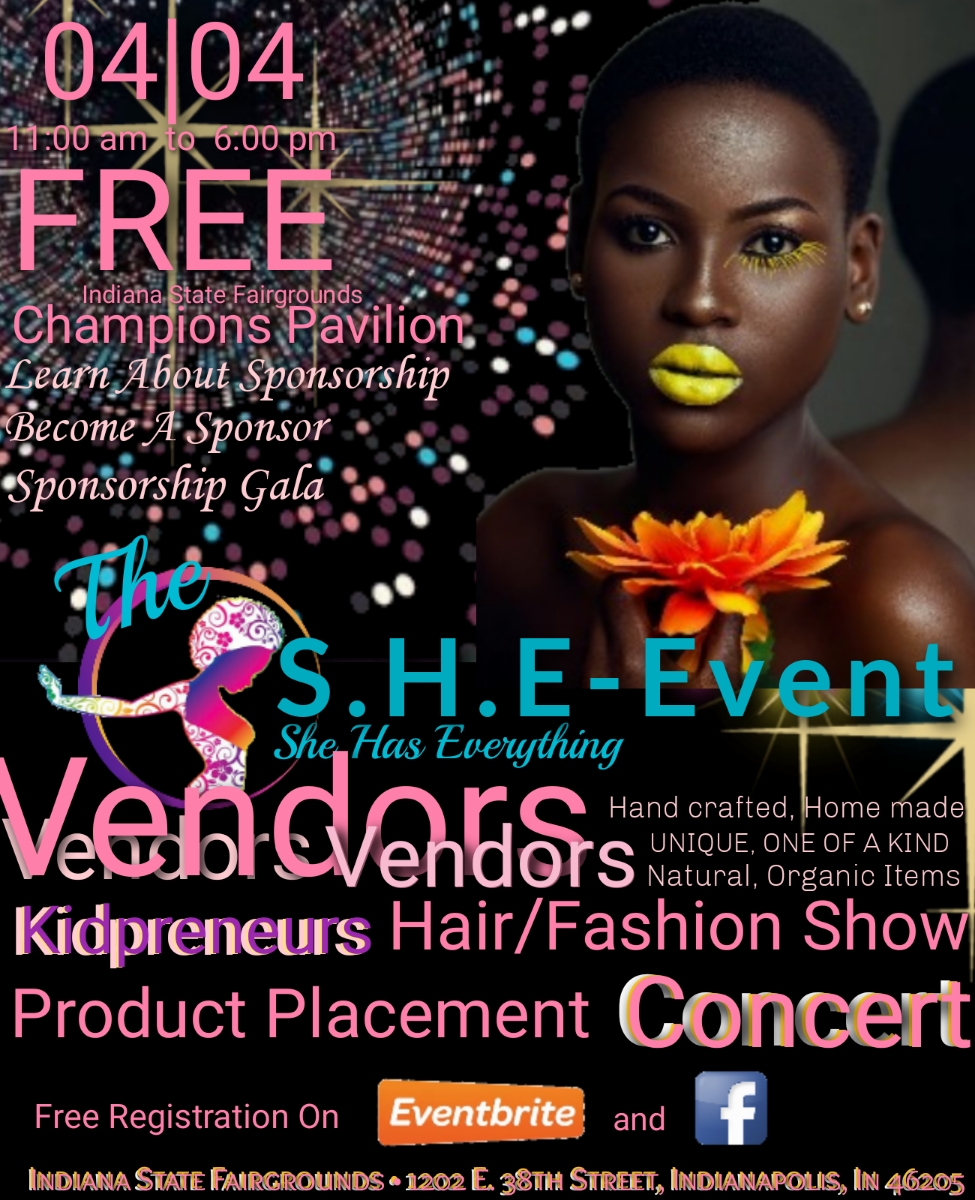 Greetings!
The She event is a self funded organization that provides venues for African American Women businesses to showcase their goods, products, and services. The primary purpose of the She Event is to educate our vendors on sound business practices, to build capacity, and to foster an attitude of circulating black dollars within our community.
Join our Amazing Marketplace..."The S.H.E. Event" as we network & showcase Black Owned Businesses & Organizations who are committed to establishing a legacy of wealth!
YOUTUBE VIDEO: https://youtu.be/D1d8THXyLuY
*If you are interested in being a vendor, please click on the link below and submit a vendor request:
https://docs.google.com/forms/d/e/1FAIpQLSfiEwmo26qF6C_EXMV0F5uR8zHV9eXTV9y9GYpzRMXCl8SiAA/viewform
*If you are interested in being part of the fashion show please submit your request at https://www.jolihaircompany.com/s_h_e-event-indy
*If you are interested in performing during the S.H.E. Event, please send an inquiry to: donzellakinsey@yahoo.com.
*Giving back to the community: We will be awarding 4 Adult Black Owned Businesses with a $250 Grant, and 5 Kidtrepreneurs with a $100 Business Grant.
*If you would like to donate towards the operational costs for the SHE Event, please select the amount of your choice & send via cashapp: $SheEventIndy
*FREE ADMISSION, FASHION SHOW, ENTERTAINMENT, GIVEAWAYS!
Peace & Lots of Love!
Ase'
Katina "TT" Washington