Friday, December 10 is the LAST DAY to sign up for The SHARE lectures. Make Gospel-sharing part of your reboot. Registered already? THANKS!
About this event
"Hold That Line"
The struggle is real. But it is worth it. When we reach that city of the new Jerusalem, we'll sing 'Hallelujah!'
Good news! You can once again take in The SHARE in-person or via live stream.
The carefully selected speakers for Episode 16 of The SHARE will appeal to all age groups but especially those who have been in the race for more than a minute. Millennials, Singles, Youth, and anyone who has yet to be baptized will be encouraged. Please invite those who you want to hear the unadulterated Gospel.
This virtual episode is one you'll want to share with your circle of influence. Live stream this set of three 30-minute lectures and the follow-up panel discussion on GACoC.org, or our Facebook or YouTube pages. Include your e-mail address at registration so that your lecture materials can be sent to you the Friday before showtime. Also at registration, please indicate whether you will be in the audience or watch via the stream.
The SHARE will begin at 10 am and end at 1 pm.
So CHEW (at home) Then VIEW (from home) The REAL Live TALK @ The SHARE!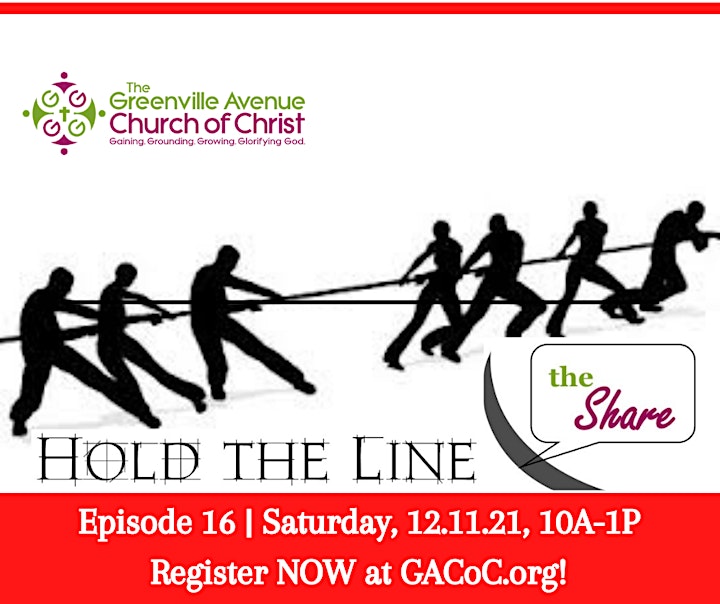 Organizer of The SHARE | Episode 16: "Hold That Line"