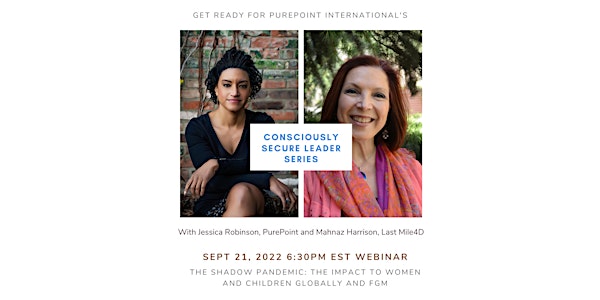 The Shadow Pandemic: The Impact to Women and Children Globally and FGM
The Shadow Pandemic: The Impact to Women and Children Globally and FGM
About this event
According to the UN Women report social and economic consequences of the pandemic have affected the everyday life of men and women across the world significantly. Loss of income and economic opportunities affect households' food security, livelihood, and access to necessities. Economic distress reportedly heights women's risks of experiencing violence. Mahnaz saw this firsthand in her own work in communities in Kenya during the covid lockdown and school closures. Girls reported harassment and various kinds of abuse from family members or neighbors. Fear of Female Genital Mutilation and early marriage rose among the girls particularly because of school closure and economic distress that parents felt.
Join us for this discussion on Consciously Secure Leadership in action and creating holistic safety and security for women and girls.
Mahnaz M. Harrison is the founding President, CEO of Last Mile4D.
She is experienced in management of innovative health projects in the world's remotest areas. Her talent is in collaborating with local, regional and international stakeholders to move health projects from the pilot phase to implementation.
She received a Fulbright Scholarship, in 2011 to draft a Comprehensive Cancer Control Policy in the country of Georgia. This work paved the way for the establishment of LM4D, which designs innovative community-centric health, and rights-to-health solutions. Innovation of VPack technology has enabled her to bring her passion for women's and girls' rights to health and safety to fruition with local partners in Kenya, Uganda and Nigeria. They use VPack to eradicate female genital mutilation (FGM) in Kenya. Furthermore, she designed several regional programs for civil society organizations in the Caucasus, Central Asia and the Middle East to further their advocacy skills on women's health and rights to health and being safe from abuse.
Her passion is improving the health, safety and economic livelihood of women and girls in the remotest areas of the world. While using technology has been critical, it is Harrison's expertise in designing protocols and curricula that produced successful health outcomes. She serves on the board of World Pulse and she is a graduate of Johns Hopkins School of Advance International Studies/SAIS.