The Seven Secrets of Successful Authors

Sunday, 25 November 2012 from 09:00 to 17:00 (GMT)
Event Details
Attention: Small-business-owners, entrepreneurs, speakers, coaches, therapists, technical specialists & consultants . . .
How would YOU instantly like to achieve more credibility & respect in your chosen field?
Introducing My One-Day Seminar on How to Become a Successful Author
My proven, step-by-step success formula for writing your book is Easy, FAST and Guaranteed!! . . . even if you are just a beginner!
From: Kevin Bermingham,
Book publisher & author of 'The Seven Secrets to Successful Authors'
Dear Aspiring Author,
Let me ask you a question.
What do you think adds respect and credibility in any business or profession? And I mean any business or profession.
The answer is much easier than you think. . . .
To attract instant respect from prospective clients you must become more credible in your field. You must write a book on your topic.
Do this and you'll achieve instant authority in your specialised field, attract more clients than ever, and then be in a position to charge higher rates.
Believe me when I say writing a book is one of the best things you can do for your reputation, your career and your bank balance...
Now I know what you're going to say next! I bet it's something like:
I don't know how to write!
Who would want to read MY book?
It won't get published, so what's the point?
And how do I know this? Because once upon a time I had exactly the same fears and self-limiting beliefs and they blocked me from writing my first book, 'Change Your Limiting Beliefs' and moving forward in my own career.
But since writing and publishing my own books, I've set up my own publishing company and helped other aspiring authors to write and publish another TWENTY books this year - I've become something of an expert myself!
I've discovered how anyone can gain laser-like CLARITY about their topic and readers; how they can sky-rocket their own CREDIBILITY as an expert in their field; and finally how they can exploit their own book to earn more CASH!
And it's because of this success that I decided I wanted to give something back to other aspiring authors. That's why I'm inviting you to my one-day seminar - I want to help YOU and other business owners, entrepreneurs, consultants, life coaches, personal trainers, doctors or horse whisperers – honestly it could be anybody who's in business - to write YOUR own book and achieve the same success as I have with mine.
And here's the dumbest thing. I did it the hard way! No help, no tuition, no guidance, and I made a lot of stupid mistakes along the way. That's why I decided to create this one-day seminar - so that other people didn't have to make the same mistakes and suffer the same frustrations and heartache that I did!!!
And that includes people who have never written before!
The thing is, you don't need to know HOW to write - because I'm going to teach you that. Yes, I believe writing is a skill and with a fool-proof, step-by-step proven success formula anyone can do it. And that includes you. We'll talk about the writing process in the seminar and you'll be surprised at some of the success stories you're going to hear from people who had NEVER written before and have now got one (or more!) published books to their name.
In fact let's look at some of those success stories now!
The book covers you see below are just some of the books written by people who attended this very same one-day seminar that you are invited to attend.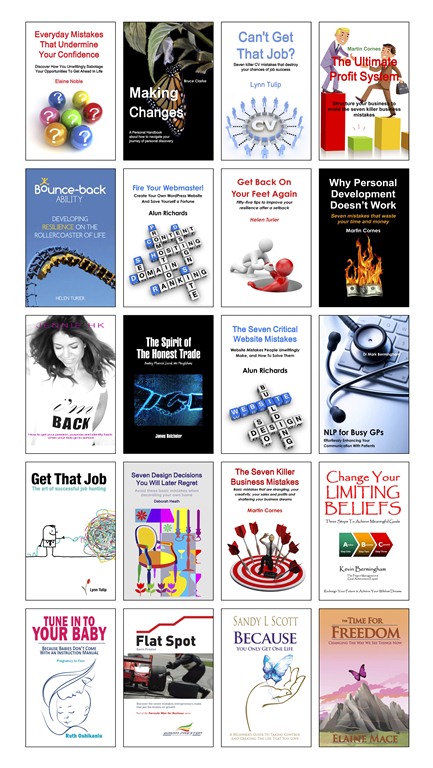 "Kevin has created a fine-tuned strategy that takes the hard work out of writing a book for all would-be authors. It takes dedication and commitment from the author and with Kevin's fool proof plan to follow; you're well on the road to success, while keeping your sanity!"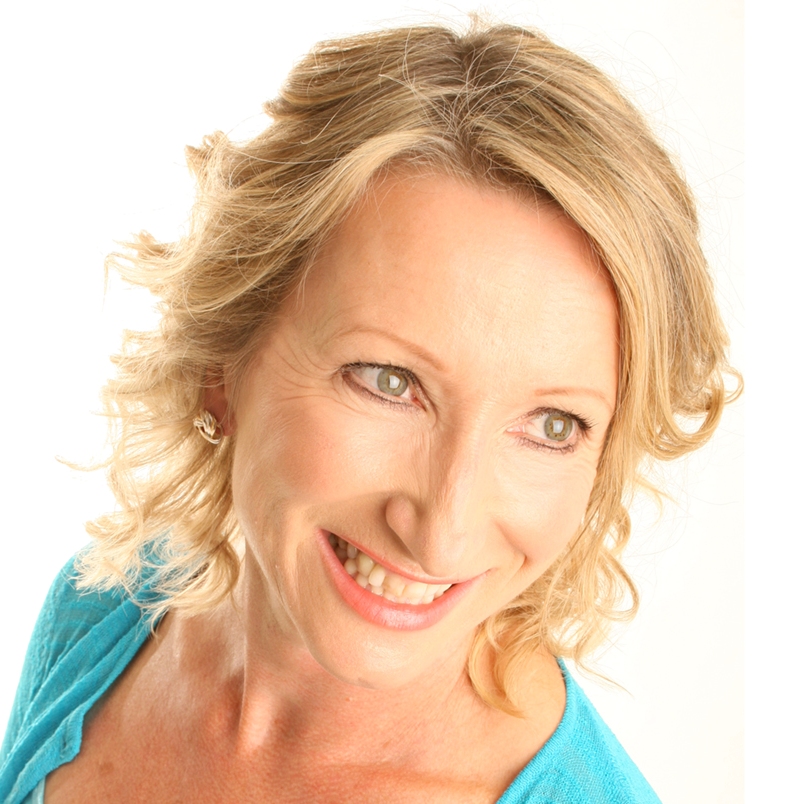 Elaine Noble
Certified Life Coach and 90 day author of "Everyday Mistakes That Undermine Your Confidence"
In this one-day seminar I'll also share a top-secret tip with you on how to extract the content of the book from your target market BEFORE you even write it. That way your clients provide the content they want and you know you have a ready-made market for your book!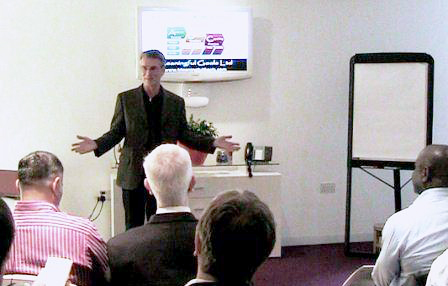 If you can't wait, the green-coloured ORDER NOW button is at the top of the page.
Before I share with you what else you'll be learning on my one-day seminar, let me cover one of the most common myths around writing - or NOT writing - that of time.
If I had a penny every time someone said they'd love to write a book but they don't have the time, well, I'd be living in Buckingham Palace by now! Seriously, you do NOT need more time to write a book.
You just need to know how to write a book in the time you ALREADY HAVE!
I'm not going to lie and try to pretend writing a book happens by itself. But did you know that a lot of writing a book is actually taking up by faffing about and stressing over HOW to write your book! What to write, how to get started, what happens if you get stuck, etc., etc. The actual writing doesn't take long at all. It's the thinking about it that sucks up time!
Now I won't actually write the book for you (that's what ghost writers are for and why a half-decent one will cost you an arm and a leg) but what I will do is take away all the stress that goes with it. That's why I focus on avoiding the dumbest mistakes in this one-day seminar.
"I thought your Book Design workshop was great! The fact that that, in just one day, we broke the whole book into the level of detail we needed to start writing the next day was just awesome."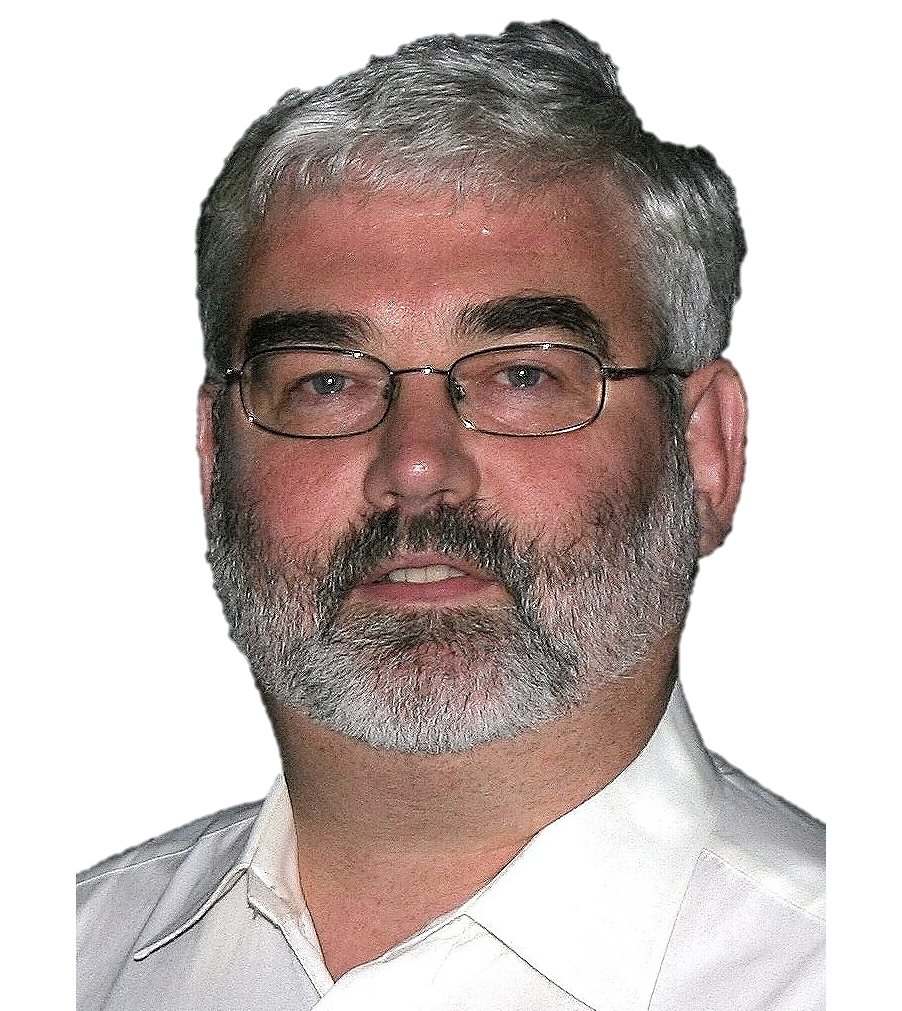 Alun Richards
Author of two books, "The Seven Critical Website Mistakes" and "Fire Your Webmaster"
Obviously I don't expect you to come to a one-day seminar and write and book in one day . . . . but remember when I said writing the book was the easy part and thinking about it was the hard part?
Well the good news is, in this one-day I'm going to do ALL the thinking for you. I'm going to take away the difficulty, the frustration, the sheer confusion of writing a book and share with you my TOP 7 SECRETS to writing a book easily, effortlessly and FAST.
Secret 1: WHAT to write about
Secret 2: WHO to write for
Secret 3: WHY your readers buy books
Secret 4: HOW to design your book
Secret 5: WHEN to finish writing
Secret 6: WHERE to promote your book
Secret 7: WHICH experts you need


Discovering the seven secrets of successful authors means you will know how to AVOID all the stupid mistakes I made (and thousands of other first-time authors still make) so you can bypass the frustration, heartache and years of failure!
And that's not all, here's what else you will achieve when you come along to this one day seminar....
Learn how to AVOID WRITER'S BLOCK – one of the biggest hurdles faced by aspiring authors. This may be the MOST IMPORTANT thing you learn this year!
Create a simple 3-part strategy so you can become the EXPERT in your chosen field and kick open the door of OPPORTUNITY

Unravel the difference between DREAMS and GOALS - and learn why knowing this is key to the success of your book
Discover how

my successful authors create a SURE-FIRE BOOK PROPOSAL, then use it to develop a BULLET-PROOF BOOK DESIGN.
And lastly, how successful authors create a FOOL-PROOF WRITING PLAN with a simple set of concrete actions that are GUARANTEED to skyrocket your productivity
If you want to achieve more CLARITY, more CREDIBILITY and more CASH, then I recommend you reserve your place now. I can only run small workshops, because I want to provide you with the one-to-one support you deserve. So if you want to write a book and achieve instant respect and credibility in your chosen field, book now!
If all this sounds just perfect for you already, then wait! It gets better. Because I am ALSO offering TWO great bonuses if you reserve your place today:
BONUS ONE - When you come to my workshop, I'll give you a FREE copy of my 144-page book, The Seven Secrets of Successful Authors, to take away with you so you'll never forget what you've learned....

it's currently for sale at £15.97

on Amazon.
BONUS TWO - If you bring a partner or friend along with you, then your friend comes FREE! That's 2 tickets for the price of 1, saving you £47.
But you need to BOOK NOW!
Now let's be honest, you know this workshop is not just for everyone. So let's look at who it is for:

Anyone in business who wants to achieve instant EXPERT status, gain more clients and charge higher prices
Entrepreneurs who want to get more clarity about their niche and customers
First-time authors who want to avoid making mistakes, who want an easy and FAST success formula - previous writing experience is NOT necessary
Published authors looking to refine their writing system for BETTER results in future
There aren't any plans for another seminar. So I strongly recommend you BOOK NOW to avoid disappointment. You see, I only have a limited number of places available because I prefer to run small, cosy seminars to maximise my one to one feedback and support. The best time to start building your expert status is now, so that YOU can start the New Year with a bang!
But you must BOOK NOW!
Before I close off, I want to tell you what being a published author actually feels like, because I'd love you to experience it too. Imagine you're at a party, in a meeting, or at a networking event and someone comes over to chat, then in the course of conversation asks what you do. How proud will you feel when you reply that you've just published your first book (Maybe you'll even have it on you!). And guess what happens...?
That person looks at you differently; they look at you with respect.
Next, they'll ask what it's about.... and now you're confidently the centre of attention, discussing something you know a lot about.
It's a magical moment that ALL my successful authors experience. I want you to experience for yourself, because as soon as you say you're an author EVERYONE wants to know about it!! People look at you differently. There is an instant respect for authors which you don't see anywhere else.
People want to shake your hand. They want to congratulate you. They want a SIGNED copy! And more importantly, they see you differently - you have entered a different league.
A league where you - who have written a book on your chosen subject - are now the expert in your field and can charge more money for your services if you choose.
I promise I'll leave you confident that you can get your book out of your head and into your hand FAST, so you can quickly get the rewards you deserve. I know you want to feel that elation and pride every time someone buys a copy of your book!
So if all this sounds good to you, then I look forward to seeing you at my seminar!
Here's to reading your book one day!

Kevin Bermingham, Publisher, Author, and Author's Mentor
PS – Remember when you come to my workshop you'll receive a FREE copy of my 144-page book, The Seven Secrets of Successful Authors. It's currently for sale on Amazon at £15.97
PPS – If you bring a friend or partner with you then you'll get two tickets for the price of one!
"Kevin has developed a simple strategy to get your ideas organised, your writing done, your deliveries scheduled, and then he'll ensure you'll actually hold your published book in your hand - all within 90 days."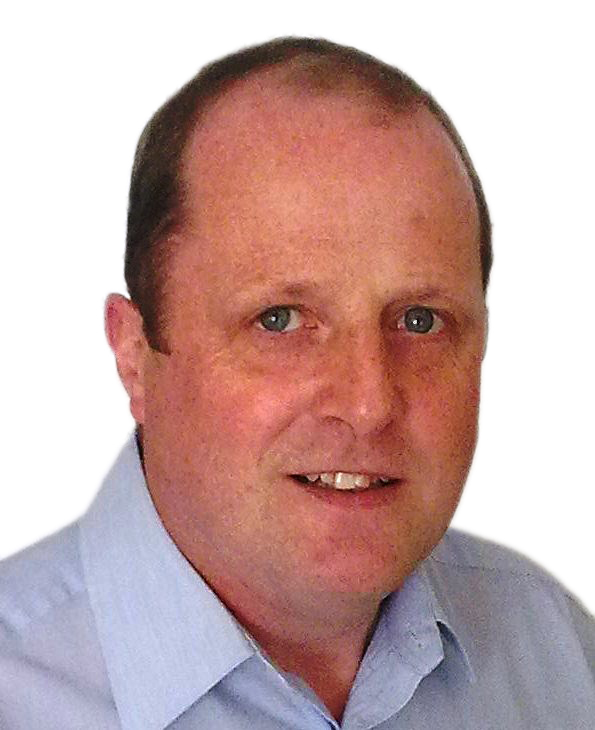 Martin Cornes
Author of three books, "The Ultimate Profit System", "The Seven Critical Business Mistakes" and "Why Personal Development Doesn't Work"
Now is the time for action... So, if you're tired waiting and want to have the best year of your life - let's get started!
Don't delay, the green-coloured ORDER NOW button is right at the top of the page.
When & Where
100 CROMWELL RD
Kensington
SW7 4ER London
United Kingdom


Sunday, 25 November 2012 from 09:00 to 17:00 (GMT)
Add to my calendar
Organiser
Kevin Bermingham
BSc, MBA, MPracNLP, CMC.
Meaningful Goals Ltd is the owner of the publishing imprint '90 Day Books'.