Description
About The Show

The Setup is an underground stand up comedy show located at the newly opened Ales Unlimited: Beer Basement in the heart of San Francisco. This venue was once the green room for the legendary Blackhawk jazz venue. Miles Davis snorted coke in this room. That's comedy feng shui.

The show is hosted by local favorites Richard Sarvate and Abhay Nadkarni. We feature established comedians from around the country as well as local up-and-coming stars. Our goal is to provide a truly raw alternative experience. San Francisco is known for indulging and incubating the absurd whims, oddities, and genius of the freaks who call it home. Think Lenny Bruce, Robin Williams, Jefferson Airplane.
The show always ends before 10:00pm so there is plenty of time to watch the show, do something afterwards, and then catch BART or MUNI.The show is every Friday and Saturday. The show starts at 8pm. Come early for great seats because the venue fills up quickly.
---------------------------------------------------------------------------

Comedian Lineups:
November 24 (Fri)

Kevin Camia (Live at Gotham)
Ronn Vigh (Fashion Police)
Drew Platt (SF Sketchfest)
Josh Waldron (Comedy Store)
Mean Dave (Punch Line SF)
Annette Mullaney (Mutiny Radio)
Justin Lockwood (Throckmorton)
---
November 25 (Sat) (7:45pm)

Kevin Camia (Live at Gotham)
Joe Tobin (SF Punch Line)
Brent Pella (MTV)
Butch Escobar (Laughs Unlimited)
Marcus Williams (Comedy Oakland)
Tracy Nguyen (Mutiny Radio)

---
November 25 (Sat) (9:45pm)

Joe Tobin (SF Punch Line)
Butch Escobar (Laughs Unlimited)
Marcus Williams (Comedy Oaklans)
Rachel Raphael (Mutiny Radio)
Josef Anolin (SF Sketchfest)
Matt Gubser (Daddy Issues)
With your hosts Richard Sarvate (SF Punchline) and Abhay Nadkarni (SF Sketchfest) !
FAQ:
Q. Is there a drink minimum?
A. No, there is no drink minimum but we encourage you to get as many drinks as you want.
Q. Is there parking available?
A. There is no parking at the venue, but there are many public parking garages close by.The closest one is Golden Gate Parking.
Q. Is the venue age restricted?
A. Yes, please have your ID as it's 21 and over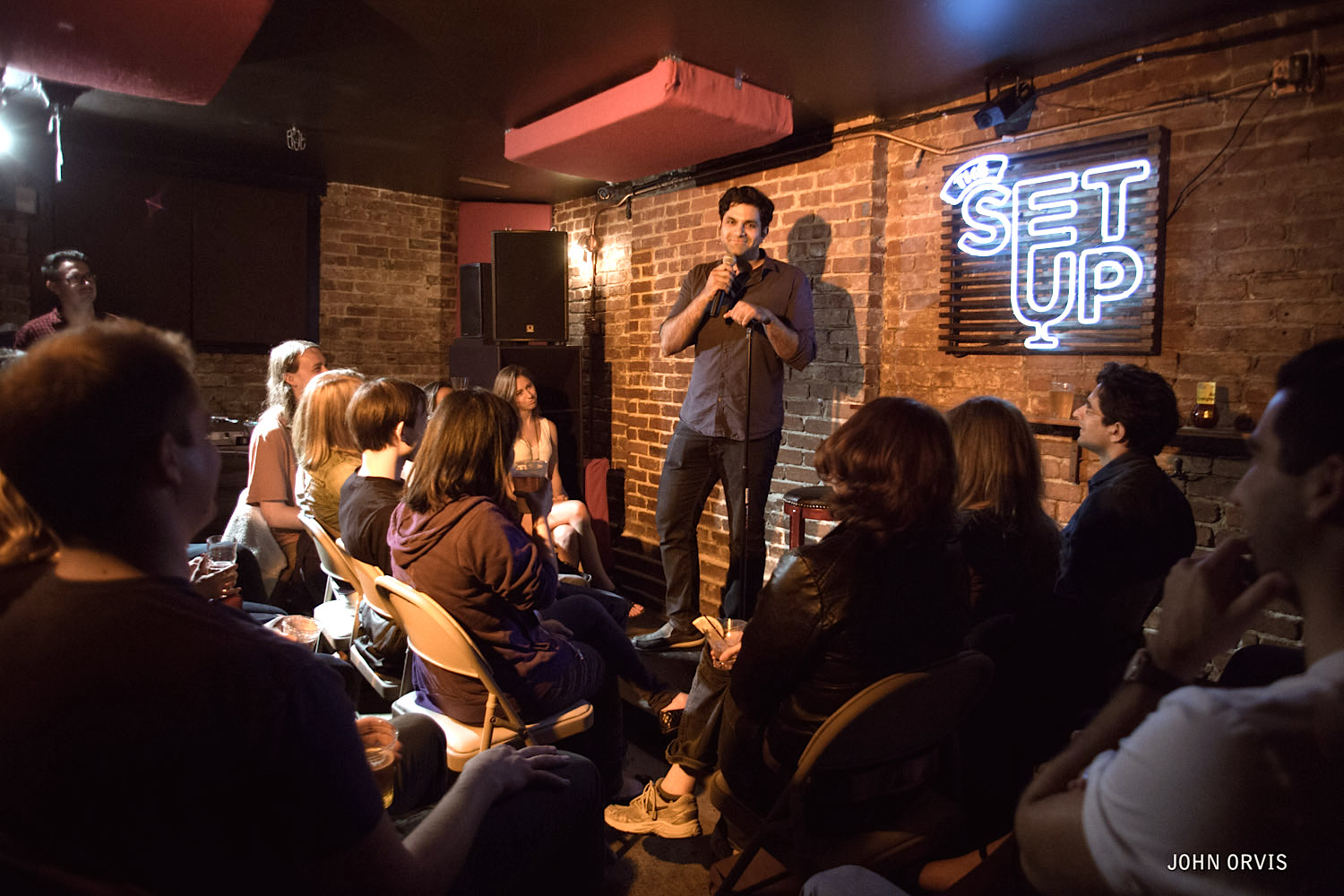 Other info:
Check our website, email, or call us at (415) 923-8610 anytime.
* The Setup has open seating on a first come, first serve basis. Seats are not guaranteed past 8pm so try to get there early. Please buy your tickets online to guarantee a seat. The event sells out quickly.
* All sales are final. There are no refunds.
See you at the show!