Location
Portside Pub
7 Alexander Street
Vancouver, BC V6A 1E9
Canada
Description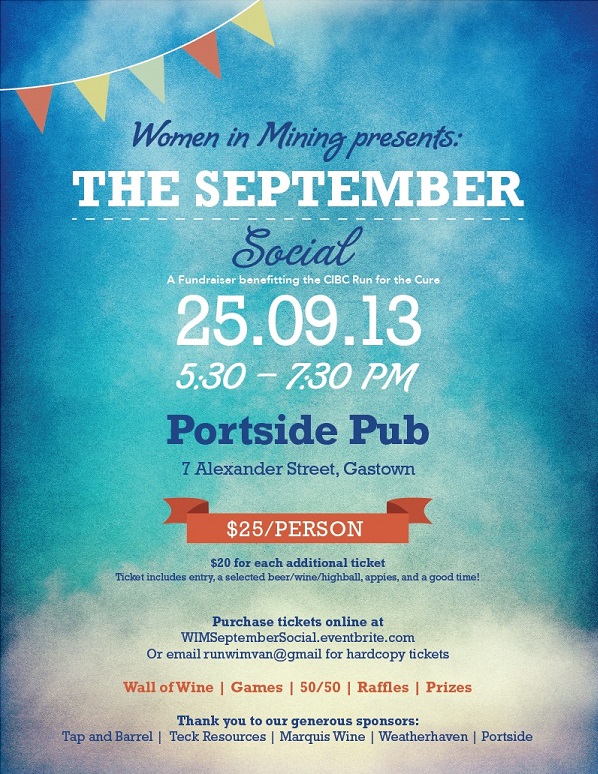 Come join us Wednesday, September 25th at The Portside pub, 7 Alexander Street in Gastown - A Beer/Wine & Bites Fundraiser from 5:30 – 7:30 pm.

Tickets are $25 each and include entry, a beer or glass of wine or a highball and a bite to eat! If more than 1 ticket is purchased each additional ticket is $20. (Your $5 will be refunded at the door with proof of multiple ticket purchase). Tickets can also be purchased at the door for $25 (cash no discounts).

The band "Halifax Warf Rats" a true Maritime band will be playing at 8:30, you will not be charged a cover charge. Come have fun and network with fellow peers while raising money for our team efforts.

There will be a ring toss, 50/50 draw, a 40 oz Jameson Whiskey give away, various large raffle prizes and a wall of wine.

If you are interested in sponsoring either an air hockey table ($500) or foosball table ($1,500) for our fundraiser event, please contact us. Your company name will be placed on all promotional literature, as well your name and logo will be on the table.

THANK YOU TO OUR GENEROUS SPONSORS:
Tap and Barrel | Teck Resources | Marquis Wine | Weatherhaven | Portside
*****

JOIN THE WOMEN IN MINING VANCOUVER BRANCH TEAM!
At the Canadian Breast Cancer Foundation CIBC Run for the Cure 2013
For the sixth consecutive year, the WIM team will be participating in the Canadian Breast Cancer Foundation CIBC Run for the Cure on Sunday October 6, 2013. The Run for the Cure is a 5k or 1k walk or run that raises funds for the foundation in the largest single-day, volunteer-led event in Canada in support of the breast cancer cause.

In the past six years we have raised over $160,000 and won the Corporate Spirit Award in 2010. We hope to continue giving hope and saving lives globally. Last year we had 49 participants! This year our goal is to have a team of 50 runners or walkers and collaboratively raise over $15,000 for this worthy cause.

It is a FANTASTIC event and we would love to have you on our team, along with your co-workers, friends and
family! It's a great networking event both professionally and personally! We are asking each member to raise at least $150.00 ($40.00 to join and this includes a free team T-shirt and the $110.00 raised goes directly to breast cancer research).

We need you to help us reach this goal! Click on the link www.runforthecure.com and Register for the Run!
Our team name is "Women in Mining".