Bluegrass and Roots icons, The Seldom Scene will provide us with an evening of joy and virtuosity that we won't soon forget!!
About this event
Since forming nearly 50 years ago, The Seldom Scene has brought both freewheeling joy and immaculate musicianship to their inventive take on bluegrass, offering up spirited interpretations of songs from limitless genres. And in also taking on the music of iconic artists of our past and present, The Seldom Scene perform a sort of subtle magic: transforming the most stripped-bare songs into harmony-rich and elaborately arranged compositions, while wholly sustaining the charmed simplicity of each piece.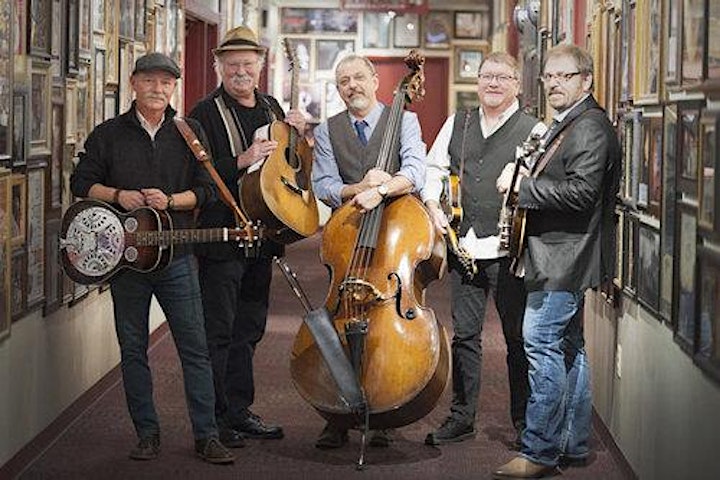 DOORS OPEN at 6:30PM
Table Seating is available by direct purchase from Slate Ridge Entertainment:
VIP Tables (8 seats per table) are available for direct purchase at $300/table. These tables are the closest to the stage.
PREMIUM Tables (8 per table) are available for direct purchase at $ 250/table. These tables are directly behind the VIP tables.
To reserve and purchase tables, please contact Slate Ridge Entertainment: Bob Mumby at robertmumby@verizon.net (443) 528-6144 or Craig Ward at ward8001@gmail.com (410) 937-9366
General admission chair seats are positioned behind the VIP and PREMIUM tables.
Doors Open at 6:30 PM
FAQs
What can I bring into the event? You may bring food (not beverages) into the event. Beer, wine and soft drinks will be available for purchase. Beverage sales are provided by, and for the benefit of, The Bel Air Downtown Alliance.
Can I purchase less than a full table? Currently, we are only offering full tables. Please note that, due to the limited number of tables, we expect them to sell out quickly.
Organizer of The Seldom Scene in Concert