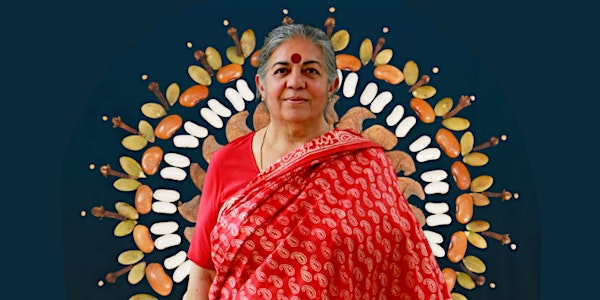 "The Seeds of Vandana Shiva" Film Screening
A screening of the documentary film detailing the remarkable life story of Eco-Activist Vandana Shiva.
When and where
Location
Flourish Ojai, Center for Inspired Living 214 West Aliso Street Ojai, CA 93023
About this event
4:30-6:30 pm
Doors open at 4:00 pm.
How did the willful daughter of a Himalayan forest conservator become the world's most powerful opponent of Monsanto? The Seeds of Vandana Shiva, a feature-length documentary, presents the remarkable life story of the Gandhian eco-activist and agro-ecologist, Vandana Shiva.
Please arrive prior to start time so we can begin promptly at 4:30. This event is free, but space is limited. Register now to secure your spot!
ABOUT THE EVENT | The film will be introduced by local Director Jim Becket, and a Q&A will be held following the screening.
ABOUT THE FILM | A classic David versus Goliath tale, the film shows how Vandana, a brilliant scientist, became Monsanto's worst nightmare and a rock star of the international organic food movement.
Vandana Shiva is a modern-day revolutionary, and for forty years has been fighting a heroic battle on behalf of humanity and the ecologically besieged natural systems that support us. But she is opposed by powerful multinational corporations invested in continuing their degenerative but lucrative agricultural practices. By profiling one of the greatest activists of modern times, the film looks at the epic struggle over who controls the world's food systems, and asks the question, who will prevail?
A note to our participants: We are welcoming all of our Ojai community members who are registering for this event. Please refer to the City of Ojai's COVID-19 information page to stay up-to-date on the currently recommended guidelines: https://ojai.ca.gov/covid-19-information/
ABOUT BECKET FILMS | Becket Films is an independent documentary film company based in Ojai, California. Our mission is to inspire action towards a healthy environment and social justice through film. In other words, as filmmakers, we seek to explore cultural, social, and economic diversity and to offer uncommon viewpoints through the medium of film.
We've worked in more than thirty-five countries on five continents to illuminate the perspectives of change-makers worldwide. We try to combine well-researched content with beautiful footage to inspire understanding and change in the global community.