A must-see for families considering a selective college or university. Learn the key strategies to maximize your student's odds of admission
About this event
Join HelloCollege for "Crack the Code: The Keys to Getting Into Highly Selective Schools" Webinar. This limited-time event is specifically for high-achieving students striving for a highly competitive academic institution. Learn how to maximize your student's academic talents during the college admissions process.
After the presentation, there will be a live Q&A .
Topics Include:
"Stand-Out" Factor
Even if you've determined you might be a good fit for some highly selective schools, there's more to consider than your GPA and test scores. Elite colleges look beyond pure academic achievement, paying close attention to intellectual interest or curiosity, also called the "stand-out" factor.
Demonstrated Interest
In many ways, the college admissions process is similar to a game—you need to understand all the rules of the game to maximize your chances for success. "Demonstrated interest," or taking extra measures to show that you want to attend a particular school, is among the key aspects.
Legacy
When it comes to college admissions, "legacy preference" means the applicant potentially receives some sort of preferential treatment if a parent (or sometimes a grandparent, sibling, aunt, or uncle) graduated from that school. Research has shown "legacy status" can greatly increase admission chances at certain schools.
BONUS CONTENT
All attendees will receive a recording of the webinar, presentation notes, and free college planning resources.
After the presentation, there will be a live Q&A with our speaker.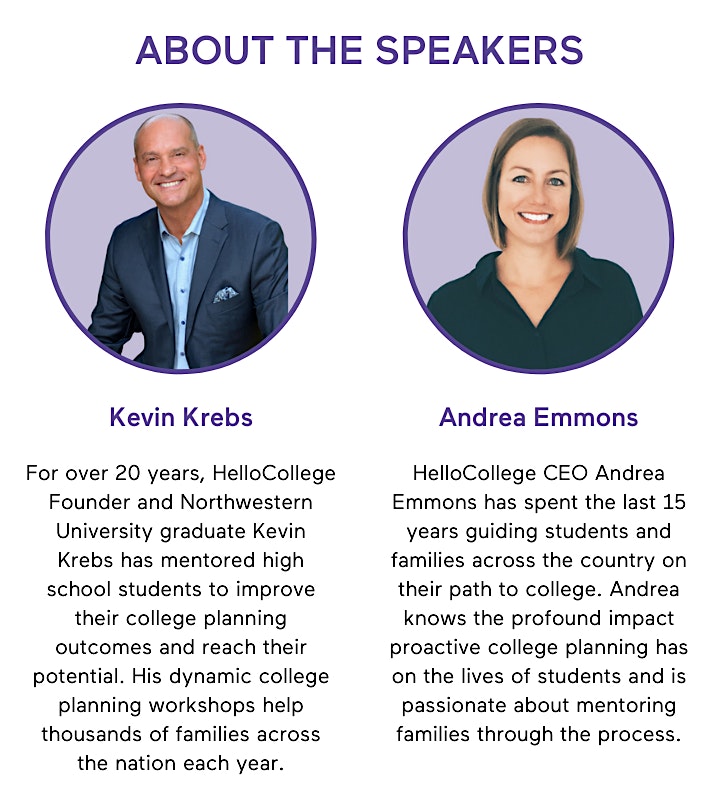 Organizer of The Secrets To Competitive Admissions
Founded in 2012 by Northwestern University graduate Kevin Krebs, HelloCollege (formerly Partners For Achievement) has a mission to help families successfully navigate the often confusing and intimidating college planning process.   We provide parents and students with expert college admissions, application and financial aid guidance through our free education workshops, family consultations and college planning services. We currently assist over 800 students with their college & career planning and over 20,000 families have gained valuable insight at our free college planning workshops.