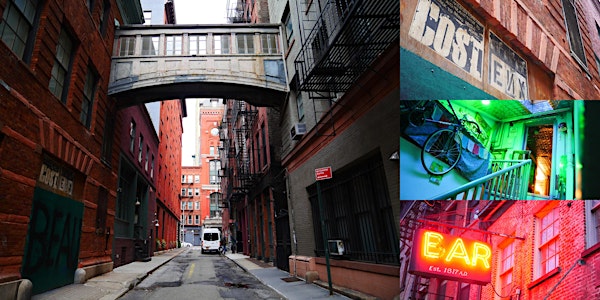 'The Secrets of TriBeCa: Lofts, Artists, & Alleyways' Webinar
Can't make it live? Register and get access to the full replay for one week! New York Adventure Club | www.AdventureClub.com
About this event
While the Manhattan neighborhood of TriBeCa is known today for its namesake film festival, celebrity sightings, and high-end private homes, it was anything but for nearly 400 years. This is the real story of the sailors, merchants, and artists that once called this neighborhood home, and the historical remnants of its artistic and industrial past — if you know where to look.
Join New York Adventure Club as we explore the rich history and story of TriBeCa ("Triangle Below Canal Street"), a New York City neighborhood that can trace its roots back to the old Dutch days when the land was known as New Amsterdam.
Led by NYC tour guide and TriBeCa native Gardiner Comfort, our virtual journey into this fascinating and eclectic small corner of Manhattan's "Lower West Side" will include:
How New York tamed the TriBeCa landscape and its original wetlands to suit its expansion
A discussion around the neighborhood's rise with the creation of Washington Market in 1812, once the city's main retail and wholesale food distribution point filled with seed, spice, and cheese importers
The importance of Tribeca as a center of import, with a focus on the maritime industry, the piers, and longshoremen
TriBeCa's unique architecture, from its patchwork of landmark designation to the fragility of beautiful buildings in a business-minded city
The celebration of artists who settled in unused industrial spaces, established their community, and influenced the city for years to come
Rare photos from Gardiner's personal collection, and untold stories from his experience growing up in TriBeCa
Afterward, we'll have a Q&A with Gardiner — any and all questions about TriBeCa, or his personal stories of growing up in an artist's loft, are welcomed and encouraged!
Can't make it live? Don't worry, you'll have access to the full replay for one week!
See you there, virtually!
*Immediately upon registering, you will receive a separate, automated email containing the link to join this webinar
**For the best possible viewing experience, please ensure you're using the latest version of your internet browser — Google Chrome is the most compatible. Exact technical requirements and a webinar user guide will be shared in the automated confirmation email upon registration.
***A full replay of the experience will be available to all registered guests for up to a week
Testimonials
"I liked that the presenter was an NYC native and spoke first hand about the neighborhood. The most interesting part was the opportunity to interface with a real life example of the tour neighborhood. Plus, his parents were once artist gentrifiers, then they were artist loft people, then he became a gentrifier in Harlem, and his parents in Brooklyn so it's interesting to get all of those perspectives. Keep seeking out native NYers!!!" -Nicole
"Great pace and excellent presenter." -Ruth
"Informative, interesting, surprising, casual, fun" -Colleen
"The history was well told... loved the old photos" -Elle
"I enjoyed how informal it was. And the stories about the neighborhood that give it life. Gardiner was an excellent guide." -Alex
"I liked seeing the buildings, and how the presentation was split up into 3 parts as well as the experience and anecdotes from someone who grew up in the spaces and neighborhood he was discussing." -Diana
"The subject was thoroughly discussed and the host seems to have much first-hand experience." -Iljung
"Fast paced, informative, covered many aspects of Tribeca, entertaining, interesting, speaker really knew his stuff" -Carol
"Really excellent presenter, good technology and relatable material." -Mary
"The photos were amazing and Gardiner has the perfect credentials for this having grown up here." -Jini
"It had a great, ordered presentation. A great back and forth between now and then -- it was very easy to follow!" -Diane
"Incredible host! Knowledgeable and knows his material so well! Very interesting." -Barbara
"I liked that Gardiner grew up there and shared so many details. I also lived that he divided it into sections. Fabulous." -Roz
"Really Engaging presenter. It was really excellent!! Loved it all" -Dianne
"Great visual material, excellent tour guide who not only has a lot of knowledge about the subject, but personal experience as well." -Janie
"Gardiner was just an excellent tour guide. Obviously he has a personal history with Tribeca and his affection shines through, but he also organized the highlights of the tour very well. I would definitely participate in another tour he leads." -Karin
"Gardener Really knew and liked his subject. This certainly enhanced an already very enjoyable presentation!" -Judith
"un to hear from a "real" Tribeca native! It was all great but I especially enjoyed his insights and personal memories." -Mary
"Gardiner is such an engaging speaker, and his knowledge of the neighborhood is extensive, and pleasingly quirky!" -Lisa
"It was very knowledgeable but also had a personal touch." -Lida
"I'm a New Yorker, and I learned a lot of history about a neighborhood I love. Speaker was very knowledgable." -June
"Love how guide personalized with his growing up in Tribeca. Wonderful use of sound clip and great pictures all around." -Tracy
"Can't wait to explore this area, now that I know what to look for." -Katherine
"I worked in Tribeca in the 80s and I enjoyed learning more about the history and how the neighborhood looks currently." -Maureen
"I appreciated that the presenter was a native of TriBeCa. It felt like a walking tour through the neighborhood." -Jackie
"Very knowledgeable! Learned more than I thought I would, and it's a GREAT deal at 10 bucks!" -Alexandra
"Gardiner gave interesting details, his voice is pleasant, and he is from the neighborhood." -Linda
"I grew up in midtown and never knew details of the buildings. Every time I return I am always amazed by the architecture and how it is always changing. "I just did not know the history. I always like to stroll, but now I am saddened by how little the mayor and people seem to care about the conditions within the city. At least through the eyes of photos, I can have my good memories." -Pam
"The breadth and detail. Loved the fact Gardiner grew up there. I went to Law School on Worth Street n the 80's and had friends who lived in a loft in an old spice factory. I remember waiting in line at the bank behind Wendy O. Williams and hanging out at Puffy's." -Karen
"I loved hearing of Gardiner's personal stories." -Mary
"I liked the conversational yet informative format. The images. The presenter's enthusiasm. And learning the info." -Kate
"Great specific information on an area of the city that I do not know well. These days with the pandemic, it is exciting to travel through TriBeCa with such a knowledgeable guide. I cannot wait for my next tour." -Janet
"Very interesting history. Brooklyn Heights is similar in history. PLEASE do one there. (It's my neighborhood)" -Hedy
"Presenter was well informed and interesting speaker. Very interesting learning history of TriBeCa area of Manhattan." -Julia
"I liked that it covered a lot of Tribeca's neighborhood and history. Walking this district would be difficult to cover so much." -Bob
"Learned a lot & notes places to look for in the future when combing NYC." -Lyndell
"I like the guide, the photos and the personal touch since out guide grew up there during a truly historic change." -Mark
"It was well researched and dynamically presented by someone with a passion. I live in Tribeca--have for many years--and still learned a lot." -Marilyn
Disclaimer
By attending a New York Adventure Club experience, you accept our terms of service.
Categories: Virtual, Neighborhoods