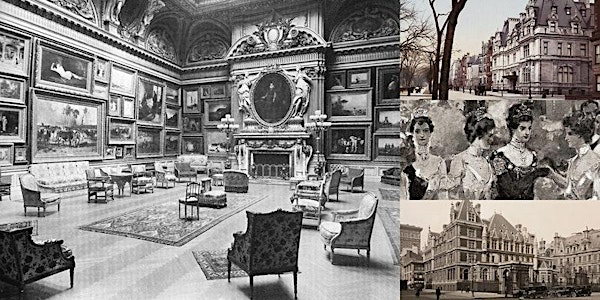 'The Secret Splendors of New York's Gilded Age' Webinar
Can't make it live? Register and get access to the full replay for one week! New York Adventure Club | www.AdventureClub.com
About this event
In a period not so long ago, there were palaces that lined New York's Fifth Avenue, built by America's rich millionaires from both "old" and "new" money. Whether it was the Astors, Vanderbilts, Fricks, or Goulds, all of them modeled their residences after the great palaces of Europe, and filled them with everything from Rembrandts to ancient velvets. It's time to go inside these palatial homes and uncover the secret splendors that took place beyond their gilded doors.
Join New York Adventure Club for a digital exploration of the magnificent mansions that once lined New York City's Fifth Avenue, and the coveted social events that took place inside.
Led by historian Gary Lawrance, our virtual showcase of these immaculate residences, both inside and out, will include:
The houses of Mrs. Astor, from her rather plain brownstone at 34th Street to future marble palace on 65th Street
The marble mansion of Alexander T. Stewart, and why he was never invited over to the house of neighbor Mrs. Astor
The William K. Vanderbilt house at 52nd Street — designed by Beaux-Arts architect Richard Morris Hunt, this mansion would forever change the style of all future townhouses
Cornelius Vanderbilt II's block-long house at 57th Street, the largest townhouse ever built, with a French paneled ballroom overlooking the Plaza Hotel
Senator William Clark's gigantic mansion at 77th Street, filled with art and meant to last forever (though demolished in only twenty years)
Rarely seen archival photos and illustrations showcasing mansion interiors, exteriors, floor plans, and social events
Afterward, we'll have a Q&A with Gary — any and all questions about these mansions are welcomed and encouraged!
Can't make it live? Don't worry, you'll have access to the full replay for one week!
See you there, virtually!
*Immediately upon registering, you will receive a separate, automated email containing the link to join this webinar
**For the best possible viewing experience, please ensure you're using the latest version of your internet browser — Google Chrome is the most compatible. Exact technical requirements and a webinar user guide will be shared in the automated confirmation email upon registration.
***A full replay of the experience will be available to all registered guests for up to a week
About Gary
Architect, Author, and Historian Gary Lawrance is an architect from Stony Brook, New York. His firm, Lawrance Architectural Presentations, provides design presentations, architectural models, digital renderings, and design development services to architects, landscape architects and interior designers.
Mr. Lawrance has an extensive background in the history of Gilded Age architecture, landscapes, and society, and co-authored the bestselling book, "Houses of the Hamptons 1880-1930" with Anne Surchin (Acanthus Press 2007, Revised 3rd Printing 2013).
Mr. Lawrance's work has been featured in The Wall Street Journal, Hamptons Cottages & Gardens, Newsday, New York Social Diary, Southampton Press, and more. Mr. Lawrance has written for Architectural Digest, Dan's Papers, Quest magazine, and his two blogs, Mansions of the Gilded Age and Houses of the Hamptons in addition to founding and contributing to the two very successful Facebook groups, Mansions of the Gilded Age & The Gilded Age Society with over 160,000 members combined. Mr. Lawrance also manages two equally popular Instagram accounts, Mansions of the Gilded Age & The Gilded Age Society.
Testimonials
"The host was AMAZING!" -Frank
"Fascinating story of these great houses and their families." -Willard
"Very detailed with a knowledgeable presenter. He has a good and engaging style." -Cynthia
"The speaker was easy to understand, informative, light-hearted, & organized in his material." -Blair
"Loved all the stories and photos that I've not seen before. I'm an avid lover of the gilded age in New York. I'm from the Hudson Valley and these a lot of these families had other homes here. Thank you." -Amelia
"This presenter is excellent and very organized when presenting photo's and background information" -Randolph
"The depth of knowledge was impressive and the presentation was delivered with ease and accuracy." -Christine
"I always enjoy Gary's talks very much. He brings history to life and his choice of pictures is excellent. I look forward to more in the future." -William
"I liked the photos and the complete knowledge and passion of Gary Lawrence. Thanks for providing information and photos of this exciting and elegant era. It was unique in so many ways!" -Beryl
"The presentation was excellent, and the many, many photographs appreciated." -Richard
"I thought it was very informative. I've read some books about this era and it's so nice to be able to see actual pictures of the people and places along side learning about them." -Jesse
"Gilded Age mansions is my hobby (esp Long Island Gold Coast mansions) and I saw interior shots that I never saw before. Gary is very knowledgeable." -Carol
"Delightful talk withhighly knowledgeable presenter. Enjoyed all thevintage photos inthe talk. Would have lived to visit one of there houses." -Phyllis
"I've never seen anything like it! It was well worth the price of admission to hear about these places and see what they did to 'decorate' I really appreciated that the author told us where the mansions were located, as everything is totally different now." -Roberta
"Seeing all these amazing images and hearing the descriptions of the people and homes was really like a little time capsule of a ride." -Katrina
"I had never seen most of the photos that were presented so I found that fascinating. I also liked the entertaining stories that accompanied them." -Marie
"The slides and facts were over the top. The presenter was so involved -evidence of his lifelong involvement with the Vanderbilts!" -Kathy
"Interesting content, and the presenter knew a great deal about the subject. My husband is an architectural historian, and we're both big history buffs, so great fun." -Meg
"The lecturer was extremely knowledgeable and had a lot of photos to share" -Diane
"Instructor's knowledge was impressive and his enthusiasm for the subject made the presentation fun to watch." -William
"So informative! A lot of interesting things packed into two hours. Definitely got my money's worth." -Louise
"Plethora of photos that I hadn't seen previously: Gary's delivery of info articulately and concisely" -Tia
"I loved that many/multiple pictures of the houses were presented. I know that seems obvious, but I've attended virtual discussions that had far fewer pictures, which is far less interesting." -Jan
"I liked the way it was structured as a walk up Fifth Avenue. Presenter was so knowledgeable" -Kelley
"Excellent presentation of material by someone who knows the topic thoroughly." -Dennis
"I loved the pictures. He is so knowledgeable about the people who lived in the houses as well" -Claire
"I loved all of it. Great photos. Super informative" -John
"Very comprehensive in terms of so many pictures if all the homes and rooms" -Mindy
"So interesting and new information that had not known." -Lisa
"Great photos, knowledge of the presenter, interesting topic." -Dianne
"Comprehensive review of Fifth Avenue mansions, lots of photos, sketches, anecdotes." -Peggy
"I liked all the photos---some of which I'd never seen before. And it was interesting learning what happened to most of the mansions." -Judy
"The way images were woven together with stories and insights to make them come alive." -Paul
"Gary provided excellent background on the society of the time, as well as detail about the mansions themselves." -Jennifer
"Very informational. Great to have your webinars during a pandemic." -Susan
"Presenter was very knowledgeable and had good pictures of the mansions." -Barbara
"I really enjoyed the subject matter and photographs and the stories about the gilded age families." -Charles
"Well informed and engaging presenter, and excellent visual presentation." -John
"Gary's presentation was most enjoyable!! He has a wonderfully engaging personality for presentation." -Dianne
"It was excellent because the host was an expert and had all of the visuals to illustrate the topic. The photos and illustrations were key because these buildings do not exist anymore. I also enjoyed his knowledge about this society in general." -Julie
"Really informative, lots of great visuals, Gary's fantastic insights and storytelling! I thought it was also really well managed." -Kaela
"The presenter gave such wonderful backstory for the images." -Dianne
"In these pandemic times, it's great to know there are ways to enjoy s safe means of entertainment. It was like going on a walking tour up Fifth Avenue, though most of the locations are long gone." -Gifford
"Very interested in seeing the uptown progression of building and learning about the exclusivity of NY Society." -Lilli
Disclaimer
By attending a New York Adventure Club experience, you accept our terms of service.
Categories: Virtual, Gilded Age