The Secret Recipe for Great Hiring with Dawn Burke
Description
The Secret Recipe for Great Hiring: Make Your Hiring Managers Finger Lickin' Good Y'all.
Talent Acquisition Specialists, it's time to take a long look in the mirror. The reality is, if you want recruiting efforts to sky-rocket, especially during times of growth, you need to let your hiring managers run the show. Yeah, that scares me too. For some teams, that means shifting the philosophies and value propositions central to your talent acquisition function. It also means giving up control. Recipe for disaster, you say? Nope. It's actually a recipe for success.
In this session Dawn Burke will teach recruiters how to make hiring managers the star of the talent acquisition show. She will share the secret ingredients HR and recruiting pros need to make hiring managers the top chefs of the recruiting process. We'll discuss:
What traits recruiters and hiring managers have in common, why those traits are good, and why those commonalities may leave a bad taste in your mouth.

Why recruiters are scared to let go of the recruiting process and why that is killing results.

Quick tips talent teams can implement now to create make finger-lickin'-good hiring managers.

How having a company of finger-lickin'-good hiring managers helps grow and scale your organization.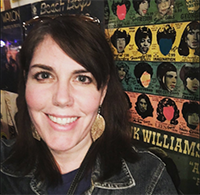 Dawn Burke is an HR leader, speaker and writer specializing in new HR practices, engagement and workplace culture. Her HR leadership career has spanned the last 20 years, most recently serving as VP of People for Birmingham, AL, award-winning technology company, Daxko.
During her tenure as VP of People, Dawn was responsible for finding great talent, developing team members, and preserving company culture - a culture recognized in Fortune Magazine as one of the "50 Best Small and Medium Workplaces." Recognized as a Top HR Innovator, she is also a speaker, creator of DawnHBurke.com, and a contributor to a variety of national blogs including Fistful Of Talent.
Most importantly, she is addicted to TV, loves to cry at movies, thinks wine and a wheel of Brie make a well-balanced dinner, and sings in her car daily. Her husband and cat are the Yin to her Yang.
Schedule
11:00 a.m. - Registration and Networking
11:30 a.m. - Lunch Served
12:00 noon - Program Begins
Chapter Partners