Description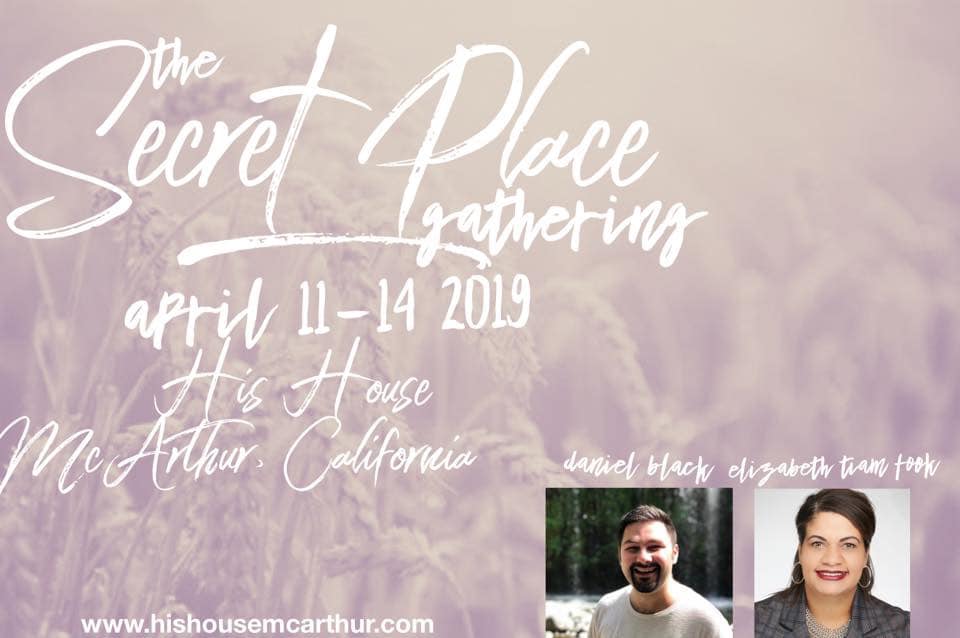 ABOUT:
​We are super excited about coming together for our 11th annual "Secret Place Gathering " happening April 11-14, 2019 at His House Fellowship in beautiful Fall River Mills, California! Our theme this year is: "Prophetic Encounter." We are bringing in prophetic voices who are making an impact around the world and are excited about being empowered to see the love of God transform our lives and the world around us.
As you know, His House events are like a time of coming together as big family in community to encounter His Great Big Love! As we come together, our prayer is that we would all be refreshed and empowered together as a family, as His family. The heart of the Secret Place Gathering is to provide an environment in the presence and glory of God where it is so easy to dive into the depths of God's love and pursue that depth collectively. As the ancient Celts called them, a thin place, where the line that divides between Heaven and Earth is impossible to find (because in Christ it is!). It's a time to revolutionize our thinking to fully live from His heart.
Each Gathering has been a time of coming together as family in community to encounter His Great Big Love! It will be four days of intense worship, Gospel teaching, wild impartation and radical encounters with Jesus and one another. Our hope is that those in attendance leave firm in the bedrock of Who God is for them, firm in His love...growing deeper in His love for them and their love for Him. It's an event for mystics, lovers, ecstatics and everyone else! Be sure to mark your calendars and attend!!! It wouldn't be the same without you! =)
SPEAKERS:
Daniel Black
Love Fest Global
Founder
Elizabeth Tiam-Fook
International Young Prophets
Founder
Elizabeth Tiam-Fook is the founder of International Young Prophets, an apostolic ministry that is called to serve the "office of the next-generation prophet". She believes that God is raising up a company of young prophets to impact the nations of the world with the Voice of God.
Elizabeth graduated from Brownsville Revival School of Ministry in Pensacola, Florida with a heart to serve the nations. She is part of the Global Leadership Team for Women on the Frontlines, a ministry led by Patricia King; she is also the Next-Gen Ambassador for International Coalition of Prophetic Leaders and is ordained by Christian International, under the leadership of Tom + Jane Hamon.
Elizabeth currently resides in Santa Rosa Beach, Florida.
~~~~~~~~~~~~~~
Daniel Black is the founding director of Love Fest Global, a not-for-profit compassion organization, and currently is leading their base of operations in Hong Kong, serving the needs of the poor, broken and destitute, while preaching the Gospel of Love. Daniel is also an often sought out speaker and has spoken in thousands of gatherings around the world inspiring and empowering people to live loved and to live love. Daniel is currently on the core leadership team of Roundtable Church in Hong Kong under the leadership of Jason and Julianna Young and previously has served as the Missions director and former preaching pastor for His House Fellowship in McArthur, CA. under the leadership of Steve and Dalene Black. He also serves on the Ordination Council for His House Fellowship.
FAQs
CONFERENCE SCHEDULE:
Thursday 4/11:
Doors Open: 6:30 PM
First Session: 7:00 PM

Friday 4/12:
Second Session: 10:00 AM
Third Session: 7:00 PM
Saturday 4/13:
Fourth Session: 10:00 AM
Fifth Session: 7:00 PM
Sunday 4/15:
Final Session: 10:00 AM
(also a regular His House Service)​
Conference is free of charge, but registration is required as space is limited.

HOTEL INFORMATION:
http://www.fallriverhotel.com/
http://www.himontmotel.com/
http://www.charmmotel.com/
http://www.greengablesmotel.com/
How can I contact the organizer with any questions?
For More Information Please Contact:
530-336-6854
daleneblack22@gmail.com
Church location: 43030 Fort Crook Museum Ave. Fall River Mills Ca, 96028