Description
Hosted by



A subject matter that truly needs to be discussed.
Walk away with an Action Plan and Resources to gain Freedom!
Invite a friend.
PLEASE REGISTER so that we may properly prepare resources and refreshments for you.
For more information, contact us directly at (281) 363-0220.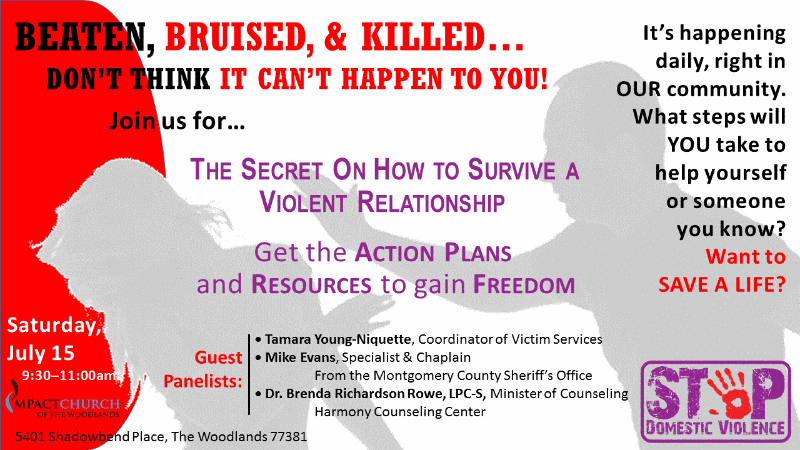 GUEST PANELIST:
Tamara Young-Niquette, Coordinator of Victim Services, Montgomery County Sheriff's Office
Mike Evans, Specialist & Chaplain, Montgomery County Sheriff's Office
Dr. Brenda Richardson Rowe, LPC-S, Minister of Counseling, Harmony Counseling Center
SUBMIT QUESTIONS:
If you have a question that you would like the panel to address, please email questions to info@myimpactchurch.org.
If you prefer to ask your question anonymously, there will be a "question box" available at the event.
ORGANIZATIONS
If you are an organization that provides services to victims of family violence and would like to participate by hosting a "resouce table", please call us at 281-363-0220 or email info@myimpactchruch.org to be considered.