The Secret of the 9 Cyphers WEBINAR Strategic Management & Leadership
Description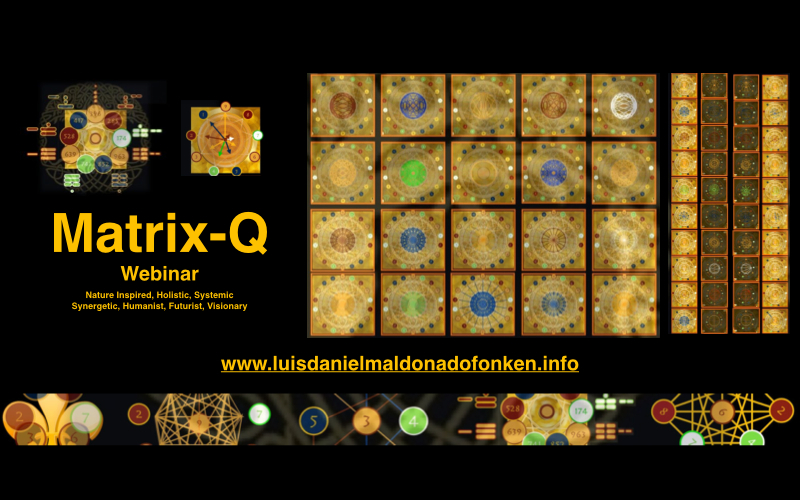 The Secret of the 9 Cyphers
WEBINAR: Matrix-Q Holistic Strategic Management & Leadership
Learn how to utilize the 9 cyphers!

Achieve an advanced effectiveness in every aspect of your private life and professional work.

This online webinar will bring you by the essential keys of the 9 cyphers, a foundation set of skills and pragmatic methods that you can utilize if you know the secrets of the 9 cyphers.

Through a gamified learning by doing process and multidisciplinary case study, you will learn how to utilize the 9 cyphers..
FIELDS OF APPLICATION
self-management,
strategic management,
scientific research,
education,
coaching,
sustainable development
household (family) care.
The information the 9 cyphers gives to you helps you advance your effectiveness in your:
life path,
business,
research,
creativity and
leadership.
METHOD
Gamified experiential learning webinar.
Presentations will be combined with a game (learning by doing, learning by playing)
GOAL
– Learn how to utilize the 9 cyphers for a first assessment of your project or challenge, identify the goals, challenges and resources you have available.
– Learn how to advance own perception, emotional intelligence and matrix-Q intelligence by utilizing the 9 cyphers. An essential step necessary for assessment of risk and strategic management.
– Review of how the 9 cyphers can help you achieve a family-life-work balance; through an holistic, synergetic and systemic approach, advance your management and leadership.
BENEFITS
After this webinar attendees will be able to benefit from the use of the 9 cyphers, receive a guide for self-learning and practical guidelines for the practice of a first assessment with the 9 cyphers, useful for several fields of applications and disciplines.
Attendees will receive instructions on how to advance their perception, emotional intelligence, Matrix-Q Intelligence, holistic strategic management and leadership skills.
LENGTH
3x53min
2 pauses of 9 min
Additional self-learning activities are optional
LOCATION
Online, at the e-learning Platform of the Matrix-Q Research Institute. (Login codes will be given after register completion)
Alternative: full weekend in The Netherlands.
SCHEDULE
Please read below, the Matrix-Q Research Institute update/announcement: Webinar Schedule.
Some dates will be scheduled and announced on advanced, and others according to study circle preferences (you may suggest an ideal date for your study circle once).
MODALITY
Small e-learning circle.
Attendees Will have possibility to ask questions and interact with the trainer.
CERTIFICATE
INCLUDED
OPTIONAL
COMPLETE TRAINING PROGRAM
A following webinar will focus on your next stage of learning and complementary skills. 30% discount for attendees of "the secret of the 9 cyphers" Matrix-Q Holistic Strategic Management & Leadership – Foundation Webinar
. The Matrix-Q Research institute will provide webinars for a complete training on the 9 Cyphers, the 9 Spheres of Holistic Strategic Management.
ALTERNATIVE
Join an organic experiential training program in The Netherlands, a full weekend training (starts friday evening, ends sunday evening) on the secrets of the 9 cyphers. 30% Discount to attendees of "The secret of the 9 cyphers" Matrix-Q Holistic Strategic Management & Leadership – Foundation Webinar. Fees: 2600.00 EUR
REFERENCES
GIFT CERTIFICATE
TRAINER
REGISTER
After payment, e-mail confirmation, intentional attendees will receive the login codes, and study circle.
A minimum number of intentional attendees will be requested in order to provide the webinar. In the case a webinar is cancelled, the registered attendees will be added to a waiting list for the next season.
INFORMATION
e-mail: welcome@holistic-strategic-management.com
skype: luisdanielmaldonadofonken
Telephone: + 31.626673380
Information sessions on skype can be scheduled under request.
SCHEDULED
Date and Time
Location
Refund Policy