Description
The Secret of Impact & Relevance is a masterclass that empowers social entrepreneurship as a medium to solve the most challenging issues facing 21st century humanity. Presented by Adam Bradford & Jordan Anthony Swain of Bradford Swain, this masterclass boldly defines the new breed of entrepreneur who is breaking down global barriers and taking on challenges previously left to the confines of governments, NGO's and big business.
Adam Bradford​, 24, lives in London and is a Co-Director of Bradford Swain. He is also Managing Director of Adam Bradford Private Consulting, a multi-discipline agency which produces high impact social change campaigns for charities and social enterprises internationally. Previous clients include Google UK ("Good to Know" e-safety campaign 2012,) Do-It Trust (digital volunteering campaign 2016) and the National Autistic Society ("Too Much Information" PIA autism campaign 2016.)

Adam has worked with a number of internationally recognised non-profits, foundations and corporations
to develop social programmes in all aspects from programme design to fundraising, partnership
development, partnership management, grant management and campaign design and delivery. His
specialisms include youth empowerment, programme development, public relations and delicate
stakeholder management.

His portfolio includes implementation on the Live UnLtd programme, providing grants and mentoring
support to young social entrepreneurs across the United Kingdom. The programme was a £10 million
initiative funded by Comic Relief and the Big Lottery Fund.

He has also worked on international capacity development for NFP organisations delivering youth
enterprise support services across 40 countries with Youth Business Trusts.

He is one of Her Majesty the Queen's 'Queens Young Leaders' and a regular commentator on social
issues for the BBC, Guardian newspaper, Independent newspaper, New York Times and Huffington Post
to name but a few.

Born in Cambridge, Massachusetts to Bahamian-Haitian-Cubano mother and a Black-American father of
Southern and Native American roots, Jordan Anthony Swain​, 26, is a serial entrepreneur, influencer,
visual artist and philanthropist. When he is not in front of the camera, he is either directly behind it as a
photographer, or creative directing.
Artistically known as the mononymous Swain. Jordan's acumen includes modeling, fashion styling, visual
art, creative direction, producing, and editorial oversight. He is Founder Emeritus Parajin Media Corp,
parent company of its cornerstone brand, Vanichi Magazine of which he is Publisher Emeritus. His work
has been published in Italian Vogue, Vogue, GQ India, Vogue Taiwan, Esquire, Popsugar, Buzzfeed,
Huffington Post to name a few.

Jordan is Co-Founder and Co-Director of Bradford Swain, a hybrid agency (based in the UK & US)
which elevates the impact and relevance of social causes around the world. The product of two millennial,
forward-thinking social entrepreneurs, the organization utilizes creative campaigning, sustainable
development practices and the power of media to propel social change.

The company was founded in 2017 by London-based entrepreneur Adam Bradford and US-based
entrepreneur Jordan Anthony Swain.The pair's portfolio spans multi-million dollar NFP programmes in
the youth entrepreneurship space and consultancy with international disability charities with budgets
exceeding £100m. The duo also carry skills in integrated media campaigns, experiential social impact
experiences and platform development which leverages funding opportunities, key publics targeting and
business strategy.

Swain speaks internationally on youth empowerment, creative activism & social entrepreneurship.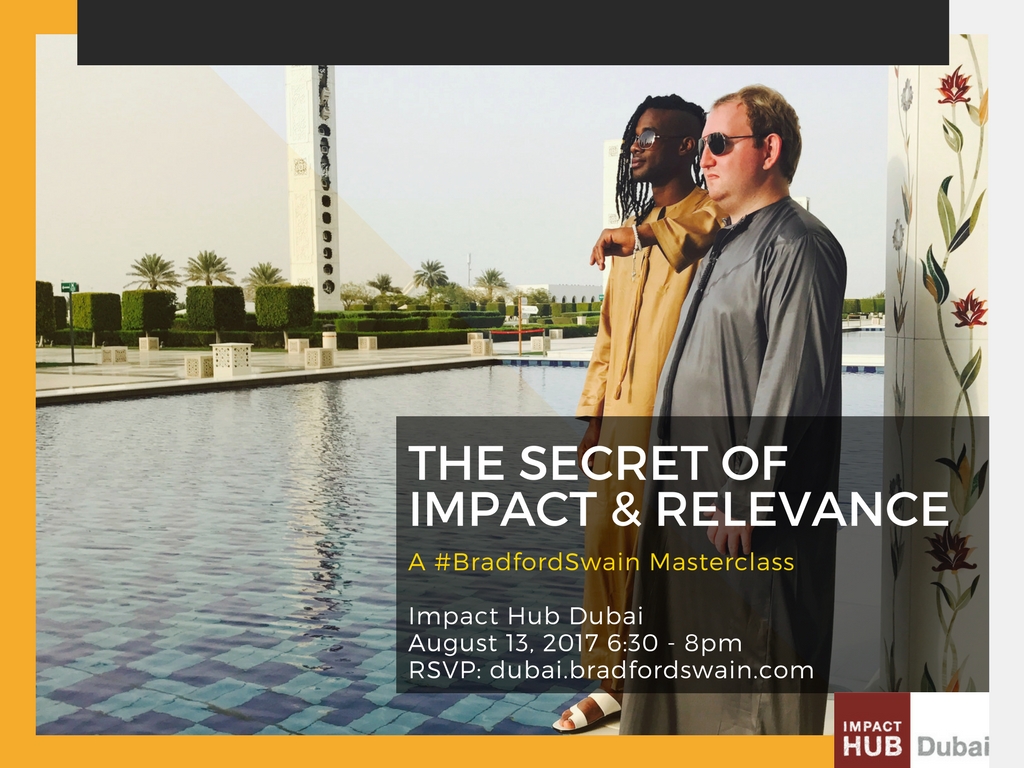 Masterclass Content:
The Bradford Swain Story
+ Exponential Minds Unite
+ Bradford & Swain Backgrounds
+ How We Will Change The World

Defining Social Entrepreneurship
+ Entrepreneurship Vs. Social Entrepreneurship
+ Meet Industry Innovators
+ Social Entrepreneurs Will Change The World

The Secret of Impact & Relevance
+ The 10 Commandments of Impact & Relevance

Mentality Check
+ A Moment of Mindfulness
+ Mental Health & the Modern Entrepreneur

Q&A: Questions and Actions
Total Talk Time is 60 minutes. Q&A is 30 minutes. For the Bradford Swain world tour schedule, bookings
or curiosities please email naomi@bradfordswain.com.