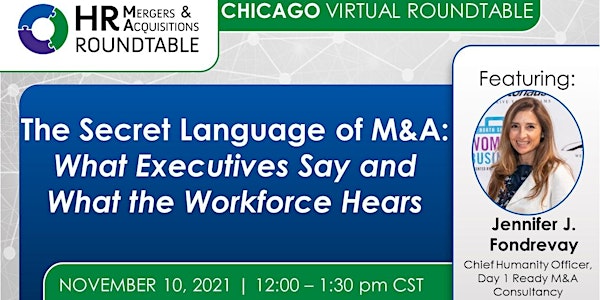 The Secret Language of M&A: What Ex. Say & What the Workforce Hears Chicago
Jennifer Fondrevay will lead the discussion on ten of the most used phrases by leadership and how the workforce interprets them.
About this event
In the early days of a Merger or Acquisition announcement, words and how they are used mean the difference between persuading people or having them 'not buy what you are selling'. Executives think they are saying one thing, while the majority of the workforce is hearing something completely different. Or frankly not hearing it at all.
In this lively presentation, Jennifer J Fondrevay, founder of Day1 Ready M&A consultancy, will share the ten most commonly used phrases in announcing a deal and what the workforce actually hears. She'll highlight the do's and don'ts of M&A communication and how to think about your communications overall. Ultimately, how you communicate the news of your merger or acquisition deal to employees matters.
* This Regional Roundtable is open to HR M&A Practitioners who live in the Chicago and surrounding areas.
Jennifer J Fondrevay
Founder, Chief Humanity Officer
Day 1 Ready ™ M&A consultancy
Jennifer J Fondrevay is the Founder and Chief Humanity Officer of Day1 Ready™, a consultancy that advises forward thinking business leaders, owners and C-Suite executives on how to prepare for and manage the people challenges of business transitions, particularly Mergers & Acquisitions.
As a Fortune 500, C-Suite Marketing Executive who led teams through three separate multibillion-dollar acquisitions, Jennifer authored the satirical survivor's handbook, "NOW WHAT? A Survivor's Guide for Thriving Through Mergers & Acquisitions" which became a #1 new release on Amazon. Her NOW WHAT? audiobook was launched in March 2021 to similar acclaim.
She shares her M&A expertise as a contributor to Harvard Business Review, Fast Company, Inc., Forbes and Thrive Global; is a sought-after podcast guest and keynote speaker for conferences and associations; and has advised numerous small and mid-market as well as Fortune 500 companies, on how to prepare for and lead through the multiple transitions of the M&A-deal journey.
What is the HR M&A Roundtable?
The HR M&A Roundtable is a forum for Human Resources professionals and others managing the people, leadership, and culture issues in Mergers & Acquisitions. We offer roundtable sessions, training, tools, and an annual conference.
What is the purpose of the roundtables?
Our virtual global and in-person regional roundtable discussions offer you a unique opportunity for networking, learning, and sharing your knowledge and experiences with your peers. At each session you'll:
• Expand your network of professionals who share similar interests in Mergers & Acquisitions
• Exchange experiences and know-how with other group members, allowing you to validate and share ideas, opinions, and best practices.
• Explore emerging practices and new trends in the HR M&A space
Who participates in roundtable discussions?
Participation is limited to HR or Corporate Development professionals who are either in a role with M&A responsibilities or who anticipate managing a transaction in the next 12 months.
Where are roundtable sessions held?
We host global virtual roundtable sessions every month. These 60-minute sessions focus on a particular topic of interest to practitioners. Discussions are led by a seasoned HR M&A practitioner who will help ensure what you share can be applied to your deal work. Past topics have included leadership retention, culture assessment, global deals, and total rewards alignment.
We also offer Regional Roundtable sessions in many cities, including Chicago, New York, Boston, Chicago, Dallas, Austin, Denver, and London. These sessions usually take place face-to-face but have moved to a virtual format in response to the pandemic.
To learn more about our offerings, sign up for our mailing list or contact brendan.mcelroy@mandaroundtable.com.