Location
Erwan Davon Teachings
2501 Harrison St #15
San Francisco, CA 94110
Join us in person in SF for a fun evening class that will bring more excitement and success into your romantic life!
About this event
Do you want to bring that romantic vibe into your relationship life at a whole other level?
Do you want to rock your dating life, or bring your relationship to new heights of passion and turn-on?
As a man, have you ever found yourself in mystery about what a woman wants or what will make her happy? Does she say one thing but mean another and you find yourself in the fog?
As a woman, have you ever found yourself frustrated trying to get what you want from men in your life, either because you don't know how to say it without hurting his feelings, don't feel worthy of receiving, or maybe aren't even sure what it is you want?
You are not alone! Everyone has these questions but few have the answers, especially when it comes to romance and sex!
Erwan and Alicia are experts in the field of masculine/feminine dynamics and seduction. They will be addressing all these questions and more on June 24th at their in person evening event in SF, "The Secret Language of Love- how to seduce anyone from a masculine/feminine and single/partnered perspective".
You will hear the straight skinny from both a man's point of view and a woman's point of view.
You will learn:
How to "read" a woman and what to do if you are unsure of what she wants
Why women "test", and how to handle testing for failure vs testing for success
How to communicate with men so he really "gets" what you want from him, and how to have him feel great about giving it to you!
How to get what you want from the opposite sex, from a masculine and feminine perspective
How to unleash the chemistry between the masculine and the feminine, so your romantic life has all the passion and juice you want!
Cocktails and schmoozing will follow the event!
Are you tired of working on yourself or your relationship, trying to "figure it all out"? Relationship development, as a single or a couple, should be fun!
This will be an evening full of fun stories from Erwan & Alicia's relationship they have developed over 2 decades, and priceless, actionable tips you can take into your life immediately.
This evening makes a great date night for couples... and provides rocket fuel for singles to move their initial first dates forward to more.
COVID safety protocol:
Proof of COVID Vaccination/Booster is required for all attendees
Tickets are limited to 40 to allow for plenty of space between attendees
Windows will be open throughout the event to allow for cross breeze
At this time, in accordance with SF Regulations, masks are recommended but not required. This requirement may change based on SF regulations.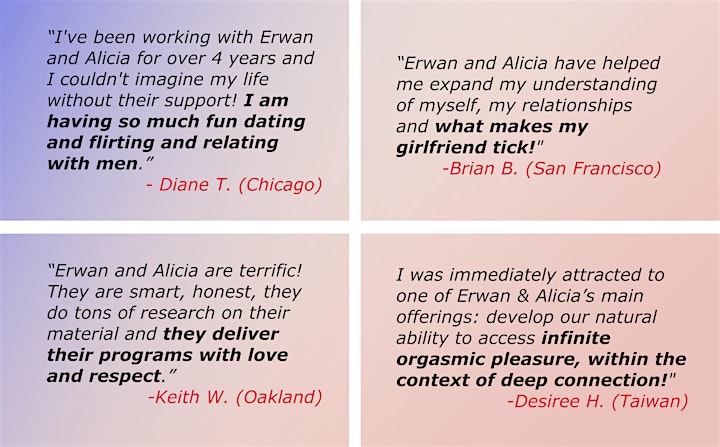 About Erwan & Alicia Davon — Your Facilitators
Erwan and Alicia Davon are long time teachers based in the San Francisco Bay Area that developed their signature process, the Davon Method, and have taught it to thousands of students to help them reach their relationship goals. As a married couple, they have been teaching singles to get into relationship and couples to thrive in relationship for the last 25 years. They have become the go-to place in the SF Bay Area for all things romantic and se*ual and are quickly becoming that worldwide.
Erwan and Alicia have a unique approach to relationship coaching that combines their educational backgrounds in psychology and sexuality and aspects of Zen Buddhism to provide a holistic method to effectively improve connection with the self and others.
Erwan studied psychology and graduated with honors Phi Beta Kappa after a difficult childhood and an early introduction to therapeutic work. He went on to live and study in a Zen Monastery, direct a yoga ashram, and began teaching personal development at one of the world's largest personal grown organizations. Erwan's passion for helping and teaching people led him to found Erwan Davon Teachings in 1995, specifically to help people improve their relationships.
Alicia Davon holds a Master's degree in Integral Psychology with a focus on women's romantic and sen*ual expression. She trained as a therapist before meeting Erwan and led numerous women's groups devoted to female pleasure and life fulfillment from career to relationship. She met Erwan 20 years ago and started teaching with him soon after.
Together, Erwan and Alicia developed Mastery of Relationship and several other programs, which have helped thousands achieve their ideal love lives. They provide a safe place to explore psychological inquiry, pleasure, and se*uality.
They have spent years perfecting their curriculum and techniques and are excited to share their expertise with newcomers so they can help improve chemistry, connection, communication, and passion in others' lives!