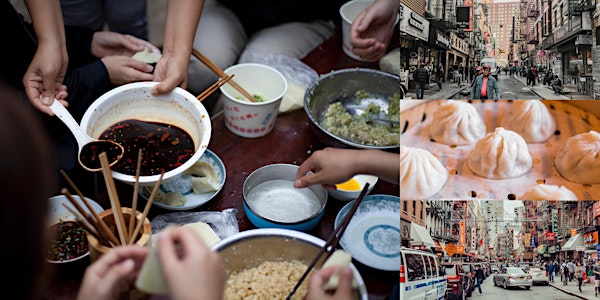 The Secret Eats of Chinatown, Manhattan Food Crawl
New York Adventure Club | www.AdventureClub.com
When and where
Location
Columbus Park (Corner of Bayard St & Mulberry St) Columbus Park New York, NY 10013
About this event
While Chinatown might seem touristy these days, it's still hiding some of the best bites in NYC...if you know where to look. Get ready to experience a food crawl that will lead you to the neighborhood's best-kept secrets (if you can keep it hush-hush).
Join New York Adventure Club as we journey through the twisted back streets of present-day Chinatown to eat at some of the neighborhood's best culinary destinations, while learning about the highs and lows it has endured over the past several generations.
Led by prominent neighborhood expert Mike Morgenthal, our culinary experience will include:
A custom-made NY Adventure Club route to showcase the best Chinatown eateries hiding in plain sight
The story of Chinatown throughout New York's history, from Five Points to the first Chinese language theater in New York City to the neighborhood of today
A bite at several different off-the-beaten-path Chinatown eateries, from scallion pancakes and dumplings, to beef jerky and steamed buns
Come hungry!
*Your ticket includes tastings at every eatery on the tour
**There are no bathroom breaks on the tour
***Please bring water and a pair of comfortable shoes as we'll be on our feet for the duration of the tour
****This experience ends at the corner of Grand and Mott Sts. 
*****Food served for this experience cannot be altered for individual dietary needs. Please contact info[at]nyadventureclub[dot]com with any allergies the tour guide should be aware of.
Testimonials
"I liked the thoughtfulness of the guide for our comfort." -Nancy
"Great tastings, really nice tour guide and a good group of people on the tour." -Rhonda
"The tour guide spoke in a loud and clear voice. He certainly knew the history of Chinatown and took us to five excellent restaurants." -Joy
"Mike was a great guide - approachable, clear, composed. He gave some great history and background of the area without overwhelming. The food segments went smoothly as well." -Jessica
"Fun, relaxed pace. Great tour guide." -Randy
"Mike was friendly, knowledgeable and considerate. Food was great too." -Jim
"The food! And the guide! Found out some interesting stuff!" -Jessica
"Mike was a great tour guide, very knowledgeable and personable. He took us to places we've never been." -Alyson
"It was everything I expected. Delightful way to spend 2 hours, sampling good Chinese delights, while also learning some history of the area." -Joel
"Fantastic guide, compelling food." -Mike
"Guide was engaging and fun." -Kent
"Wandering through Chinatown with a knowledgable guide, stopping to sample Chinese food is very special." -Sheila
"Well paced. Very informative. All delicious." -Sara
"Mike and the food were awesome. Knowledgeable and informative. Great personality." -Jason
"The variety in food selection was wonderful." -Paul
"I liked the guide, the participants - it was such a pleasant tour" -Susan
"Good food, not to long walk, interesting history" -Lisa
"Tour guide was very knowledgeable." -Suzanne
"I enjoyed the food and history of the neighborhood - Michael was extremely knowledgeable" -Ann
Disclaimer
Event takes place rain or shine.
By attending a New York Adventure Club experience, you accept our terms of service.
Photo Credit: Amanda Dalbjörn (bottom right), Jason Leung (right-middle), Frank Zhang (main)
Categories: In-Person, Food & Drink