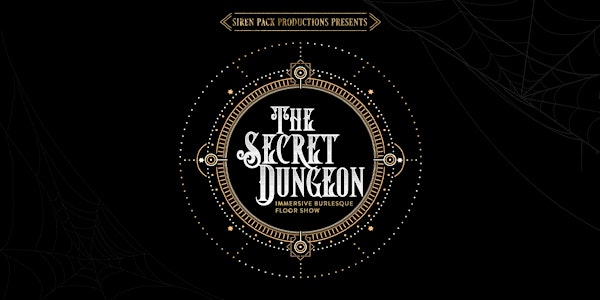 The Secret Dungeon - Immersive Burlesque Variety Show
The Secret Dungeon is an immersive variety show full of intrigue and suspense featuring burlesque, drag, spoken word, comedy and more!
When and where
Location
Madame X 94 West Houston Street 2ND FLOOR New York, NY 10012
About this event
"If you cannot get rid of the family skeleton, you may as well make it dance."― George Bernard Shaw
Are you ready for a bold and spectacular night out? Something a bit more interactive and subversive? Join us for "The Secret Dungeon" It's an immersive and theatrical burlesque variety show featuring a cast of sensual and provocative performers and artists.
We've curated a night of performances in which our artist explore the monsters under their bed and the skeletons in their closet. We've asked them to show us what they normally keep hidden and to go deep into exploring their secrets and fears.
Prepare for thrilling performances from Shay Au Lait, MaDda, Glow Job, Kia Sangria, Trash Beast, Marlena Magdalene, Margo Price, Taffeta Punk, Delta Major, and Madame Lioness, hosted by Sam Popp.
(Lineup subject to change.)
Doors at 7:30 for VIP & General Seating | 7:45 for Standing Room
We highly encourage tipping our performers and go go dancers. If you like what you see, let us know! Please bring cash. We can make change for you. We've got singles!
Each variety show in our bordello lounge contains some or all of the following elements:
PreShow Meet & Greet | Burlesque | Boylesque | Drag | Flow Arts | Pole Dance | Cabaret Singing | Comedy | GoGo | Raffles & Giveaways | Sultry Music | Signature Cocktails | VIP Gift Bags | Interactive Games | After Party DJ Dance Set
Stage Management: Viviana Salgado
House & Box Office Management: Emily Dunlop
Photography: Citizen Rob
Music: Lloyd the DJ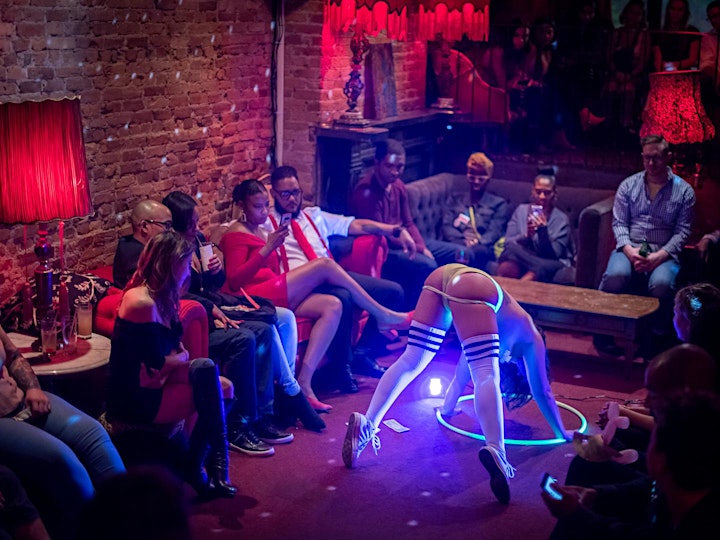 TICKET TYPES - Tickets cost more at the door and tickets are known to sell out. Purchase your tickets in advance. It's highly recommended.
$40 for VIP Seating: VIP ticket holders have some of the best seats in the house and receive a gift from one of our VIP Sponsors. VIP guests must arrive by 7:30 to claim their VIP reserved seats. After 7:45 you may be seated at the discretion of the House, which may include forfeiting your seat. If you arrive late, you may have to stand.
$30 for Advanced General Seating: General seating ticket holders must arrive by 7:30 to claim their reserved seats. After 7:45 you may be seated at the discretion of the House, which may include forfeiting your seat. If you arrive late, you may have to stand.
$15 for Advanced Standing Room: Standing room ticket holders may be standing or possibly seated, if any seats remain after 7:45pm. This depends on availability. Your view may be partially obstructed from standing.
$400 for "The Birthday Party" Experience: Celebrate your birthday by STARRING in a burlesque show. This is an EXCLUSIVE VIP Experience ticket for a party of up to 4 and only one experience is offered per Siren Pack show. Your ticket purchase includes:
The Best & Premiere Seating for up to 4 including the birthday person
A Birthday themed Burlesque Dance & Act by the Siren Pack Troupe with the Birthday Person as the Star of the Act
4 signature cocktail drinks
A VIP Birthday Gift from Siren Pack & our sponsors
Digital Copy of "The Birthday Party" Experience shot by our professional videographer and photographer
Birthday Party Favors for your entire group
(The theme can also be customized for other types of celebrations and are suitable for parties of 2 to 4! Email us at info@SirenPack.com to tell us more about the Experience that you would like to curate and immerse yourself in!)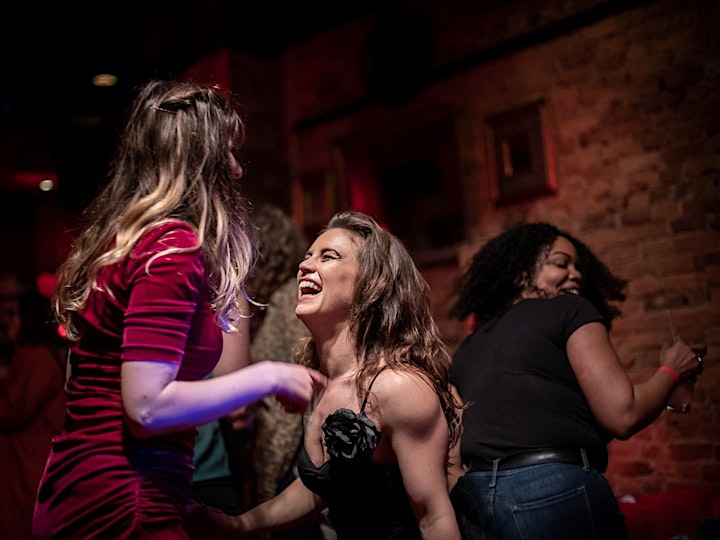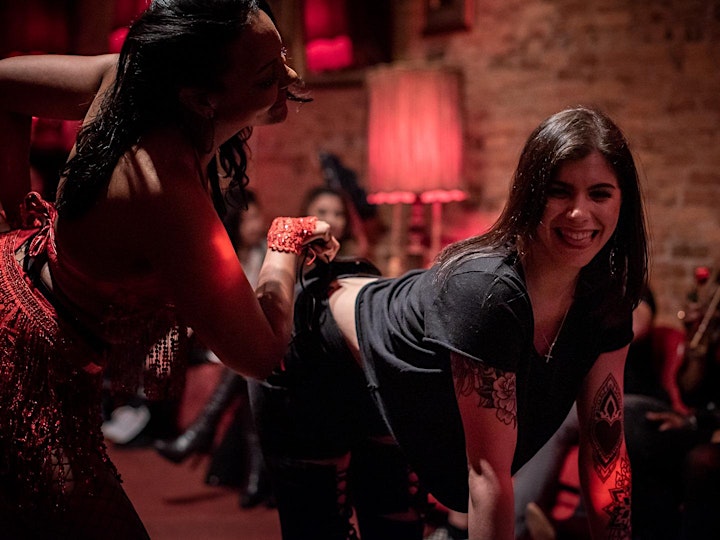 What are they saying?
"Seriously, the sexiest immersive burlesque in NYC" - Madame X
"It's more than magical. TRANSCENDENT." - Rashida Khanbey Miller
"The most wild burlesque show we've been to [in] a while." - idktonight.com
"These shows are awesome" - Michelle Hernandez, Audience Member
"I CAN NOT!!!" - Malcolm, Audience Member
"It was great fun!" - Adrienne Ryan, Audience Member
"Had the best date night at Madame X NYC. Sexy, lushes, beautiful and fun performance by Siren Pack. Loved the production." - Olesya, Audience Member
SPONSORED RAFFLE & GIVEAWAY PRIZES - Bring Cash or purchase your raffle tickets in advance right on Eventbrite. We're so grateful for the amazing brands that support our show, our performers and our audience. More sponsors to be announced soon! Raffle tickets are 10 for $10
Snack Theater - One winner will receive 2 tickets to attend "Snack Theater & The NY Comedy Festival Presents: They Laughed They Cried They Died. " Snack Theater is a night of extravagant cabaret theater at Chelsea Music Hall. Created and produced by Rara Darling and Angelica Sundae, they bring together drag, burlesque, and other variety acts to tell a cohesive story and uses elements of camp with a signature dark and sadistic twist to have audiences laughing, crying, and shaking in fear. After the wildly successful productions of "Dollhouse", "Let Them Eat Cake", "Meet Me on Mars" and "Step Right Up", Snack Theater gives you "They Laughed, They Cried, They Died"- a comedic & immersive cabaret murder mystery show put together for the New York Comedy Festival. A spectacular with highly conceptual acts, high production value, and an opportunity for everyone to join our show, it's cabaret like you've never seen it before. (valued at $40) Follow them at @snacktheater and @missraradarling
The Fit Factory - One winner will be gifted with a 3 Pole Dance Fitness Class Package for their studio in West Babylon, NY which offers Pole Dance, Aerial Hoop, Hip hop, AcroYoga, Burlesque, and Flex & Barre classes, as well as private parties. (valued at $75 total) Follow them at @thefitfactoryli
SpeakEasy Noir - One winner will receive a 1 hour private online SpeakEasy Noir burlesque dance session. (valued at $125) Follow them at @SpeakEasyNoir
Live Laugh Bejeweled - One winner will receive a pair of their Ostrich Feather Dangle Earrings. Live Laugh Bejeweled creates custom, one of a kind, ethnic, hand painted and leather inspired jewelry. (valued at $40.00) Follow them at @LiveLaughBejeweled
Adorn the BOX - One winner will receive a pair of ATB Special Edition Box Wraps. Adorn the Box provides custom, handcrafted accessories that add a bit of sass to your box! Products include decorative straps and wraps that may be worn on shoes and the body. (valued at $40 each). Follow them at @adorn_the_box
Green Room Cigars - One winner will receive 3 handpicked cigars from the Cigar Vixen. The Asylum13, The Undercrown Shade and the Monte Cristo White Series Magnum. Green Room Cigars is "a place where masterminds meet." Its a cigar lounge that specializes in cigars. (valued at $40) Follow them at @GreenRoomCigarLounge.
Delta Major Designs - Winners will receive a pair of Red Glitter Blood Drip Pasties.(made of foam, possible latex allergy warning) Delta Major Designs was passionately created by Artist, Fashion Designer, and Burlesque Performer Delta Major. Delta Major Designs will make you feel bold, feel confident and Be Major! (valued at $5 per pair) Follow her at @delta_major
Our VIP Gift Bag sponsors are Scotch Porter, SpeakEasy Noir and Korbel!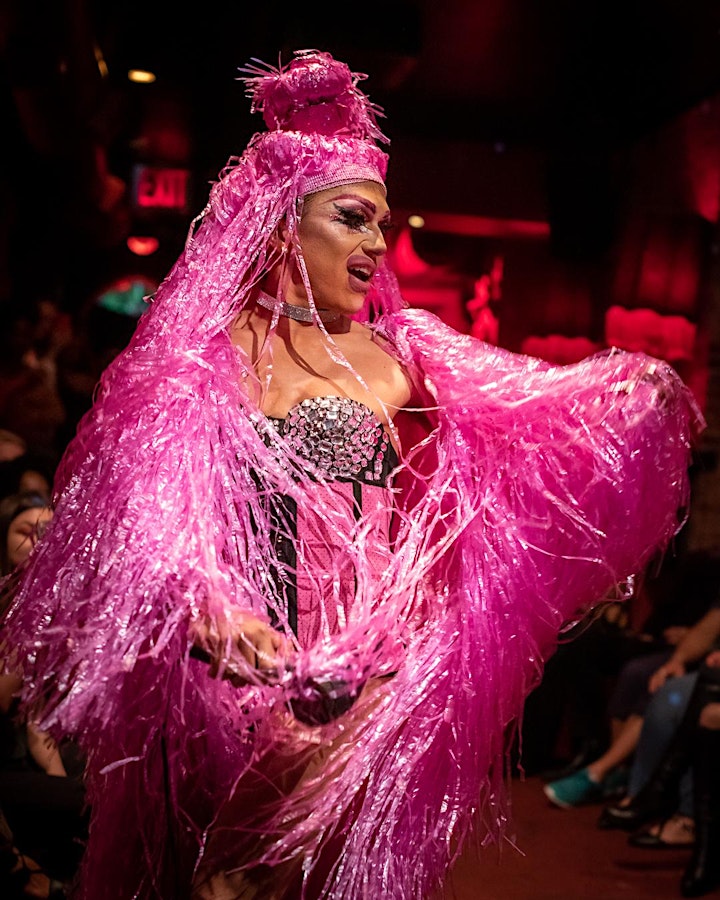 What is Immersive Burlesque? First, its entirely consent based!
There is no proscenium or traditional stage. Its a floor show performed in the round with no fourth wall.
During our Pre-Show Meet & Greet, Intermission and After Party, our cast is out and about getting to know you, chatting, taking pictures, dancing, and playing games. The "show" starts from the moment you walk through our doors. Intermission is LIT! In July, we broke out in the Wobble.
Our show also incorporates intentional audience experiences and participation from enthusiastic volunteers.
Our show is all about connection, entertainment, delight, subversion and fun! Take a look at our show photos.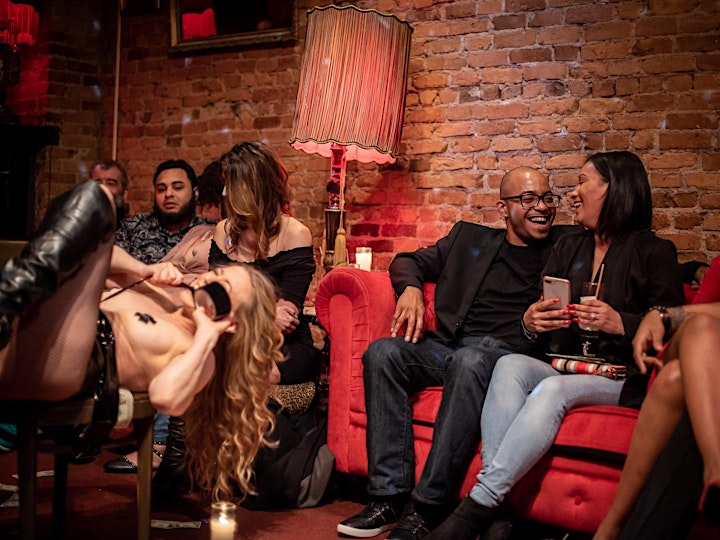 About Madame X
Madame X is a seductive and spicy red bordello lounge located in the historic Greenwich Village.
SEATING at Madame X
All VIP guests and General Seating guests are escorted to their seats by a Siren Pack usher. Please note that latecomers will be seated at the discretion of Siren Pack Productions.