The Second Conference on CSR, the Economy, and Financial Markets
Description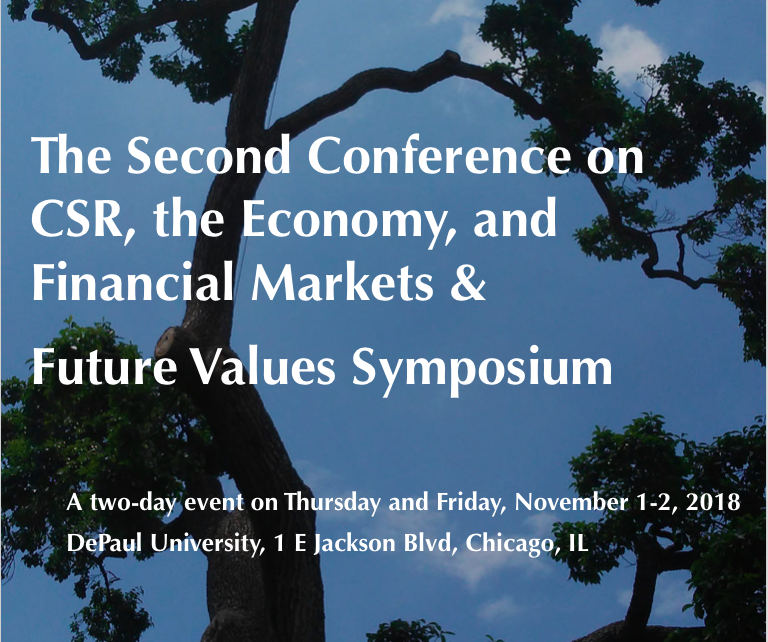 CONFERENCE AGENDA
8:30 Coffee & Pastries (5th Floor Foyer, DePaul Center)
8:50 Welcoming Remarks (Room 5700, DePaul Center)


9:00-10:30 Session I
Financial constraints and environmental corporate social responsibility
by Martin R. Goetz (Goethe University)
Discussant: Pierre Chollet (University of Montpellier)
Shareholder engagement on environmental, social, and governance performance
by Tamas Barko (University of Mannheim), Martijn Cremers (University of Notre Dame) and Luc Renneboog (Tilburg University)
Discussant: Muris Hadzic (Lake Forest College)


10:45-12:15 Session II
Socially Responsible Corporate Customers
by Rui Dai (WRDS, Wharton), Hao Liang (Singapore Management University) and Lilian Ng (York University)
Discussant: Stuart Gillan (University of Georgia)
Good Employee Relations and Firm Performance Improvement: Involvement of Socially Responsible Investment Funds
by S. Katie Moon (University of Colorado, Boulder) and Onur Kemal Tosun (University of Warwick)
Discussant: Ashraf Al Zaman (Saint Mary's University)


12:15-1:00 Lunch


1:00-1:45 Keynote Address by Professor Laura Starks
Environmental Issues and Shareholder Engagement


2:00-3:30 Session III
Altruism and Egoism in Investment Decisions
by Daniel Brodback (University of Muenster) Nadja Guenster (KPMG) David Mezger (University of Muenster)
Discussant: Ferhat Akbas (University of Illinois, Chicago)
Hacking Corporate Reputations
by Pat Akey (university of Toronto), Stefan Lewellen (Carnegie Mellon University) and Inessa Liskovich (UT Austin)
Discussant: Souad Lajili Jarjir (Universite Paris-Est)

3:45-5:00 Session IV
What drives a firm's ES performance? Evidence from stock returns
by Mark Shackleton, Jiali Yan, and Yaqiong Yao (Lancaster University)
Discussant: Otgontssetseg Erhemjamts (Bentley University)
Private Benefits and Corporate Investments: The Case of Corporate Philanthropy
by Ronald W. Masulis (UNSW School of Business) and Syed Walid Reza (SUNY at Binghamton)
Discussant: Tom Nohel (Loyola University of Chicago)
ORGANISATIONAL INFORMATION
This conference is part of a two-day event held at DePaul University on November 1 and 2.
For wealth managers and academics
The first day's proceedings on November 1 will engage the wealth management and investment industry's response and perspective on sustainable business, CSR, and socially responsible investing. You can learn more about the first day of the conference at depaulfuturevalue.eventbrite.com. However, attendees can register for that first day when signing up for the CSR academic portion.
SECOND CONFERENCE ON CSR, THE ECONOMY, AND FINANCIAL MARKETS
November 2, 8:30 am to 6 pm
Academic Paper Presentations
The conference will be conducted in a workshop format to allow for extensive discussion and feedback. Accordingly, a maximum of 12 papers accepted for presentation. It is scheduled to take place on the campus of DePaul University in downtown Chicago and the conference's keynote address will be delivered by Professor Laura Starks.
PROGRAM COMMITTEE
Ferhat Akbas, University of Illinois at Chicago
Audra Boone, Texas Christian University
Otgontssetseg Erhemjamts, Bentley University
Chitru Fernando, University of Oklahoma
Iraj Fooladi, Dalhousie University
Sadok El Ghoul, Univerity of Albetra
Stuart Gillan, University of Georgia
Paul Griffin, UC Davis
Omrane Guedhami, University of South Carolina
Muris Hadzic, Lake Forest College
Dragon Tang, University of Hong Kong
Hassan Tehranian, Boston College
Vahap Uysal, DePaul University
Kan-Ming Wan, Polytechnic University of Hong Kong