Description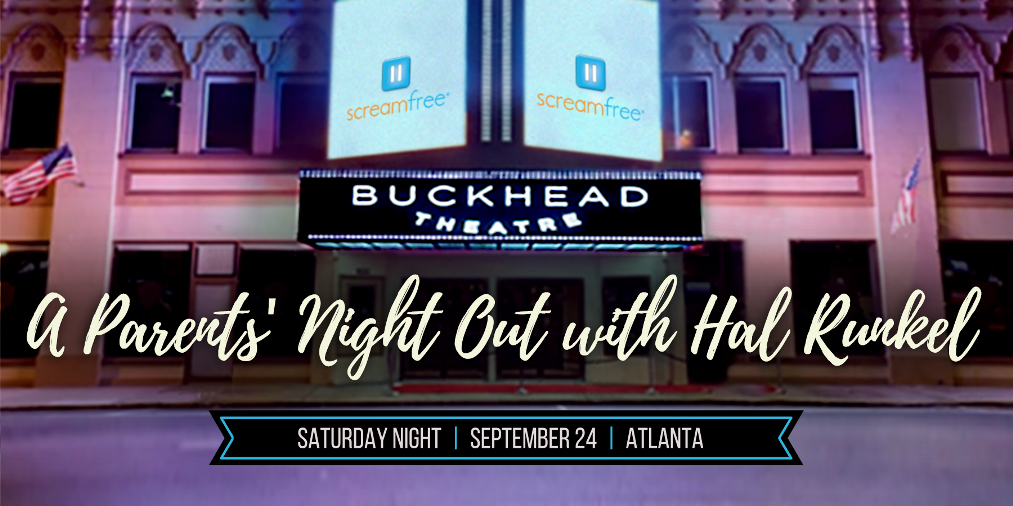 THE POWER OF PAUSE
Research shows that 98% of parents unleash an emotionally damaging outburst on their kids before the age of five. (We know the other 2% were just lying!)
In this chaotic, distraction-filled world, being a parent and keeping your cool isn't always so easy. But there is a way. Join ScreamFree Founder Hal Runkel for a laugh out loud, fun-filled evening at the historic Buckhead Theatre complete with hands-on, lifechanging wisdom and a vision for creating the family life you've always craved.
The ScreamFree "Power of Pause" will:
provide a forum to discuss your specific challenges with an internationally acclaimed parenting expert.

help you build your own road map for launching your kids into adulthood.

be the ultimate parents' Saturday night out at a premier venue, complete with music, hors d'oeuvres, cash bar and VIP reception.

make a great ladies' night out for Moms to have a drink, share some laughs and work on their parenting.
LADIES: Enter Promotional Code "LADIES" to Save 10% on two more more tickets when coming with friends!
Tickets:
The event will feature light, hand-passed hors d'oeuvres, a cash bar and general admission seating. The first 100 tickets sold will include a free pre-release copy of Hal's new book, Choose Your Own Adulthood, a $15.95 value.
*VIP Tickets Include premium seating, a free drink ticket, an autographed copy of Choose Your Own Adulthood, and a private dessert meet and greet with Hal and Molly after the event.
SPECIAL BONUS: In addition to principles from his New York Times bestselling ScreamFree Parenting, the event will feature the Atlanta debut of new material from Hal, including his upcoming book, Choose Your Own Adulthood. Although it won't appear in bookstores until the spring, we will have pre-release copies available for sale at the event (if you don't buy your tickets in time to get it for free!)
Tickets will sell out quickly, so reserve your spot today!
Evening Timeline:
6:45 Doors Open; Cash Bar Available; Hand-passed Hors D'Oeuvres; General Admission Seating
7:30 - 9:30 Main Event in Theatre
9:30 - 10:30 ​ VIP Dessert Meet and Greet with Hal and Molly (Tickets Available)