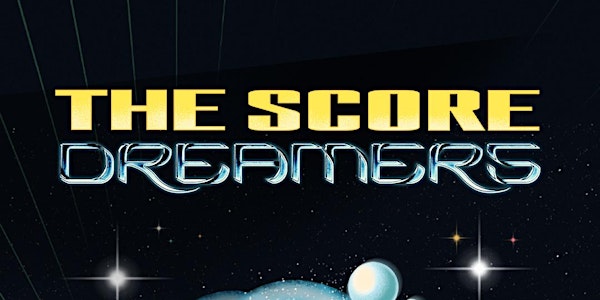 Location
The Glass House
200 West 2nd St
Pomona, CA 91766
About this event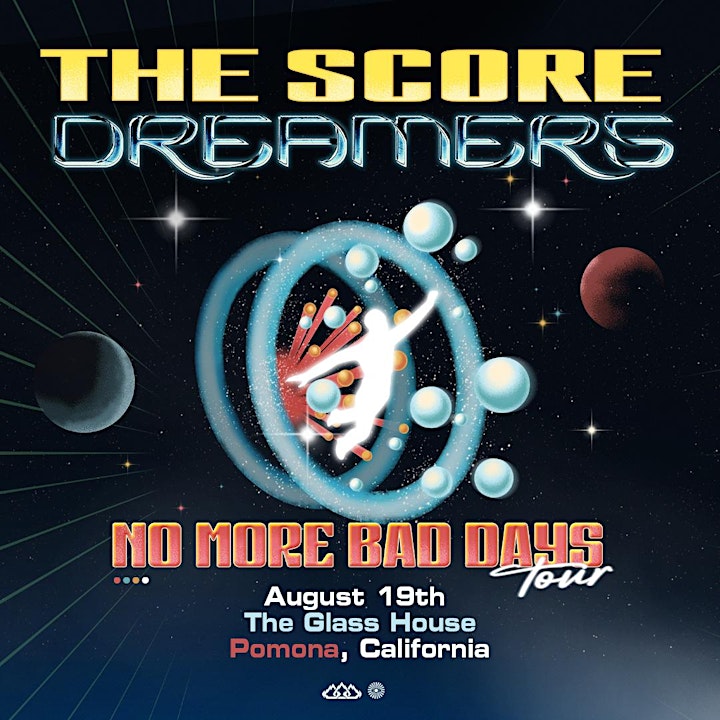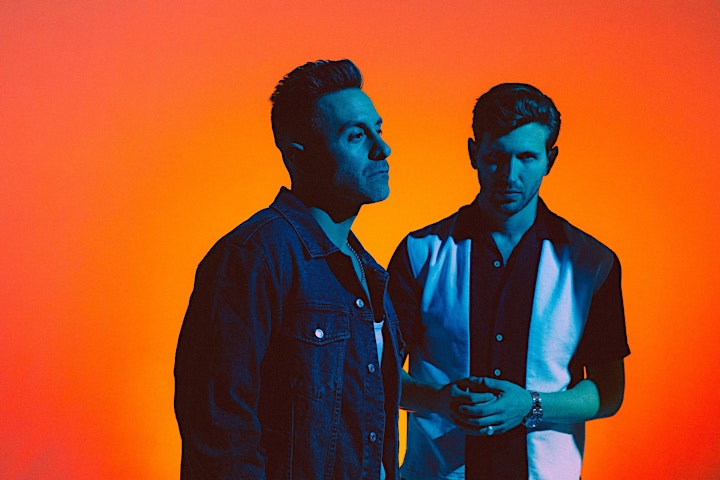 The Score's music has always been about overcoming adversity and finding strength to overcome in moments of weakness, helping the Los Angelesbased duo of Eddie Anthony (vocals/guitar) and Edan Dover (keyboards/production) win fans across the globe and rack up more than five billion streams of the music they've released together 7 years ago. Imagine "Yeezus"-era Kanye West producing Foo Fighters and you're in the right ballpark — huge songs built to rattle the walls of stadiums filled with thousands of fans singing along to every word.
But no amount of practicing what they preach could have prepared the artists for the COVID-19 pandemic, which forced them to scuttle a hugely successful European tour in March 2020 and start forging a new artistic path.
"We played shows in a lot of countries we'd never played before and were blown away to find that our audiences in these places were bigger than in some cities in the U.S.," Dover says. "We loved their energy and seeing them connect to our music, even though they spoke different languages and came from different cultures."
Indeed, The Score has cultivated a fervent fanbase through a steady stream of releases. The 2016 "Unstoppable" EP paved the way for its full-length Republic Records debut, "Atlas," a year later, spawning such hits as "Legend," "Higher" and "Revolution." The 2019 "Pressure" EP and 2020 full-length "Carry On" yielded additional streaming smashes such as "Born for This," "Stronger" and "Dreamin'," a collaboration with blackbear. Among dozens of high-profile syncs, the pair's music appeared in the Ryan Reynolds-starring Netflix blockbuster "6 Underground" and soundtracked campaigns for Jeep and the National Basketball Association, among many others.
Back home with no ability to perform live, the duo drew inspiration from what they had just experienced abroad and crafted a host of new music that will be released gradually over the next nine months, beginning with the Chrysalis EP on Sept. 24 and culminating in a third studio album thereafter.
"It was our own personal therapy to hit the studio everyday and get us through this period of time," Anthony admits, pointing to the radio-ready banger "Head Up" as a direct result of this philosophy. "We couldn't be playing shows or meeting our fans. We had to put our own experiences into the songs and make them universal for people of all walks of life. We knew we couldn't be the only ones feeling this way."
First-pumping first single "Victorious" epitomizes this musical mission, empowering listeners to dig deep and transcend "even when the darkness calls." Says Anthony, "The idea to write a song called 'Victorious' had been percolating, but nothing really stuck until I started humming the words like you hear at the very beginning. We did a Zoom session with our co-writer, Jen DeSilvio, and the whole chorus was written in maybe a minute. The rest of the song was done in 25 minutes. As a band, you love when that happens."
"The post-chorus, with the hand clapping, we had in our head this visual of playing a football stadium in Europe with everyone clapping along," adds Dover. "That's what we are trying to do with this album and this music — and that song in particular."
The Chyrsalis EP also features "Good To Be Alive," the guitar-driven, insanely catchy "Pull the Cord"; and "Top of the World," an uplifting anthem that reminds, "good things never come to those who wait in line."
According to the band, the latter song "is about the feeling you get when you overcome something that scares you, whether that's beating your own demons or achieving something you couldn't before. We wanted that song to sound like a euphoric, over-the-top three-minute celebration, hence the guitar solo and trumpet samples."
During the lowest points of the pandemic, when even writing music felt monotonous for Anthony and Dover, the group took its own advice and pushed through uncertainties both personal and universal.
"Eddie and I have explored writing all types of music, but we've found that there's a message behind it that is really at the core of who we are," Dover says. "We write motivational, inspirational stuff. We don't write about love, sex or drugs. We write about the human experience and achieving your dreams and goals. Many of the songs that resonate the most with our fans squarely hit on those themes."
Those themes are set to some of The Score's most memorable music to date, turbo-charging the experimentation found on "Carry On" with a unique spin on the band's classic, core sound.
"We're so proud of 'Carry On,' because it allowed us to branch out and be more of a band. We did amazing collaborations with AWOLNATION and Travis Barker," Anthony reflects. "With this new batch of songs, we really wanted to get back to our roots and go down the rabbit hole with hip-hop drums, a lot of urban influences and these big, anthemic songs."
Adds Dover, "We really had time to step back and look at what we were doing, and get smart about the music we were making. It's so much more than just Eddie and I. It's our fans too, and that relationship has a life of its own. As a fan, maybe there's something you're insecure about that you thought was a weakness. But really, that's the thing that makes you beautiful. Instead of being feared or shunned, these flaws should be celebrated. If you channel that energy in the right way, it can actually become your superpower."