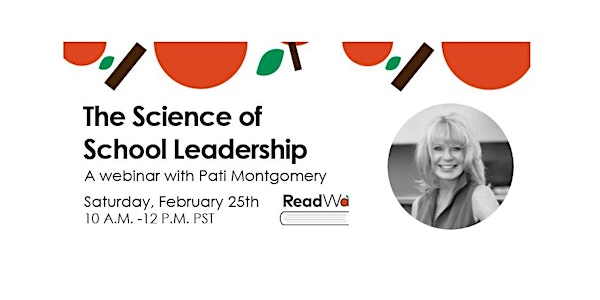 The Science of School Leadership
Pati Montgomery will present The Science of School Leadership on Saturday, February 25th, at 10:00 A.M. PST.
About this event
Read Washington is thrilled to present our next live webinar, The Science of School Leadership with Pati Montgomery, on Saturday, February 25th, at 10:00 A.M. PST. Registration is free!
Leadership matters!
As elementary schools shift from a balanced literacy focus to a Science of Reading focus, principals are often unclear about what types of feedback they should provide to teachers. Yet instructional feedback is a key element to increasing literacy scores in our schools.
On average, an elementary principal has influence over 428 students while teachers have an influence on only 21 students. The impact on student success of a principal at the 75th percentile of principal effectiveness is nearly as large as that of a teacher at the 75th percentile.
How much should principals know about the Science of Reading?
What are the key factors when observing classroom teachers' literacy blocks?
We'll dig into some of the critical instructional components that should be a part of "look-fors" for elementary principals.
Pati Montgomery has a vast background in education which includes being a teacher and administrator with underserved populations, special education administrator, author, national educational consultant specializing in principal and school leadership development, collaborator with State Departments of Education as well as teacher effectiveness and union-management collaboration teams. Previously, she was the Executive Director of Literacy for the Colorado Department of Education where she was responsible for the implementation of the READ Act. Pati has worked with school principals and superintendents across the country on effective school practices. Her work is steeped in the belief that ALL students can attain high achievement and focuses on school populations comprised of highly diverse learners. To attain such, administrators must use educational research to ensure they are using proven and evidence-based practices that will increase school effectiveness. Pati Montgomery is the lead author of the book entitled, The Principal's Primer for Raising Reading Achievement. The book is a guide for principals and school leaders that highlights efficient systems and structures necessary for school-wide improvement in performance.
This webinar will be recorded. Registration includes access to the webinar recording and presentation materials. All registrants will receive a link to the recording.
Your registration confirmation email will include the Zoom webinar link. You will also receive a reminder email with the Zoom link before the live webinar.