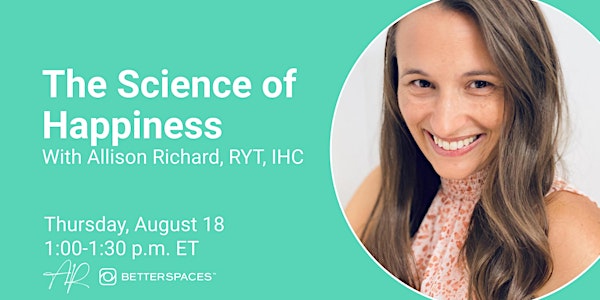 The Science of Happiness
August is the month where Happiness Happens!
About this event
August is the month where Happiness Happens! Join Stress Management and Self Care Coach, Allison Richard, for a 30-minute discussion on the science of happiness. Learn how to create a baseline of happiness as your foundational way of being by understanding what happiness is and knowing what techniques you can use to foster it.
Instructor Bio
Allison Richard B.A., RYT, IHC is a Stress Management, Self Care and Executive Coach as well as a Yoga & Meditation Instructor. She works with clients to help them understand the science behind their stress response and incorporate holistic tools such as yoga, meditation, breathwork, essential oils and energy medicine techniques to empower them in creating purposeful, healthy and passionate lives they love. Her corporate clients include Barclays, Hearst Publications, TripAdvisor, Viacom, UBS and Morgan Stanley. Allison's expertise has been featured on GoodHousekeeping.com, in the New York Post and the New York Times.
BetterSpaces is a workplace engagement platform. We are here to help you connect, create, and perform at your highest potential.
We are committed to maintaining a respectful, engaging, and courteous work-related environment that respects all members of our community. All our classes are workplace friendly.