Event Information
Location
Genspace
33 Flatbush Avenue, 7th Floor
Brooklyn, NY 11217
Description
Fermentation is one of the oldest food processing methods still used today. Take part in this ancient health practice, and learn how to make sauerkraut!
Sauerkraut is full of beneficial probiotics to keep your microbiome healthy. In this course, we will cover the basic science behind making sauerkraut, why it's good for you, and we'll teach you how to make it yourself. If you are interested in Old World food preservation, gut health, or fermentation in general, this is the class for you!
Tangy and delicious, Saurkraut goes well with salads, soups, sandwiches, pizza (basically everything), and aids digestion! Every participant will take home their own jar of sauerkraut.
Instructor:
Cheryl Paswater is a Certified Fermentationist, Educator, and Health Coach, who after a near-death experience, turned to holistic medicine for help. After radical diet and lifestyle changes, she started teaching on fermentation, old world food preservation, healthy eating, sustainable food, and holistic health. Cheryl runs a popular fermentation project and CSA called Contraband Ferments. (www.contrabandferments.com) She lives in Brooklyn, NY.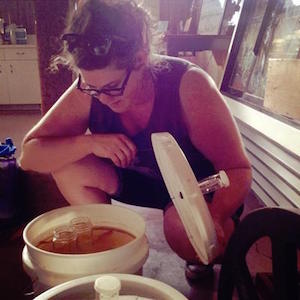 Date and time
Location
Genspace
33 Flatbush Avenue, 7th Floor
Brooklyn, NY 11217