The Science of Beer & Biotech Vendor Showcase

Wednesday, October 19, 2011 from 5:00 PM to 7:00 PM (PDT)
Event Details
Agenda


| | |
| --- | --- |
| 5:00pm-6:00pm | Registration & Biotech Vendor Showcase |
| 5:30pm-6:00pm | Special Extended Tour |
| 6:00pm-6:30pm | Presentation |
| 6:30pm-7:00pm | Beer Tasting & Networking |
Overview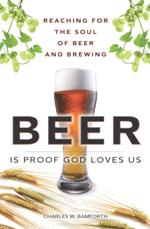 Just because you may enjoy it on weekends doesn't mean there isn't some serious science behind it. San Jose BioCenter presents The Science of Beer featuring Dr. Charlie Bamforth, Former Dept Chair, Food Science & Technology, UC Davisand current Anheuser-Busch Endowed Professor of Brewing Science.  Dr.  Bamforth's talk will 'tap' into the art and the science of the brewing process as he highlights the health and nutrition of beer.  Charlie will have us all believing that "Beer is proof that God loves us".  All attendees will receive 1 ticket to the Beer Tasting after Dr. Bamforth's presentation. 
Mingle and network before the presentation with hors d'oeuvres and a Biotech Vendor Showcase before the presentation to find out how you can get more beer tasting tickets & enter in our Raffle!

Speaker
Dr. Charlie Bamforth, Dept Chair, Food Science & Technology Anheuser-Busch Endowed Professor of Brewing Science, UC Davis
featured Breweries:
Devil's Canyon Brewing Company

Speaker Bio
Dr. Charlie Bamforth is Anheuser-Busch Endowed Professor of Malting & Brewing Sciences at UC Davis. He has been part of the brewing industry for some 33 years. He is formerly Deputy Director-General of Brewing Research International and Research Manager and Quality Assurance Manager of Bass Brewers. He is a Special Professor in the School of Biosciences at the University of Nottingham, England and was previously Visiting Professor of Brewing at Heriot-Watt University in Scotland. Charlie is a Fellow of the Institute of Brewing & Distilling, Fellow of the Society of Biology and Fellow of the International Academy of Food Science and Technology. Bamforth is Editor in Chief of the Journal of the American Society of Brewing Chemists, is on the editorial boards of several other journals and has published innumerable papers, articles and books on beer and brewing – and also written prolifically on soccer. His latest contributions have been The Brewmaster's Art (A 7-CD recording in The Modern Scholar series) and Beer is Proof God Loves Us: Reaching for the Soul of Beer and Brewing (FT Press). In October 2010 he was on The Honor Roll as one of the 20 professors who are changing the classroom in the US (Playboy magazine). Charlie has been featured extensively in the media, including by the BBC, Discovery Channel, NPR's Science Friday, PBS, New Scientist, Popular Mechanics, Los Angeles Times, San Francisco Chronicle, Popular Science and many more. In 2011 Charlie was honored by the Award of Distinction of the American Society of Brewing Chemists for "exceptional contributions and long diligent service to brewing science and the brewing industry".
When & Where

San Jose BioCenter
5941 Optical Court
San Jose, CA 95138


Wednesday, October 19, 2011 from 5:00 PM to 7:00 PM (PDT)
Add to my calendar
Organizer
Prescience International has merged with Johnson & Johson. To view our upcoming events, please visit our new Eventbrite pages:
Prescience International has merged with J&J


Dear colleagues and friends,

Having been a patient facing a death sentence, I discovered my passion, my purpose in life was to improve the experience and the outcomes for future patients. I set out to impact the healthcare system by creating new models of innovation so the industry might be as advanced and as revered as the tech industry. By establishing innovation centers such as the San Jose BioCenter, the Environmental Business Cluster and Janssen Labs, and educational programs like the UC Berkeley BioExec Institute, we have helped scientists and entrepreneurs deliver real solutions to real patients and we have fostered a networked community that is creating new lifelines for future patients. I never imagined the impact and reach we could have, and yet, it was only scratching the surface.

I've always felt we needed the partnership of global corporations to leverage their resources, infrastructure and influence to catalyze genuine change in the industry. In collaborating with Johnson & Johnson over the past three years, first on Janssen Labs and most recently with Johnson & Johnson's Innovation Centers, we have found a partner who is just as passionate as we are about patients, their families and the innovators who are dedicated to bringing about transformational healthcare products.

It is with great excitement that I announce Prescience is joining forces with J&J, where we will be dedicated to expanding our impact in global innovation hotspots. As Head of Janssen Labs, I will be reporting directly to Diego Miralles, Global Head, Innovation, Janssen Pharmaceuticals. In this new role, I along with the Prescience team members, will expand J&J's external R&D engine; adding capital efficient infrastructure, high impact services, technical and funding programs and strong networks to provide unparalleled access and engagement with entrepreneurial communities around the globe. We will also continue to support the growth of the Johnson & Johnson Innovation Centers and the development of critical services to support early stage company growth.

We look forward to continue to partner with you as we foster a new era in healthcare solutions where people, ideas, and technologies intersect; where we have an open exchange of ideas and collaboration; where we build custom solutions for the right opportunities; where we create new experiences and outcomes for patients.

Together we can transform patient care and build a healthier future.


Melinda

Melinda Richter
Founder & CEO, Prescience International
Head of Janssen Labs