TRANSFORM YOURSELF WITH ASSERTIVENESS!
About this event
You are the only one who can give yourself permission to take back your time and energy. By speaking your mind and practice self-care. This is, not only though, what we call self-assertiveness.
Assertiveness is sometimes confused with aggressiveness. But indeed it is not. It means honoring our wants and needs, setting boundaries and communicate without fear. An attitude of people-pleasing and the lack of language to communicate what we want can take a toll on our mental wellbeing. This coaching school is designed to prevent that and to coach you how to develop an assertive mindset and communication!
THE SCHOOL OF ASSERTIVENESS MODULES:
Research shows that, if shared, a problem that seem very big can become smaller, this is why the school takes place in the form of online group coaching.
Module 1 on mindset (1 hour live session): Self-care. It all starts there. We work to increase your ability to love and respect yourself. We explore journaling, we create a routine of checking in with ourselves, we explore our values. You get assigned an accountability buddy in the group.
Module 2 on mindset (1 hour live session): we continue to work on self-respect by exploring how to see clues of lack of respect from others and self-respect in ourselves. We start exploring some communication techniques. We learn to celebrate and quiet the imposter syndrome.
Module 3 on mindset (1 hour live session): Learn to make your time important. Boundaries work- how to say NO, doing some social media detox and we learn how some purposeless time gives us less guilt when saying NO.
Module 4- communication (1 hour live session): And we start with amazing communication! Starting to be assertive with others require some effective baby steps. We learn courage and how confrontation fear is sometimes only based on our assumptions.
Module 5- communication (1 hour live session): Here we really gain more insights on how to communicate non-violently and reach self-awareness of toxic situations we might be in. Not aggressive, not passive, just assertive!
We should all have a voice. And a voice that is heard. When we deny ourselves this opportunity we don't grow and our mental well-being and identity can be compromised. Let's learn the art of assertiveness!
Structure of the sessions:
The School of Assertiveness consists of:
Live 5 sessions of group coaching in a group of max12 people (online via Zoom);
Booklet, exercises and access to great material about non-violent communication, assertiveness, how to stop "imposter syndrome", time management and even body language tips that you can study in your own time!
​Dates of the program: 27th September; 4th October, 11th Oct, 18th Oct, 25th Oct.
Time: 5 pm CET; duration: one hour.
And don't worry at all! If you cannot come for one of the sessions Alessandra will provide you with the session slides deck and the exercises (no recordings due to confidentiality!)
IMPORTANT NOTE: THE PRICE IN THE TICKET COVERS THE 5 WEEKS COACHING, even though the calendar indicates only one date. Please book the dates in your own calendar!
TOTAL PRICE GENERAL TICKET: 490 CHF
EARLY BIRD TILL AUGUST 20TH: 300 CHF
(if you cannot pay with Paypal, invoice is also an option. No problem, just select it when you buy your ticket).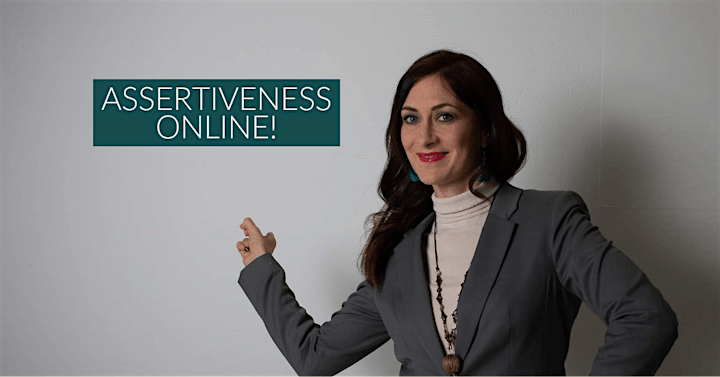 Organizer of The School of Assertiveness
Hi! I'm Alessandra Patti, originally from Italy, and I'm an accredited practitioner coach and mental health trainer in Zurich, Switzerland. I founded my coaching practice, FindYourWay Coaching, in 2017, with a clear mission: supporting people in speaking their mind, and by speaking up gaining better mental health and general well-being.
FindYourWay offers coaching programs and trainings for both individuals and companies on the following areas: 
- Self-confidence and how to manage imposter syndrome
- Assertiveness and non violent communication
- Feedback culture, mental health awareness
- Time management, priorities and life/work balance. Burn-out prevention
- Anxiety and stress management: transform your boundaries
I'm a keen writer, this is why I'm also the co-author of a coaching book "Activate Your Life", where I invented an exercise called "The assertiveness companion". I find joy in cooking, reading, travelling and dancing.