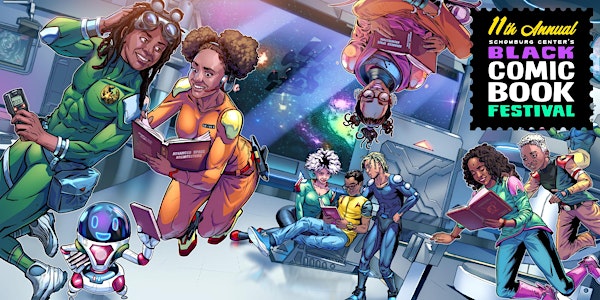 The Schomburg Center 's 11th Annual Black Comic Book Festival
The Black Comic Book Festival celebrates the rich tradition of Black comics featuring panel discussions, a cosplay show, and more!
By Schomburg Center for Research in Black Culture
Location
Schomburg Center for Research in Black Culture 515 Malcolm X Blvd New York, NY 10030
About this event
1 day 10 hours

Mobile eTicket
The 2023 Black Comic Book Festival marks 11 years of bringing together animators, Blerds, bloggers, cosplay lovers, fans, families, illustrators, independent publishers, and writers to celebrate Black comic books and graphic novels and provides a platform to get the works directly to readers. This annual event features panel discussions, workshops, and cosplay showcases, and highlights the work of creators from across the country.
#SchomCom2023 | SchomCom Art by T.J. Sterling
The 11th annual festival from April 14—15, 2023, will include a mix of in-person and virtual events. Keep checking our Eventbrite page for updates as we add more events.
SchomCom Exhibitors will be onsite at the Schomburg Center on Friday, April 14 from 10 M- 8 PM & Saturday, April 15 from 10 AM- 8 PM.
You can find a complete list of our vendors here: www.schomcom.org. You can also purchase featured titles and merchandise from the Schomburg Shop: https://schomburgshop.com.
SCHOMCOM PANELS & WORKSHOPS: SchomCom panels and workshops will be held in person at the Schomburg Center. You can also view the programs here, at www.schomcom.org or stream them on YouTube. All programs are first come, first seat. Space is limited.
Friday, April 14
10:30 AM - 12:15 PM | Youth Programming
Little Apple Universe Screenings
An interactive discussion and look inside the TV shows and school curriculum activities of Little Apple Universe.
Guests: Riley Wilson, Little Apple Universe Young Actors
Black Comic Futures Panel
Youth comic book artists discuss their original comic and creative process.
Guests: AK Lovelace, Harlem School of the Arts
Please Note: This program is strongly suggested for school and youth groups. Please email schomburged@nypl.org if you would like to register your group.
1 PM - 2 PM | Banned Books and Diversity in Comics
Book bans across the U.S. are targeting graphic novels and comic books, especially those that take up issues of race, gender, and sexuality. This will be a conversation about how to advocate for stories that represent the full range of experiences for youth and adults.
Guests: Joe Illidge, Dr. Monique Couvson, Mike Haynes-Pitts
3 PM - 4 PM | The Creator Symposium
Hosted by Women in Comics Collective International, this conversation will explore the ways in which creatives working in comics can continue to grow and thrive in an ever-changing industry.
Guests: Regine Sawyer, Janicia Francis, Shauna Grant, Javier Cruz Winnik, Barbara Brandon-Croft, Ben Ha Meen
5 PM - 6 PM | The Business of Comics and Sequential Narrative
A conversation on the business of comics and moving in the industry beyond just publishing.
Guests: T.J. Sterling, Alitha Martinez, Shawn Martinbrough, Gamal Hennesy, Geiszel Godoy
6:45 PM - 7:45 PM | SchomCom Trivia Night!
Access Guide to the Black Comic Book Community hosts the first SchomCom Trivia Night. This "Jeopardy" style event features the panelists and audience members in a nerd-off of Black characters and events from comics, tv, movies, and the culture, for ultimate bragging rights. Attendees will be able to play along on their phones or tablets to see if they are as knowledgeable as our panelists.
Guests: Tatiana King, Karama Horne, John Jennings, Regine Sawyer
Saturday, April 15
11 AM - 12 PM | How to Draw Black Superheroes & Comics
Join Tim Fielder (Infinitum, DieselFunk Studios) for a master class on drawing comics. This program is open to all ages, but it is especially geared towards young people ages 5 and up.
Guest: Tim Fielder
1 PM - 2:30 PM | Speaking for Ourselves: Black Women & Marginalized Voices in Comics
A conversation hosted by the Nerds, Erbs and Words podcast featuring industry experts about the nuances of Black women, LGBTQ, and other marginalized voices in comics and storytelling -- voices that mainstream media often misses.
Guests: Erika Hardison & Keisha Parks (Nerds, Erbs and Words), Shauna Grant, Karama Horne, Elizabeth Colomba, Barbara Brandon-Croft
3:30 -PM 4:30 PM | Black in the Future: Afrofuturism in Comics & Graphic Novels
A conversation highlighting the powerful relationship between Afrofuturism, comics, and graphic novels.
Guests: John Jennings, Ytasha Womack, Tim Fielder, Ayize Jama-Everett
5:30 PM - 7 PM | Cosplay Showcase
The SchomCom Cosplay Showcase is open to attendees of all ages and skill levels. The showcase will take place on Saturday, April 15 at 6 PM. If you want to participate, you can sign up at the Schomburg Center on Friday, April 14 from 10 AM - 8 PM, or Saturday, April 15 from 10 AM- 3 PM. The last registration for the cosplay showcase is at check-in on Saturday, April 15.
Guest DJ: Greg Wilson (@gregorywilson)
PUBLIC NOTICE AND DISCLAIMER
IN-PERSON | By registering for this event, you are acknowledging that an inherent risk of exposure to COVID-19 exists in any public place where people are present. By attending an in-person program at The New York Public Library's Schomburg Center for Research in Black Culture, you voluntarily assume all risks related to exposure to COVID-19 and agree not to hold The New York Public Library, its Trustees, officers, agent, and employees liable for any illness or injury. If you have symptoms consistent with COVID-19 or suspect you have been in close contact with someone who has tested positive, please stay home.
FIRST COME, FIRST SEATED | Events are free and open to all, but due to space constraints registration is requested. Registered guests are given priority check-in 15 to 30 minutes before start time. Just before a panel or workshop starts all seats are released regardless of registration to stand-by participants, so we recommend that you arrive early.
GUESTS | Please note that holding seats in the Langston Hughes Auditorium is strictly prohibited and there is no food or drinks allowed anywhere in the Schomburg Center. Free coat & bag check is available. NYPL policy prohibits electric transportation devices (e.g., motorbikes, e-bikes, e-scooters, e-skateboards) from being brought into or stored at library sites for any length of time, as this is the best way to keep our spaces & people safe.
AUDIO/VIDEO RECORDING | Programs are photographed and recorded by the Schomburg Center. Attending this event indicates your consent to being filmed/photographed and your consent to the use of your recorded image for any and all purposes of The New York Public Library.
PRESS |Please send all press inquiries (photo, video, interviews, audio recording, etc.) at least 24-hours before the day of the program to Leah Drayton at leahdrayton@nypl.org.
Please note that professional video recordings are prohibited without expressed consent.
About the organizer
Founded in 1925 and named a National Historic Landmark in 2017, the Schomburg Center for Research in Black Culture is one of the world's leading cultural institutions devoted to the research, preservation, and exhibition of materials focused on African American, African Diaspora, and African experiences. From the original 10,000 items provided by Arturo Alfonso Schomburg to the over 10 million items in the collection today, the Schomburg Center features diverse progamming and lifelong education and exploration that illuminate the richness of global black history, arts and culture.
Subscribe to our e-newsletter
Visit: schomburgcenter.org/calendar
Please read our Privacy Policy