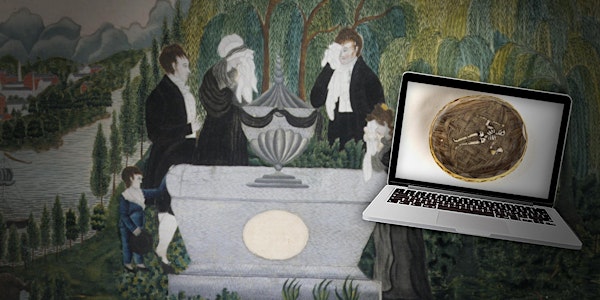 The Scent of Grief: A Brief Survey of Aromatic Death Rituals (online)
Refund policy
Contact the organizer to request a refund.
Eventbrite's fee is nonrefundable.
Academic Nuri McBride surveys aromatic death traditions from a variety of times and cultures and discusses tools for olfactive mourning.
About this event
Scent connects us to memory in a very special way. Its connects us to how an odour made us feel in the past, and more so, it makes us feel those emotions again. One whiff of grandma's perfume doesn't just help us remember her, we relive the experience of being in her presence. It is almost like she is with us again for a brief moment. Likewise the day a loved one's smell leaves their favourite sweater can be heartbreaking. The last remains of their living essence in your life is gone. You will never smell that smell again and that can induce an unfathomable sense of loss.
It is for these reasons that scent has played are prominent but mostly silent role in the mourning rituals of many cultures around the world.
In this class:
We will briefly survey a handful of aromatic death traditions from a variety of times and cultures. Showing the many ways in which they are similar, as well as a few key differences.
We will discuss scent's role in creating sacred space and delineating liminal time.
We will show why there is a catharsis to the use of aromatics during mourning.
We will discuss how scent, memory, and grief interact together, for the positive and sometimes for the negative.
Finally, we will examine tools for olfactive mourning that can be adopted into your life.
---
IMPORTANT NOTES
This class will take place online, on Zoom. Please look out for an email from us about 24 hours before class starts, which will contain Zoom log-in information and the class handouts. We will share the video for this class with registered participants for 3 days after it takes place.
ABOUT NURI MCBRIDE
Nuri McBride is an academic, activist, writer, and perfumer focused primarily on the preservation of olfactive cultural heritage. Her main area of interest is in the importance of aromatics in life-cycle rituals, particularly surrounding death and dying. This interest grew out of Nuri's personal work in end of life care and witnessing the emotional power scent can hold for the bereaved. In 2015, she began the Death/Scent project to explore the use of aromatics in death practices around the world. Nuri is a long time advocate for greater death awareness education and an end to funeral poverty. She also incorporates scent in her guided death meditation classes as a profound way to connect the participants to the physical, intellectual, and emotional state of examining their mortality.
Links: Website / Twitter / Instagram / Facebook
---
This event is presented as part of our relaunched 'Scent and Society' series. Scent and Society is an ongoing exploration of the multiplicity of perfume histories across time, and across the world.
---
--
ATTENDANCE AND REFUND POLICY
This is an online class that will take place on Zoom. The Zoom link will be sent by email approximately 24 hours before the class. Lest this email end up in your spam folder, please be sure to add hello@artandolfaction.com to your address book.
+ Event times are listed in Pacific Time (PDT); please use a time converter for your local start time.
+ Please download and install Zoom before the class starts, to avoid last minute technical issues.
+ We will share the video for this session after class ends, viewable for 3 days.
+ Unfortunately, we cannot offer refunds or credit once you have signed up. Please do not sign up unless you are sure you can attend.