Description
The Avenue Blackbox Theatre is proud to present in collaboration with the North Star Players...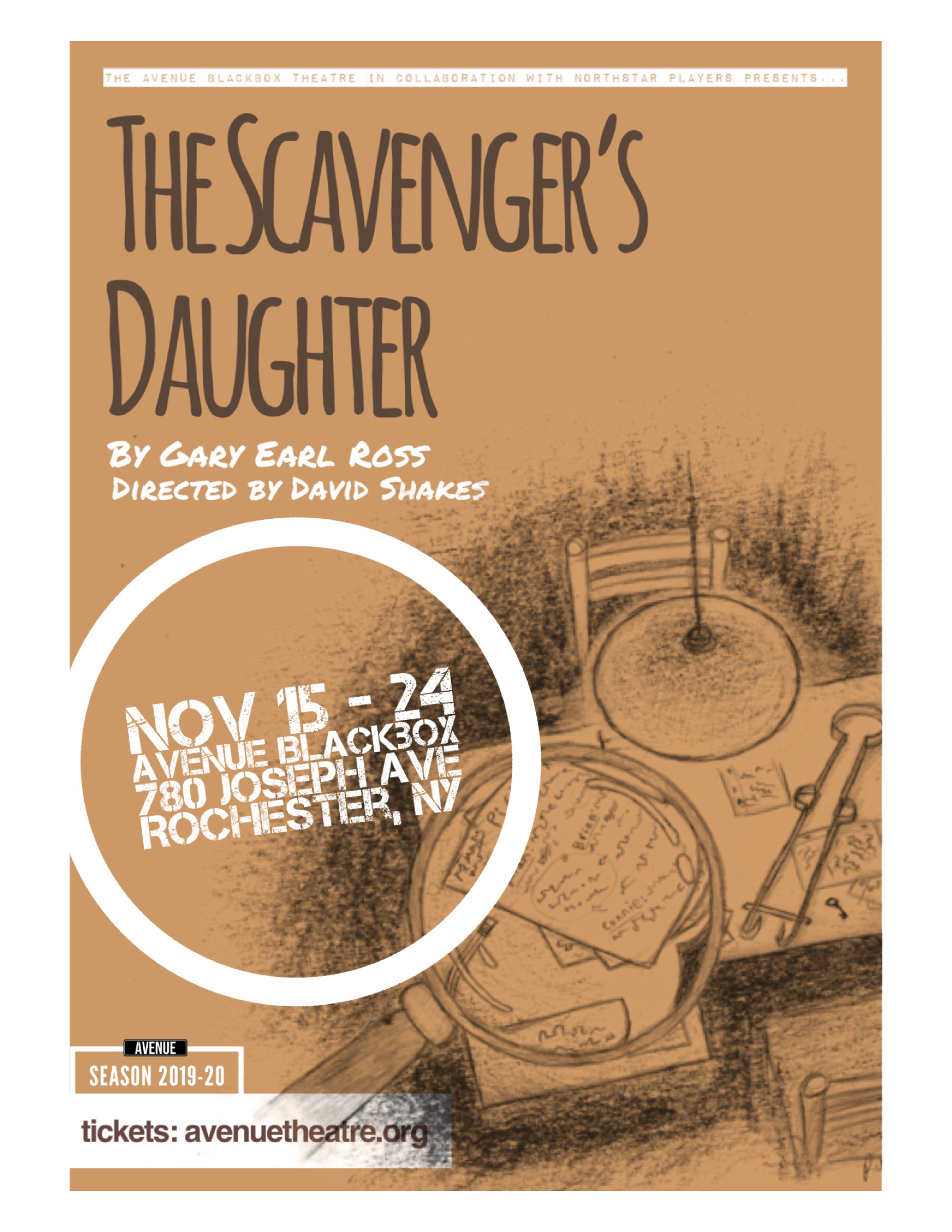 THE SCAVENGER'S DAUGHTER
Written by Gary Earl Ross | Directed By David Shakes | Artistic Director, Reenah Golden
Part African-American family drama and part murder mystery, The Scavenger's Daughter explores the impact of senile dementia and mental instability on a single family. When their father John is diagnosed with Alzheimer's, middle-aged Alan, Brian, and Connie Pickett find themselves in a virtual war with their unstable stepmother Ruthie, who at every turn—whether through ignorance, stubbornness, or insecurity—thwarts their efforts to secure John's care and the family's financial stability. Beginning at the scene of a murder-suicide that Detective Maxine Travis senses is really just murder, the play unfolds in police interrogations and a series of flashbacks. Travis must work her way through sibling conflicts, family secrets, and a case long cold until she understands what compelled Ruthie Pickett to point a gun at her husband and pull the trigger.
The project is a co-production with the North Star Players. We are quite pleased to work together to bring this drama to Rochester audiences.




ABOUT THE PLAYWRIGHT
Gary Earl Ross is a Buffalo-based novelist and playwright. His works include: the short story collection The Wheel of Desire (2002) and Slimmerville (2002). Ross also authored stage plays: Sleepwalker (2002), Picture Perfect (2007), Scavengers Daughter (2012), The Mark of Cain (2014), The Guns of Christmas (2014) and Matter of Intent winner of the 2006 Edgar Allen Poe Award from Mystery Writers of America. Mr Ross will be in the house for a special post show talkback with the director and cast on Sunday, November 17th! Join us!
**The Scavenger's Daughter had its world premiere on May 11, 2012, at Ujima Company's TheaterLoft in Buffalo directed by Gary Earl Ross, assisted by Willie Judson.
CAST OF CHARACTERS
Maxine Travis, a homicide detective played by SHELIA RANKIN

John Pickett, an elderly African-American man suffering from dementia played by IRVING MURPH

Ruthie Pickett, his wife and prime suspect in his murder played by DEBORAH WASHINGTON
Alan Pickett, his oldest son, a middle-aged history teacher played by ROBIN BROWN
Brian Pickett, his younger son, a middle-aged bounty hunter played by CHRIS FIELDS
Connie Pickett, his daughter and youngest child, a communications worker played by VANESSA RYLAND-BUNTLEY
Time: Spring, the present.
Place: A home, a police station, and a restaurant in a mid-sized northern city, maybe Buffalo.


SHOWTIMES:
THU, Nov 14, Doors open 7:30PM PREVIEW NIGHT: Pay what you can
FRI, Nov 15, Doors open at 7:00PM
SAT, Nov 16, Doors open at 7:00PM
SUN, Nov 17, Doors open at 4:00PM *Post show talkback with playwright, Gary Earl Ross
FRI, Nov 22, Doors open at 7:00PM
SAT, Nov 23, Doors open at 7:00PM
SUN, Nov 24, Doors open at 4:00PM, *Closing Reception 6:30PM
SENIOR DISCOUNT CODE:
COMMUNITYELDER |

14621 Neighbor discount: ALLGOOD

Hope to see you in the house!

The Avenue & North Star Players