| | |
| --- | --- |
| | |
Event Details
This strange and unique tour takes you through one of the city's least understood spaces, the Chicago Pedway. The Pedway is a series of walkways that connect building to building so that we don't have to go outside in the winter, or the summer...or ever for that matter.  But there is oh so much more to the pedway than convenience stores and Dunkin' Donuts! Although, Dunkin Donuts!  It is a strange urban space that even Chicagoans don't know about.
The entire tour is inside, we are (mostly) warm in the winter and (mostly) cool in the summer.  I will lead you in hilarious and fascinating fashion as we traverse up and down, around and back, up, inside and around and through some of the great buildings of the Loop. You will discover that the Pedway never does anything in a straight line.
We talk about the pedway itself, but we also talk about Chicago history and architecture and we see these great lobbies and there are a couple of instances of Tiffany glass, so you can't beat that. This is a quirky, fun, affordable tour and I love showing the pedway to people, locals and visitors alike.
START: Inside Block 37 Mall, 1 W. Randolph - SW corner of Randolph & State. Meet me by the elevators, I'll be in the red baseball cap!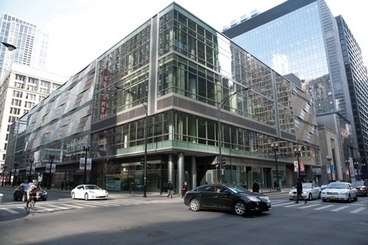 EXPECTATIONS: It's about a mile of walking, there are lots ups and downs, lots of escalators and some stairs, revolving doors, etc.
KIDS: Kids like the pedway, it's weird so that helps, but it depends what your kid likes. If you have strollers, walkers, etc., be wary, the Pedway can get complicated.
When & Where

Block 37 Shopping Mall
1 W. Randolph - SW Corner of Randolph & State - across from Macy's
Come inside and meet me by the elevators - I'll be in the red baseball cap!
Chicago, Illinois 60602


Organizer
Chicago Elevated
Chicago Elevated is dedicated to bringing you the best in Chicago walking tours. Margaret Hicks (your fabulous and oh so pretty tour guide) is a comedian, an author and has been giving tours for over six years. I believe that tours can be fun and educational and I wouldn't have it any other way.