Description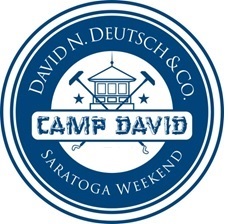 All attendees must pre-register (no onsite registration unless pre-approved). Conference attendance and hotel availability limited. Registration includes all conference programs and meals: Thursday reception and opening discussion; Friday breakfast, business sessions, and lunch; Friday Polo match and dinner; and Saturday Day at the Races. Attendees responsible for own travel and accommodations.
The Saratoga Weekend (aka "Camp David") - 20th ANNIVERSARY
August 15-17 2019. REGISTRATION ENDS SOON
In 1998, David N. Deutsch & Company established The Saratoga Weekend (aka "Camp David"), a three-day, invitation-only, gathering of business executives, capital providers, advisors, journalists, authors, scientists, educators, public officials and others, held during the Summer "racing season" in Saratoga Springs, NY. A biennial event, the conference explores issues of closely-held and family companies and family offices, business strategy, M&A and finance, science, health, art, philanthropy and personal well-being. We call it "business-and-broader" discussion -- about business and the business of life.
It's a presidential retreat, just like the other "Camp David." A conference, but an un-conference. About learning and long-term relationships. As family-friendly and fun as it is educational and good-for-business. Spouses encouraged to attend and children welcome to all events (except the Friday "business sessions"). It's a gathering of some of the smartest, most successful, and most giving people we know.
20th Anniversary Weekend - Agenda

Thursday
Travel to Saratoga (3 hrs from NYC and Boston).
Welcome Reception at Caffe Lena, the legendary folk music venue that launched the careers of many of America's best loved songwriters including Bob Dylan, Arlo Guthrie and Don McLean (Judy Collins is there this August!). Music, light fare, Lena's famous chocolate chip cookies, and our program opens.
Informal dining and late-night meet-up in Downtown Saratoga.
Friday
Breakfast in the glass-walled Arches Room of the grande dame of Saratoga hotels, the Gideon Putnam, overlooking the Saratoga Spa State Park. Let the discussion begin.
Business Sessions: "Mayor Meg Kelly's Keys to the City;" "Morning Joe with Death Wish Coffee Founder Mike Brown;" "Good Governance: A Board's Eye View;" "Andrew Mellen, the Most Organized Man in America;" "The Politics of the Media;" "Family Business / Family Office;" and more. These business-and-broader discussions -- and the relationships that develop from them -- are the centerpiece of The Saratoga Weekend.
Afternoon downtime in Saratoga. Stroll Broadway, visit Saratoga Lake, see historic Saratoga Battlefield, visit the National Museums of Racing or Dance. Or, catch some "rays" at the Victoria Pool in the State Park.
Then, back to your hotel to dress for...
Our 20th Anniversary Celebration at Saratoga Polo Club. The Ylvisaker Cup Polo Tournament, music by our favorite, Hot Club of Saratoga, food-and-drink, and a continuation of the discussion and camaraderie that made Camp David legendary.
Saturday
Day at the Races: The 139th Running of The Alabama Stakes and the annual running of The David N. Deutsch & Company. The perfect end-cap to your Saratoga Weekend in our own section at Saratoga Race Course. More discussion (and plenty of "handicapping"). See you in the Winner's Circle! Stay until the final race or leave after a few, and get home in time to enjoy your own summer family weekend back in the City or elsewhere.
For additional information visit Saratoga Weekend.

Registration ends soon, conference attendance and hotel availability limited. The Weekend takes place at many venues, and its attendees stay at many hotels in-and-around town. Don't worrry if you can't stay at the Gideon. The Saratoga Chamber maintains a list of available hotels, and we'd be pleased to assist you.
If you did not receive an invitation to the Weekend (sent to you via email, LinkedIn or fb) and believe you should attend, contact David Deutsch directly at dndeutsch@dndco.com or at 212-980-7800 x1.
Attendees are encouraged to nominate other C-level and partner-level attendees who would add to the Weekend's discussion and camaraderie. All attendees subject to registration, approval of David N. Deutsch & Company, and space constraints. Program subject to change.
*Registration cancellable/refundable less $190/attendee cancel. fee through 6/14/19; then non-refundable.