The Saratoga Weekend (aka "Camp David") 2017

Thursday, August 17, 2017 at 4:00 PM

-

Saturday, August 19, 2017 at 5:00 PM (EDT)
Event Details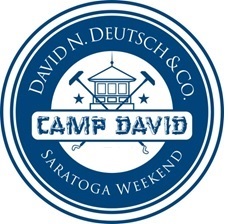 All attendees must pre-register (no onsite registration unless pre-approved).  Conference attendance and hotel availability limited.  Registration includes all conference programs and meals: Thursday reception and opening discussion; Friday breakfast, business sessions, and lunch; Friday special dinner and program; and Saturday Day at the Races.  Attendees responsible for own travel and hotel arrangements.   
The Saratoga Weekend (aka "Camp David") 2017
Thursday, August 17 - Saturday, August 19, 2017.  Register now!
In 1998, David N. Deutsch & Company established The Saratoga Weekend (aka "Camp David"), a three-day, invitation-only gathering of leading business executives, advisory professionals, capital providers, journalists, authors, scientists, educators, public officials and others, held each August in Saratoga Springs, New York.
It's a "presidential retreat" of sorts.
The conference explores issues of closely-held and family companies and family offices; broader issues of business strategy, M&A and finance; science and health; art and philanthropy, and personal well being.
It's a conference, but it's an un-conference.  It's about learning and long-term relationships.  Spouses encouraged to attend, and children are welcome.  It's a gathering of some of the smartest, most successful, and most giving people we know; people who enjoy business and the business of life.
Summary Agenda - 2017
Thursday
Welcome Reception.  Kick-off discussion with legendary high school tennis coach Rich Johns (no-cut policy... and 85 consecutive wins!) and Founder/President, "Act With Respect Always" in the Garden Room of the Gideon Putnam.  There's no better way to begin our Weekend discussion than with Rich John's coaching wisdom and pay-it-forward philosophy.
Friday
Breakfast in the breathtaking Arches Room of the Gideon, overlooking the 2,379 acre Saratoga Spa State Park.  Let the "discussion" begin.
Business Sessions: "Keys to the City;" "Private Equity for Private Enterprise," "State of Readiness - A Blueprint for Operational Excellence," "Earth Day 2020," "The Family Business Advantage," " Next-Gen Tech Training," "View From the GAO" and more.  These business-and-broader discussions -- and the relationships that develop from them -- are the centerpiece of The Saratoga Weekend.
Afternoon downtime in Saratoga.  Stroll Broadway, visit Saratoga Lake, explore Saratoga Battlefield, visit the National Museums of Racing or Dance.  Or, just catch some "rays" at the Victoria Pool.
An evening of cocktails and dinner at Saratoga's brand-newest hot-spot, Sinclair, catered by Comfort Kitchen (their Mac N Cheese is legend-dairy!), featuring Saratoga artist Frankie Flores.  Flores' Abstract, Jazz and Equine collections, and his new "Greys" are coveted by collectors.  Food, friendship and a few more surprises.  The discussion continues.
Saturday
Day at the Races: The 137th Running of The Alabama Stakes and the annual running of The David N. Deutsch & Company.  The perfect end-cap to your Saratoga Weekend in our special section at Saratoga Racecourse.  More discussion and as much "handicapping" as you'd like.  See you in the Winner's Circle.  Stay until the final race or leave after a few, returning home in time to enjoy your own summer family weekend.
For additional information please visit Saratoga Weekend.

Register now.  Conference attendance and hotel availability limited.  A limited number of rooms reserved for registered attendees of the Weekend at a discounted rate at conference headquarters, the Gideon Putnam Resort and Spa - discount code provided upon registration.  Hotel accommodations are in high demand during racing season in Saratoga, guests of the Weekend stay at many hotels in-and-around town -- we'd be pleased to assist you in finding a place to stay.
If you did not receive an invitation to the Weekend (sent to you digitally or via social media) and believe you should attend, contact David directly at dndeutsch@dndco.com or 212-980-7800 x1.
Attendees encouraged to nominate other C-level and/or partner-level attendees who would add to the Weekend discussion.  Special accommodation given to guests of returning attendees.  All attendees subject to registration, approval of David N. Deutsch & Company and space constraints.
*Registration cancellable/refundable less $190/attendee cancel. fee through 6/16; non-refundable after 6/16.

When & Where

Gideon Putnam Resort & Spa / Saratoga Racecourse, Saratoga Springs
24 Gideon Putnam Rd, Saratoga Springs
Saratoga Springs, NY 12866


Thursday, August 17, 2017 at 4:00 PM

-

Saturday, August 19, 2017 at 5:00 PM (EDT)
Add to my calendar
Organizer
David N Deutsch & Company is "The Strategic Financial Advisor of Leading Closely-Held Companies."  Est. in 1993, DND & Co. is a New York-based investment banking firm providing corporate sale, acquisition, financing and strategic advisory services to leading closely-help companies, their owners and their Boards.
Learn more about us at www.closelyheld.expert.