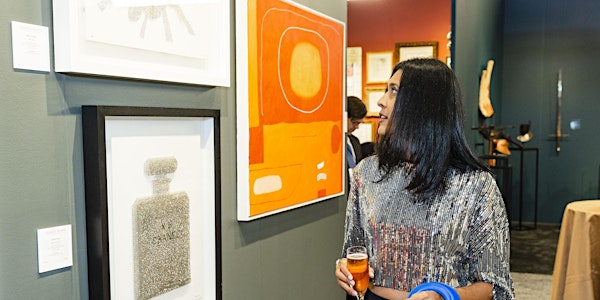 The San Francisco Fall Show | Show Days & Lectures | October 3 - 6, 2019
When and where
Location
Fort Mason Center for Arts & Culture | Festival Pavilion 2 Marina Boulevard San Francisco, CA 94123
Description
The San Francisco Fall Show

Show Days: October 3 - 6 | Gala: October 2

"The West Coast's oldest and most prestigious international art and antiques Show" - Town & Country magazine
The San Francisco Fall Show, now in its 38th year, is held at Fort Mason Center for Arts & Culture each fall, presenting the finest art and antiques dealers from around the world. The Show is the annual benefit for the 50-year old nonprofit, Enterprise for Youth.

Objects exhibited and sold on the show floor span the ages, from antiquity through present day, covering genres including Paintings, Furniture, Textiles, Ethnographic Art & Antiques, Ceramics, Sculpture, Photography, Works on Paper, Decorative Objects, Jewelry and Precious Metals.
The 4-day show offers the opportunity to immerse yourself in the world of great art and antiques with programming each day, including The Lecture Series, featuring 6 prominent speakers over 3 days, cocktail hour talks and designer events.
The Fall Show Opening Night Preview Gala is legendary and opens the show with live music, caviar and vodka bars, flowing champagne, sumptuous buffets and the first glimpse of the best art and antiques from around the world, all available for purchase.
---
2019 Dates & Times
Show Dates
October 3 through October 6
Thursday - Saturday, 10:30 a.m. to 7:00 p.m.
Sunday, Noon to 5:00 p.m.

Opening Night Preview Gala (tickets)
Wednesday, October 2
7:00 to 9:30 p.m.; Patron Receptions: 4:00 to 7:00 p.m.
To receive event invitations, please contact us!

---
SHOW PROGRAMMING

For all show programs including complimentary events, please visit sffallshow.org/schedule.
The Lecture Series
Each year The Fall Show presents some of the most prominent names in the worlds of art, antiques, design, architecture, and history who share their knowledge and insight into their areas of expertise.

Tickets: $10 (Show admission is an additional $20 in advance or $25 at the door).
Madeline's World of Wonder: Searching Far and Wide for the Beautiful and the Marvelous
Madeline Stuart
Thursday, October 3, 11:00 a.m.
A Slice of England
India Hicks
Thursday, October 3, 2:30 p.m.
The Continental Divide: Curating Collections from Around the Globe
Veere Grenney and Rush Jenkins, moderatored Wendy Moonan
Thursday, October 4, 11:00 a.m.
My Love Affairs with Houses, My Passion for Collecting
Bunny Williams
Friday, October 4, 2:30 p.m.
The Collectors Quorum: The How-To of Developing an Eye for Furniture, Art, and Design
George Brazil, Meaghan Roddy, and Hutton Wilkinson, moderated by Suzanne Tucker
Designers Saturday, October 5, 11:00 a.m.
Living Elegantly Today: Around the World with Timothy Corrigan
Timothy Corrigan
Designers Saturday, October 5, 2:30 p.m.
Sunday Brunch
Champagne Brunch Honoring Enterprise for Youth Founder, Gladys Thacher
Sunday, October 6
Enterprise for Youth's Board of Directors invites you to a special brunch at the Show honoring Enterprise's founder Glady Thacher. Enjoy a delicious brunch in a spectacular setting with a bird's eye view of San Francisco Bay and celebrate Glady's visionary goal of creating opportunity for San Francisco youth and the 50th Anniversary of Enterprise.
FAQs
Do I have to bring my printed ticket to the event?
You may print your tickets at home to bring or send to your mobile device.
What is the refund policy?
All tickets are non-refundable for its a fully charitable show.
Are children allowed?
Supervised children are allowed; however, strollers are not permitted inside exhibitor booths. Since alcohol is served at the Preview Gala, children are not recommended. Children attending the Preview Gala will be charged the full admission price.
Are wheelchairs available?

There are a limited number of wheelchairs available. Please ask the box office for a wheelchair when entering the Show.

Can I bring my pet?

Pets are not allowed on the Show floor except guide dogs and other types of service animals which are protected by the Americans with Disabilities Act.
Can I bring my art or antiques to the Show to be appraised, sold, or traded?

No. The Show is only for Exhibitors to sell to the public. Independent parties may not attempt to sell merchandise and will be barred admittance.
Is there a coat check?
Yes. All large coats and bags must be checked before entering the Show. All bags will be searched by security upon leaving the Show.
Where can I contact the organizer with any questions?
Tel: 415-989-9019
Email: tickets@enterpriseforyouth.org
Website: www.sffallshow.org