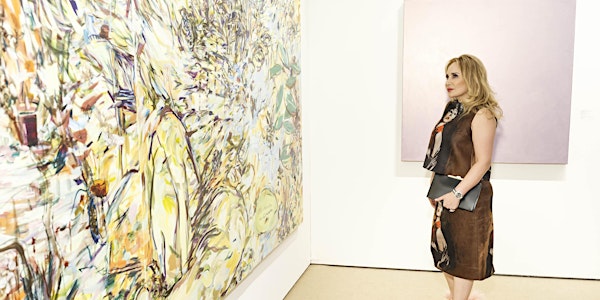 The San Francisco Fall Art & Antiques Show Days & Lectures | October 11 - 14, 2018
When and where
Location
Fort Mason Center for Arts & Culture | Festival Pavilion 2 Marina Boulevard San Francisco, CA 94123
Description
The San Francisco Fall Art & Antiques Show

Show Days: October 11 - 14 | Gala: October 10

"The West Coast's oldest and most prestigious international art and antiques Show" - Town & Country
Ticketed Programming includes (see below for descriptions):

Lecture Series
Champagne Brunch hosted by Enterprise for Youth
Young Collectors Night

The San Francisco Fall Art & Antiques Show, now in its 37th year, is held at Fort Mason Center for Arts & Culture each fall, presenting the finest art and antiques dealers from around the world.

Objects exhibited and sold on the show floor span the ages, from antiquity through present day, covering genres including Paintings, Furniture, Textiles, Photography, Asian Art, Carpets, Ceramics, Sculpture, Rare Books, Works on Paper, Objets d'Art, Jewelry and Metals.
The 4-day show offers the opportunity to immerse yourself in the world of great art and antiques with programming each day, including The Lecture Series, featuring 6 prominent speakers over 3 days, show tours, cocktail hour talks and designer events.
The Fall Art & Antiques Show Opening Night Preview Gala is legendary and opens the show with live music, caviar and vodka bars, flowing champagne, sumptuous buffets and the first glimpse of the best art and antiques from around the world, all available for purchase.
---
2018 Dates & Times
Show Dates
October 11 through October 14
Thursday - Saturday, 10:30 a.m. to 7:00 p.m.
Sunday, Noon to 5:00 p.m.

Opening Night Preview Gala
Wednesday, October 10
7:00 to 10:00 p.m.; Patron Receptions: 4:00 to 7:00 p.m.
For tickets to the Opening Night Preview Gala, click here
To receive event invitations, please contact us!

---
SHOW PROGRAMMING

For all show programs including complimentary events, please visit www.sffas.org/programs
The Lecture Series

Each year the Fall Art & Antiques Show presents some of the most prominent names in the worlds of art, antiques, design, architecture, and history who share their knowledge and insight into their areas of expertise.

Tickets: $10 (Show admission is an additional $20 in advance or $25 at the door).
The Curious Collector, a panel discussion with Jay Jeffers and Suzanne Kasler, moderated by Stacey Bewkes
Thursday, October 11 at 11:00 a.m.
Designers Jay Jeffers and Suzanne Kasler will share stories of their favorite finds. Where they look for treasures, what they look for and how they incorporate those pieces into their clients' homes. Book signings to follow.


Hollywood Modern: A Look Behind the Book, a lecture by Michael Stern

Thursday, October 11 at 2:30 p.m.
This lecture covers the backstory of the conception, execution and thought process behind this book which discusses the intersection of celebrity culture and high-art modern architecture. It will also include the narratives behind many of the celebrity homes, both the architectural side and the Hollywood history and how these projects fit into the broad canon of Modernism in Southern California. Book signing to follow the lecture.

Life Along the Hudson: 400 Years of The Architecture, Decoration, and Landscape Design of the Livingston and Astor Families, a lecture by Pieter Estersohn.
Friday, October 12 at 11:00 a.m.

Renowned photographer Pieter Estersohn presents sublime country homes overlooking the majestic Hudson River, offering some of the finest examples of stately American architecture built between 1730 and 1946—all originally owned by members of the Livingston family and their descendants. Book signing to follow


Here Enter the House of a Magician, a lecture by Hutton Wilkinson.
Friday, October 12 at 2:30 p.m.
Join author, interior designer and jeweler Hutton Wilkinson as he casts a spell in the manner of his mentor and business partner, the American Design Icon, Tony Duquette, inviting you into "Dawnridge", Duquette's legendary house in Beverly Hills. Since Duquette built the house in 1949, as a pavillon de l'amour for his bride, artist Elizabeth Johnstone, a visit to "Dawnridge" has always been a coveted invitation by Duquette's family and friends and the international cognoscenti. Book signing to follow.


HAUTE COUTURE AND HIGH DESIGN: The Intimate Partnership of Fashion and the Decorative Arts a lecture by Maureen Footer.
Designers Saturday, October 13 at 11:00 a.m.

Author and design historian Maureen Footer examines the connection of fashion and the decorative arts, via the collaboration of couturier Christian Dior with two post-war Parisian decorators, Victor Grandpierre and George Geffroy, both friends and associates of Dior. Book signing to follow.
The Test of Time: Charlotte Moss and Nina Campbell Dish on Design and Expound on Entertaining
Moderated by Suzanne Tucker
Designers Saturday, October 13 at 2:30 p.m.
New Yorker Charlotte Moss and Londoner Nina Campbell have been at the top of their games for decades, decorating spectacular homes around the world while designing textiles, furnishings, accessories, tabletop, and writing books. Join them for an intimate talk discussing their visions for the perfect home, their approach to design, how they create their signature looks, and what they do to create an environment for both living and for entertaining. Learn how their respective passions and collecting have evolved and how time, taste, and temperament have changed over the years. Book signings to follow.
---
A Champagne Brunch

Sunday, October 14, Noon to 2:00 p.m.
A special buffet brunch at Cafe Girandole at the center of the Show floor hosted by Enterprise for Youth's Board of Directors and Founder, Gladys Thacher. Enjoy a spread of pastries, quiche, eggs, bacon, smoked salmon, fruits, mimosas, and more while listening to a live pianist. Learn more about Enterprise's important work from those who are passionate about its mission. $45 (show admission needs to be purchased separately)

---
Young Collectors Night

Friday, October 12, 5:00 - 7:00 p.m.
An evening to sample select white and rose wines and take in the treasures offered at the Show. The event is organized by Enterprise's Young Professionals Group. Tickets $10 (show admission needs to be purchased separately)

---
FAQs
Do I have to bring my printed ticket to the event?
You may print your tickets at home to bring or send to your mobile device.
What is the refund policy?
All tickets are non-refundable for its a fully charitable show.
Are children allowed?
Supervised children are allowed; however, strollers are not permitted inside exhibitor booths. Since alcohol is served at the Preview Gala, children are not recommended. Children attending the Preview Gala will be charged the full admission price.
Are wheelchairs available?

There are a limited number of wheelchairs available. Please ask the box office for a wheelchair when entering the Show.

Can I bring my pet?

Pets are not allowed. Guide dogs and other types of service animals are protected by the Americans with Disabilities Act, and therefore may accompany their handlers most places that are open to the public.
Can I bring my art or antiques to the Show to be appraised, sold, or traded?

No. The Show is only for Exhibitors to sell to the public. Independent parties may not attempt to sell merchandise and will be barred admittance.
Is there a coat check?
Yes. All large coats and bags must be checked before entering the Show. All bags will be searched by security upon leaving the Show.
Where can I contact the organizer with any questions?
Tel: 415-989-9019
Email: tickets@enterpriseforyouth.org
Website: www.sffas.org