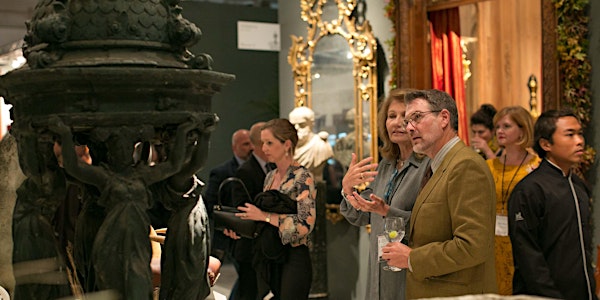 The San Francisco Fall Antiques Show | October 22-25, 2015
When and where
Location
Festival Pavilion, Fort Mason Center 2 Marina Boulevard San Francisco, CA 94123
Description
The 2015 San Francisco Fall Antiques Show
The San Francisco Fall Antiques Show, now in its 34th year, is the oldest and most prestigious art and antiques fair on the West Coast. Held at Fort Mason each fall, the FAS presents 60 of the finest art and antiques dealers from around the world and is fully vetted by the vetting committee, organized in cooperation with the Antiques Dealers Association of California (ADAC). It is a must-see destination show for collectors and enthusiasts of art, antiques and design.
Objects exhibited and sold on the show floor span the ages, from antiquity through the 20th Century, covering genres including Fine Art, Modern Art, Furniture, Textiles, Photography, Asian Art, Carpets, Ceramics, Porcelain, Sculpture, Rare Books, Works on Paper, Objets d'art, Jewelry and Metals.
The 4-day show offers the opportunity to immerse yourself in the world of great art and antiques with programming each day, including The Lecture Series, featuring 6 prominent speakers over 3 days, show tours, talks, designer events and the Young Collectors Evening.
The Fall Antiques Show opening night Preview Gala has been called "the highlight of the San Francisco Social Season" and opens the show with live music, caviar and vodka bars, flowing champagne, sumptuous buffets and the first glimpse of the best art and antiques from around the world, all available for purchase.
2015 Dates & Times
Opening Night Preview Gala
Wednesday, October 21
7:00 to 10:00 p.m.
Show Dates
October 22 through October 25
Thursday - Saturday, 10:30 a.m. to 7:00 p.m.
Sunday, Noon to 5:00 p.m.

For event invitations and 2016 ticket information, please contact us!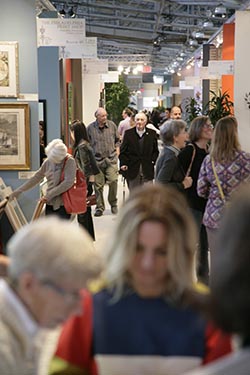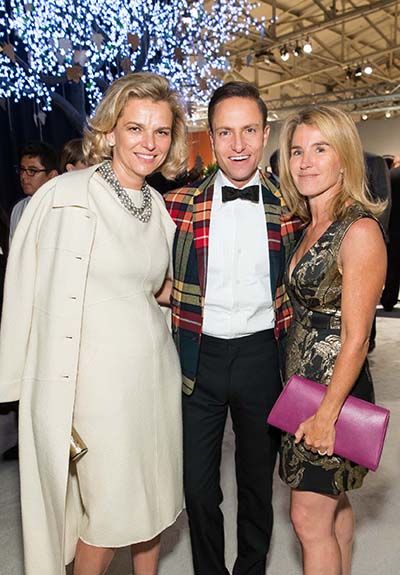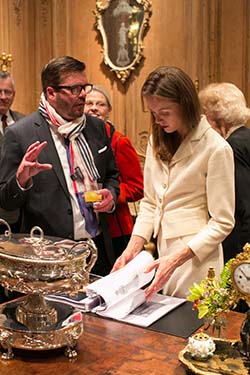 FAQs
Transport/Parking Options
Which San Franciso buses will take me to Fort Mason Center?
There are many buses that stop at, or near, Fort Mason Center. Contact MUNI at (415) 673-6864 for times, or for other transit options.
#10 Townsend (stops at Van Ness and Bay, a short walk from Fort Mason)
#22 Fillmore (stops at Fillmore and Beach)
#28 19th Avenue (stops inside Fort Mason)
#30 Stockton (stops at Chestnut and Laguna; stops at the Transbay Bus Terminal)
#42 Downtown Loop
#47 Van Ness (stops at Van Ness and Bay, a short walk from Fort Mason)
#49 Van Ness / Mission (stops at Van Ness and Bay, a short walk from Fort Mason)
#82X Presidio/Wharves Express
Are there other public transit options?
Yes. We encourage public transportation.
For Bay Area-wide transit information call 511 (or 817-1717) from any area code in the Bay Area counties of Alameda, Contra Costa, Marin, Napa, San Francisco, San Mateo, Santa Clara, Solano, and Sonoma. Or, contact one of the following:
East Bay: Bay Area Rapid Transit (BART): (510) 465-2278
North Bay: Golden Gate Transit: (415) 455-2000
Peninsula/South Bay: SamTrans/CalTrain: (800) 660-4287
San Francisco: Municipal Railway (MUNI): (415) 673-6864
Is self-parking available?

Yes. Limited paid parking is available within the Fort Mason complex. Please do not self-park inside any valet parking area under any circumstances. If you are unsure of the appropriate place to park, check with security once at Fort Mason. Illegally parked cars will be ticketed and towed.
Free, but very limited, parking is available along Marina Boulevard; however, make sure to carefully read posted parking restrictions.
Is valet parking available?

Yes, valet parking is available at Festival Pavilion (inside Fort Mason complex) during the Preview Gala for patrons of the show and on show days for all attendees.
How much does valet parking cost?
Show Days: Valet parking is $20 per car, or complimentary to Connoisseur Circle, Collectors Circle and Designers Circle members.

Preview Gala: Valet parking is complimentary for Enthusiasts, Aficionados, Designers Circle, Collectors Circle and Connoisseurs Circle patrons. For all other Preview Gala guests, shuttle service will be available from nearby lots.
Do I have to bring my printed ticket to the event?
You may print your tickets at home to bring or send to your mobile device.
What is the refund policy?
All tickets are non-refundable for this fully charitable show.
What are the dining choices offered at the Show?

Café Girandole, located in the center of the Show, is a seated restaurant that offers a selection of gourmet luncheon fare including an excellent selection of soups, entrees and desserts, along with a curated wine list.
In addition, an á la carte walk-up service offers salads, sandwiches, baked goods and beverages.
Can I make a reservation at Café Girandole?

On-site reservations are accepted; however, telephone reservations are not accepted.
Are children allowed?
Supervised children are allowed; however, strollers are not permitted inside exhibitor booths. Since alcohol is served at the Preview Gala, children are not recommended. Children attending the Preview Gala will be charged full admission price.
Are wheelchairs available?

There are a limited number of wheelchairs available. We highly recommend that you reserve a wheelchair ahead, if needed.
Can I bring my pet?

Pets are not allowed.Guide dogs and other types of service animals are protected by the Americans with Disabilities Act, and therefore may accompany their handlers most places that are open to the public.
Can I bring my antiques to the Show to be appraised, sold, or traded?

No. The Show is only for Exhibitors to sell to the public. Independent parties may not attempt to sell merchandise and will be barred admittance.
Where can I contact the organizer with any questions?
THE SAN FRANCISCO FALL ANTIQUES SHOW
Benefiting Enterprise for High School Students
Tel: 415-989-9019
Email: tickets@ehss.org
Website: www.sffas.org

200 Pine Street, Floor 6 | San Francisco, CA 94104