Description
The San Francisco Bicycle Coalition and Skip Present: Winterfest
---
Don't miss the SF Bicycle Coalition's largest party of the year! Join more than a thousand of your bike-loving buddies for a full day of festivities. Winterfest is kid friendly - bring the whole family. Kids 12 and under are free.
At Winterfest, you can enjoy:
Art show: peruse walls of bike-themed one-of-a-kind artwork donated by local artists.

Bike auction: dozens of shiny new bikes will be displayed. Bid on your favorite and you could go home with a brand new ride.

Games: Classic games with a bike-y twist.

Graffiti wall: Let your inner artist shine and add your mark to the graffiti wall.


Wheel Talk Live! Your favorite biking advice column, Wheel Talk for Wheel People, live! With performances at 3:00 pm, 4:00 pm and 5:00 pm in the auditorium.

Fix a Flat station: Learn how to fix a flat or, if you're already a pro, compete for time and see how fast you can fix a flat. The fastest times will be posted on the scoreboard!


Temporary tattoos: You're never too old to love a good temporary tattoo!

Design your own street: Using our interactive activity, add bike lanes, widen sidewalks or change the street however you best see fit. Chat with our on-staff community organizers about how we can bring these designs to life in San Francisco!

Food and beverage: Fort Point beer, wine and food will be available for purchase. You can purchase a bottomless beverage glass on the registration form when you purchase your event ticket. Buy online now for $15 (vs. $20 at the event) and enjoy unlimited beverages throughout the event plus a commemorative pint glass to take home.

Family bike parade to the event: Meet in the Panhandle (Fell St. and Baker St.) at 1:45pm and join a family group ride to the event. RSVP for the bike parade on the registration form when you purchase your ticket.

Family Zone: A special area just for kids and their parents. We'll have kids bikes available and the Freedom from Training Wheels course set up from 2:00 pm - 4:00 pm where kids can learn how to ride a bike. Plenty of games and activities will be available to occupy the little ones. Kids 12 and under get into the event for free.
View all the details: Winterfest Event Website
---
Want a free ticket and drink token? Sign up for a fun volunteer shift at Winterfest!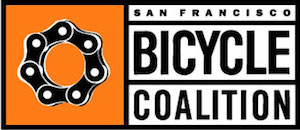 ---


Thank you to our presenting sponsor, Skip: